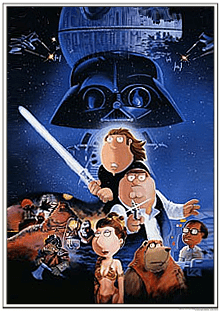 Apparently, there was some meat-and-potatoes content at Family Guy's Comic-Con panel, courtesy of show creator Seth MacFarlane.  MacFarlane, who voices Peter, Brian, Stewie, Quagmire, and others on the show, has become famous due to his show's off-kilter humor and occasional foray into taboo subject matter. MacFarlane even recently had a stint (as a human) in the ABC series FlashForward, and even appeared in a commercial for Hulu.
But MacFarlane was all about Family Guy at the panel, and addressed one thing pretty quickly: despite the massive successes of Star Wars parodies Blue Harvest and Something, Something, Something, Dark Side, his series of parodies will end with this December's It's a Trap!, a parody of Return of the Jedi. MacFarlane confirmed that the prequel trilogy of Star Wars, which lasted from 1999 – 2005, will not be parodied by the Griffins.
"I don't think we'll be going that route," he said. "They're just too expensive. LucasFilm has been really great to us [this far]."
According to Digital Spy, though, just because he's done with Star Wars doesn't mean he's done with the parodies in general, which have turned out to be some of the most popular aspects of Family Guy: "We may tackle Indiana Jones, but we're going to take a break [from the parodies] first."
While Indiana Jones wouldn't be my first choice for a parody (So we've got Peter as Indy. What other roles are there, really? Unless — wait! Herbert as Short Round!), I could see it being ripe with possibility. Since Lucasfilm does the Indiana Jones flicks too, I could imagine licensing would be much easier to come by. Personally, though, I'd love to see Peter & Co. tackle Lord of the Rings.