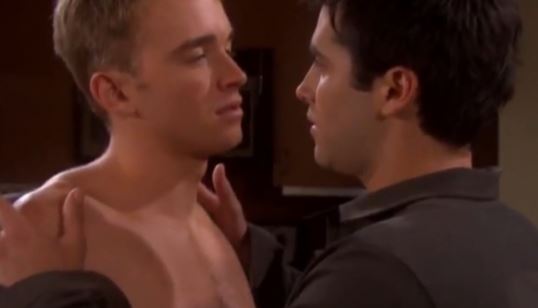 Days of Our Lives has been on the air so long that it's all but impossible to remember who was on the show and when they were on the show. In fact, it's easy to forget that even some very famous faces were on the show at one point or another. We may forget them because they only had roles that lasted a short time or they were too boring to remember. They might have starred on the show before they were huge Hollywood names, and that makes it easy to forget. They may have even been young kids with a maiden name they didn't use when they were major stars in the adult world. We don't know, but we are willing to bet you forgot all about these famous faces being on the show.
Frances Fisher
She's the woman who made us all cringe with serious anger and hatred when she was Rose's mom on Titanic. She was hellbent on getting her daughter to marry a man who was too boring and too rich and too not the love of her daughter's life on this ship. She as not very nice to Jack because he wasn't wealthy. She wanted more for her daughter because she managed to get them to go broke, and she needed her daughter to marry this man and care for her. She was using her to get her own life back, and that was not cool. She was also the woman who was married to Clint Eastwood for a few minutes at one point.
And, she was also a woman who was on Days of Our Lives at one point. She was a woman we don't really remember because she didn't do too much. She was the neighbor of Sami and Rafe at one point. She went by the name of Gladys Pierce. If you blinked, you totally missed her. She was in Salem for two whole episodes, and that is why you don't remember her at all.
Andrea Barber
She as just a small child when she was here, and that's why you don't remember her. She was the very young Carrie Brady back in the very early 80s, and she was not a household name at that point. She may not be much of a household name these days, either, but anyone who loved Full House knows exactly who she is. She as the very hilarious, very irritating, very silly Kimmy Gibbler. She lived next door to the Tanner family. She was D.J. Tanner's best friend. She was the girl who drove everyone crazy with her life. She was a smart mouth girl. She was honest and kind of brutal, and she made all the adults, and D.J.'s younger sisters, totally crazy. And we all loved her endlessly. She was so young when she was Carrie that it's easy to forget who she was or that she was on the show. Her Full House character is such an icon, too, that's also hard to imagine her ever being anyone other than Kimmy Gibbler.
Vivica A. Fox
She's a major motion picture star with a huge amount of talent, and she's a former soap star, too. She was part of the show a long time ago, and we loved her. She was a very short-lived character back in the late 80s. In fact, she came around in 1988 and didn't stay longer than that year, but she did make a mark on all of us with her character. She was someone by the name of Carmen Silva, and she had a situation to deal with. She was just getting started in her role as an actress, and this was one of her very first jobs. She did the job, she did it well, and it was good enough to land her some other shows. Those shows were good enough to land her some roles on television as a big star, which then led her to land roles in major movies. Those allowed her to land roles with some of the most famous faces in Hollywood. We'd say she did good with her small start in Salem, and she's not regretting that decision at all in her life.