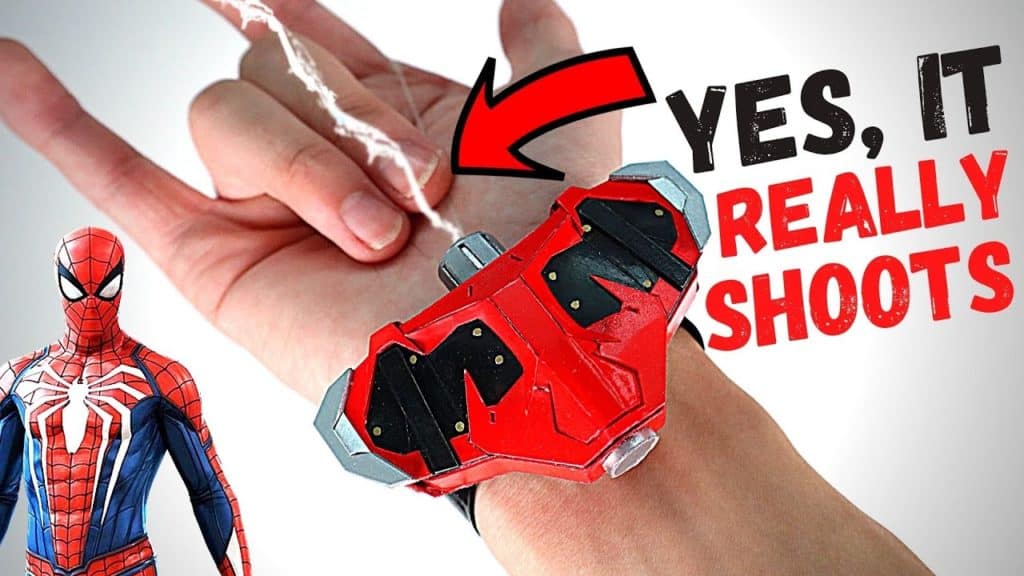 Admit it, you managed to get a little bit excited when you saw that there's a web shooter that's functional and can actually do what it needs to, right? What a lot of toy companies have been trying to do for so long and have managed to replicate in a cheap and not so effective way, this fan has managed to do just as cheaply, if not more so, and has made it into something that is insanely impressive. Obviously, it's not advised to seek out a tall building to try this on since the laws of gravity still apply and you don't have the kind of powers that would allow you to stick to verticle surfaces or survive a fall from such a height. But having a web shooter that could actually fire a stream of 'webbing' would be pretty cool, especially if it could stick and be strong enough to pull lighter objects towards you, or open the refrigerator door. This is the kind of thing that kids and even adults would find cool since it happens to be something that a lot of us would have loved to have when we were younger. Imagine the hours of fun we could have had with this, especially if the material inside the web shooter was able to last that long. Of course, back then silly string was the thing, and cleaning that mess up was hardly the way someone wanted to spend the end of their day. 
Likely as not though someone would want to use a 3D printer to make this if possible since the individual in this video tends to make his shooters with anything that's lying around the house, plus other items that aren't likely to cost too much. He does manage to provide links on how to make this thing since there are plenty of people out there that aren't mechanically-inclined and might have trouble when trying to connect the various parts. But as far as web-shooters go this one is able to come off looking pretty solid since the design is fairly simple and the intended result is something that doesn't take much to accomplish and is an easy fix if something breaks. It's a little harder to figure out how toy companies can't make something that actually lasts for a while, but then one has to factor in how the toys are being used when it comes to durability and how long they're going to last before breaking. After all, some kids are pretty rough on toys and adults aren't always as careful as they should be either. 
The use of string in this web shooter is a nice touch since it can be reloaded and used again, and the magnet that's used to hook onto metal objects is nice since it gives the illusion of webbing actually 'sticking' to something and granting the user the ability to manipulate it. Tugging too hard will no doubt be an issue since it could pull the entire thing apart, but for a construct that's little more than a few very easy to procure materials, this is a very impressive device that, if fabricated out of metal and given an easy loading method as it's shown in the clip, would be a favorite of many Spider-Man fans. Now if only something could be made to allow people to climb up walls…no, wait, that's a horrible idea. Imagine the lawsuits if such a thing were to happen. Sticking with the web shooter is just fine since it allows people the small part of the fantasy that comes with being Spider-Man. Climbing walls wouldn't be a great idea for a lot of people since they might take it way too far. But the web shooter, one of the things that is iconic about the web-slinging hero, is one of those items that people can't help but think of when it comes to revolutionizing the device. 
It's moments such as this that make a person wonder at just how far we've come in the name of entertainment since at one point a kid might have been happy to wrap a bit of rope or twine around their forearm and find a way to make it appear that it was shooting from a device on their wrist to emulate Spider-Man. With each new generation ideas are pouring out when it comes to various bits and pieces of pop culture that we happen to value and enjoy in such an obvious manner, and it's nothing short of amazing to see. Perhaps one day we'll see other marvels brought to life, but for now, this is one of those that people would no doubt see as impressive and worth pursuing since it's been something that a lot of fans have tried to copy and put their own spin on for years.