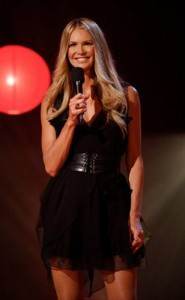 Basking in the afterglow of a second season pick-up, NBC's reality series Fashion Star airs its first season finale tonight. Final three designers Kara, Nzimiro and Ronnie compete to sell their signature capsule collections to Macy's, Saks 5th Avenue and H&M, a win worth more than six million dollars to the victor. Last month series co-creator & host Elle Macpherson addressed questions about Fashion Star's groundbreaking concept, execution, and its journey to taking the fashion world by storm. FS had, by early April, been resold globally to seventy-five countries and with its showcased designs consistently selling out here in America, it's no surprise that a second season was ultimately ordered.
"It's a new concept." Elle champions the series' innovations, "It's a new way of doing things and it's really been a team effort getting the show up and running." Inspiration first visited the savvy former super-model while watching a new type of fashion show online. "I was very interested in the concept because I had seen a fashion show streamed live from Japan, about three years ago, that let you move your mouse across the model and click onto the garments and buy them immediately. I knew that this was revolutionary, as far shopping and technology was concerned, so when I spoke to Ben Silverman about it and the format came up for Fashion Star it felt right for me and modern for where technology and shopping is today. Combining that with the wonderful heartfelt stories of 14 (previously) unknown designers and a big stage show felt fresh. It's a cool show. We also have fantastic mentors between Jessica, John and Nicole and of course the retailers, so, our designers get plenty of experienced feedback and great people really supporting them throughout the process. My role is to, essentially, orchestrate the proceedings." She further compliments the buyers, "The retailers are also choosing very well because the clothes they're buying sell out week after week after week. So the shopping aspect is working well for the designers, retailers and for the viewers at home."
Elle exudes a protectiveness over the designers and the show, stressing the importance of the experience being positive for all involved. "All the designers have made sales in one capacity or another. Having that validation from huge retailers like Macy's, Saks and H&M surely makes a confidence building difference for them and in addition they get exposure to the general public and exposure to the advice of these iconic mentors. I feel that it's a fantastic opportunity for these young designers and a great opportunity for the viewers at home to be able to tap into these designers and participate by immediately buying and then wearing anybody who wins."
Bringing such a level of immediacy to the market requires shooting months in advance. "Fashion Star was shot in August so it could be ready for consumers by March. It takes anywhere from four to six months for some of these clothes to be manufactured and fed in line." Macpherson confides, "The concept behind FS was this idea of immediate gratification, that the viewers at home could go online and could buy the clothes immediately."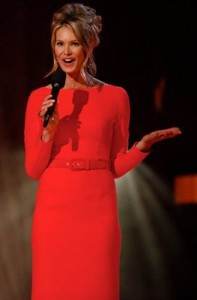 With the influence of the fashion industry ever-expanding, Elle embraces its ability to empower through creative self-expression. "Fashion's now a global business that affects the music, film, and beauty industries and people are interested in all sides of it. There's whole television stations dedicated to fashion. I think that's a fantastic testament to the growth of society's desire to express ourselves though the clothes that we wear." While fashion themed shows have thrived for some time on cable, it's significant to note where FS wins its ratings. "The fact that we have a fashion show on network television, in and of itself, speaks wonders because until now fashion has been niche; it's been kept on cable and it's been largely a niche business."
Beyond a televised fashion show offering designer's workroom perspectives, it's the insight into fashion buying that makes FS stand out as unique. "A lot of shows exist showing how to create or wear fashion," Elle shares enthusiastically, "but I think it's equally important to show how to sell and market fashion to the industry. In a way, it's just as much about shopping as it is about creating fashion. Of course," reiterating the humanity, "it's also about heartfelt stories and these people's lives and what it takes on a personal level to be where they are – which is on this huge stage creating clothes that are being bought and sold on the day – it's just phenomenal. I wish that I had had mentoring from such powerhouses as Jessica, John and Nicole when I was starting out. I wish my lingerie line, Elle Macpherson Intimates, was available at Macy's, Sachs and H&M, which it's not. These young designers are certainly getting a springboard to a positioning that I've never had and still don't have. To some extent I'm envious and excited for these designers because it's a truly phenomenal opportunity."
When asked what qualities designers need to succeed on Fashion Star, Elle responded, "It really requires discipline, commitment, passion, love for what they're doing and courage to try new things. The mentors are looking to inspire these designers to create outside their comfort zones but remain true to themselves. The retailers are looking at how well they execute the challenges while still creating garments America will want to wear. I have to say, they're not easy tasks." Macpherson identifies with the contestants on the subject of taking chances. "I empathize with these young artists because I also didn't start out as a designer, you know, I was a girl that wanted to go to law school. Then I became a model, then I started designing lingerie and now I'm producing this television show all because I had a passion, I was committed, I was dedicated, I believed in myself and had courage, tenacity and discipline. I feel very connected to all the designers. I understand how scary it is to try something new. But with courage, commitment, dedication and passion we all can do it. Take a leap of faith and watch the net appear – it always does – and we're all living examples of that."
Join Elle on NBC tonight at 10/9c for the chic season finale and learn which talented designer becomes network TV's first Fashion Star!