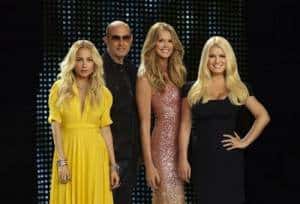 NBC has renewed Fashion Star, its moderately-rated design series hosted by supermodel Elle MacPherson. Debuting in March, the show never quite broke out in the ratings airing behind The Voice results show, but it's numbers weren't the only factor in the renewal. After every episode of Fashion Star, every design that earns a bid from one of the buyers (H&M, Macy's, Saks Fifth Avenue) gets sold online in a limited-edition basis. That type of ancillary income is valuable, particularly to a show that doesn't have the numbers for an automatic renewal.
Fashion Star is down to the final three designers following a triple elimination in the last episode. Orly and Nikki may have made a sale, but they ended up on the chopping block, going home alongside once-consistent Luciana. Remaining are Kara, the leading money earner having sold a garment in seven of the nine episodes, comeback kid Ronnie, and former engineer Nzimiro, all three looking toward the $6 million grand prize that the winner will receive.
Thus far today, NBC has been on a mad dash of renewals and pilot pickups, giving the go-ahead to two drama pilots and new seasons of Parenthood and 30 Rock. The network is set to unveil its 2012-13 primetime schedule on Sunday before their upfront presentation begins on Monday. Fashion Star may not have a place on the fall schedule, but I wouldn't be surprised to see it back around the same time next year, possibly with an expanded order.
The season finale of Fashion Star airs Tuesday, May 15th at 10:00 on NBC. It'll follow the season premiere of America's Got Talent, featuring the judging debut of Howard Stern.
Are you ready for another season of Fashion Star? Who of the final three do you think will/should win: Kara, Ronnie, or Nzimiro? Should there be any major changes before season two begins?