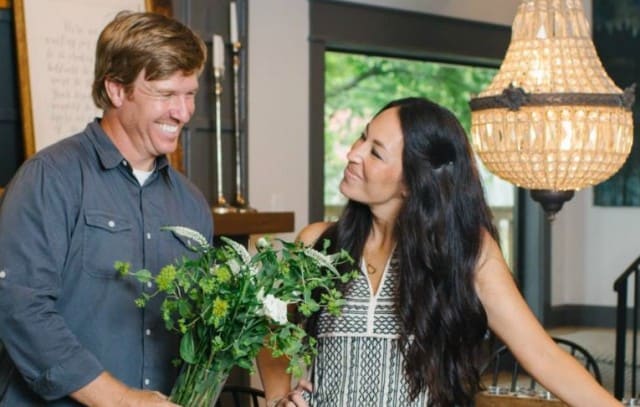 Fixer Upper has become a national phenomenon thanks to the hard work of husband and wife duo Joanna and Chip Gaines. The married couple, who take dilapidated homes in the Waco, Texas area and turn them into stunning dwellings worthy of magazine pages, boast a fan following that includes the likes of Blake Lively, Ryan Reynolds, and Taylor Swift. Season three is in full swing and it's as addictive as ever.
Recently Glamour magazine sat down the the couple to go over some things we may not have known about the couple. We've decided to highlight some of our favorite things taken from the interview.  Here are 3 things you didn't know about Chip and Joanna Gaines.
Joanna has no interior design background
Given the work that Joanna does,  viewers are amazed at her incredible eye for color and structure as she produces some of the finest quality rooms taken from complete rubble.  But to our surprise she has no formal design background.   "I was actually a communications major and had never done design," she says. "I had always had a dream to open up a boutique of some sort. I didn't know what kind of boutique, but we found this little fixer upper building and tackled that project together in the first year of marriage, and that's when Magnolia opened, our retail location. I sold a bunch of products that would go in the home."
Chip and Joanna Do NOT Own a Television
Despite being TV stars the couple admits they don't own a television and haven't for 12 years.  The two had a talk with pre-marital counselors who challenged them to go without television for the first 6 months of their marriage.  12 years later and they're still going!
The name Magnolia goes back to their dating days
"When we were just dating, I would pick these blooms from Magnolia trees," Chip shares. "If you've ever seen them, they are almost just bowl-like, and that whole thing just always inspired us. So when we had the opportunity and were trying to figure out what to name her little boutique, Magnolia Market just stood out to us."
And the couple also has some fantastic advice: "Be intentional with your space," Joanna says. "Don't be afraid to step on a limb and design your home the way you love it." Chip adds: "Do what you love. Do what is important to you and your family. I just want to encourage people to just go for it and do what makes sense to you."
If you're interested in what's happening on the latest episode, Joanna has shared a couple of shots from her Instagram account which we've posted below (with her captions). Should be a great episode!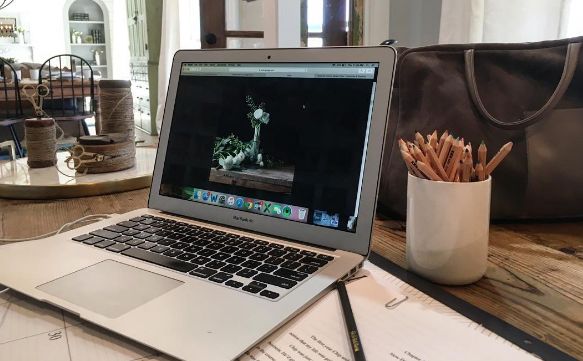 I'm working from the "office" of the Fixer Upper home we are revealing tomorrow! Had to take a break from decorating to finish a chapter in our book #themagnoliastory and finalize new amazing product shots for my online store @magnoliamarket LOTS of fun things coming your way!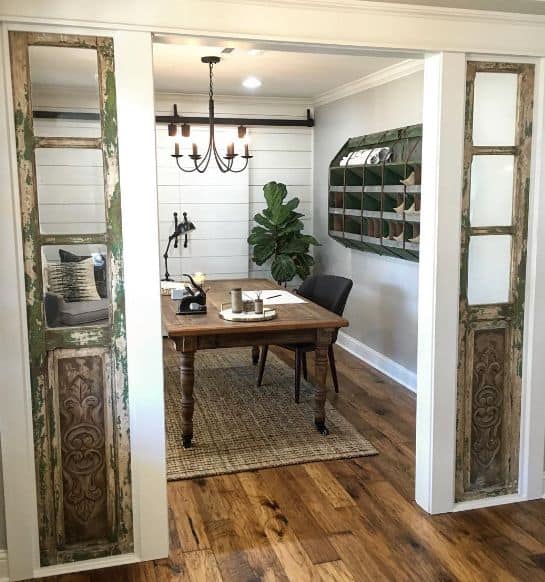 Can't decide which I like better… the French doors installed as sidelights or the antique tool bin turned into a filing unit??
And of course there's this:
#FixerUpper @TheMagnoliaMom @chippergaines pic.twitter.com/BCimG5iZDp

– HGTV Canada (@hgtvcanada) February 2, 2016
Fixer Upper airs on HGTV Tuesdays at 9pm EST
Photos via Joanna Gaines