What is happening with the Law & Order: Los Angeles Deputy District Attorneys?
Last night's episode, "Harbor City," saw another unengaging performance in the courtroom from DDA Peter Morales (Alfred Molina), who may have pulled out a win in the final ten minutes, but was clearly not as interesting as either his defendant or opposing counsel. Morales is sharing screen time with DDA Jonah Dekker (Terrence Howard), and while Dekker at least has a more aggressive personality, neither of the two really click. Not in a role that, on the show it replaced – the original Law & Order – became the one to watch thanks to a succession of great actors in the part. Whichever man filled the EADA role on the original, you knew you were going to get a solid performance.
No one is going to argue that veterans Molina and Howard are bad actors (I'm sure everyone is still associating Howard with his great work in the first Iron Man film), but perhaps their characters could learn a thing or two from the men they replaced. Let's take a look back at Law & Order's three great Executive Assistant District Attorneys, and see how Law & Order: Los Angeles could benefit from their experience.
(Allow me to note now that this argument is strictly based on the three EADAs that filled the same role on the original series that Morales and Dekker play on Los Angeles. Therefore, there won't be ADAs like Claire Kincaid on this list. Furthermore, I'm restricting myself to comparing only these two Law & Order incarnations for purposes of clarity, so please don't tell me I left off SVU's Stephanie March, Criminal Intent's Courtney B. Vance, or UK's Ben Daniels. I like them, I'd just rather keep the argument simple.)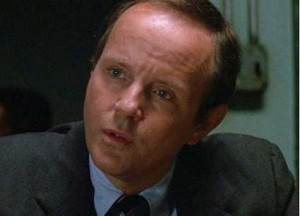 EADA Ben Stone (Michael Moriarty), 1990-1994
The first Law & Order chief prosecutor was my favorite for many years, even after he'd left the show. Why? Stone had a conviction that came out in everything he said. No matter what he was talking about, he said it with gravity, not to mention that he was either armed with a memorable one-liner ("Although justice must be tempered with mercy, it must still maintain a sense of retribution") or impassioned speech to shut up defense lawyers and give the audience food for thought. When he was giving an opening or closing statement, you were paying attention, because he was saying things you wanted to remember. You really believed that he was the best man for the job. ("American Dream," a Stone-centric case, remains one of the series' best episodes.) If you were a victim, Stone was the DA you wanted on your case.
Although his tenure was cut short due to behind-the-scenes conflicts between Moriarty and various parties, there's no denying that Ben Stone set the table for how much potential was in the EADA role.
EADA/DA Jack McCoy (Sam Waterston), 1994-2007
Law & Order scored when it was able to land Sam Waterston to succeed Moriarty, playing Jack McCoy, the show's longest-serving EADA and the only one on any incarnation of the series to be promoted to District Attorney. Another veteran actor with an impressive resume before coming onboard, Waterston had the presence to not look like a weak successor to the intense Moriarty. Wisely, the writers made McCoy the opposite of the straight-laced Ben Stone; he had a sharper and much more obvious sense of humor ("Your grief might seem a little more real had you not just admitted you cut off your wife's head") and his personal life factored into the show more than any other character's. We saw his daughter Rebecca in "Fallout," and learn that McCoy has a history of ill-advised sexual relationships with four of his female ADAs – one of which is now an ex-wife, two of which appear in episodes, and another assumed to have been Claire Kincaid (Jill Hennessy). With a reputation like that, McCoy could easily be written off as an unsavory character regardless of how good a lawyer he was, but Waterston's genial personality made us like him anyway.
It's also a testament to the talent of Waterston and Hennessy that McCoy's most defining relationship was never shown on screen. While we never saw them become personally involved, it's long been suggested that they were a couple (with the strongest evidence coming in her final episode, "Aftershock"), and it's now considered canon that they did, even if there's not a frame of obvious proof. Waterston kept that as a major part of McCoy's character and showed us that he wasn't just an office Lothario; for the rest of his run, Claire's death continued to affect him, and he changed because of it. In what was perhaps a further sign of his growth, McCoy became District Attorney in 2007, where he was now tasked with keeping Michael Cutter in line.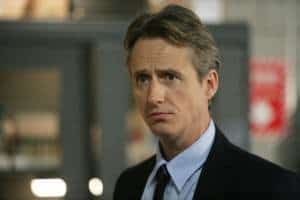 EADA Michael Cutter (Linus Roache), 2007-2010
I never thought anyone would surpass Ben Stone as my favorite L&O lawyer, but then I met Michael Cutter, a character that the man behind him describes as "a little dangerous; he's not necessarily a comfortable kind of guy." This is so true, and man, did I love him for every second of it. The smart-mouthed, hard-headed Cutter was always fun to watch, whether it was pontificating on a case with his beloved baseball bat, arguing with McCoy (now his boss) about his methods, or getting in the last word with defense attorneys or defendants. Cutter was the guy who seemed fun to work with, but when it came time to get in the courtroom, no one had more electricity than he did. With that slightly crazy look in his eyes, perfect line delivery and flawless American accent (did I mention Roache is British?), Roache turned every case Cutter tried into something to watch. You were just waiting to see what move he made or surprise he had that would inevitably demolish the opposition in a memorable way.
He was also one-half of the first Law & Order pairing to be actually given space on the series; while Mike seemed to admit to McCoy in "For The Defense" that he had feelings for his second chair Connie Rubirosa (Alana De La Garza) and it was hinted that she might know of said intentions, the series' sudden end meant we'll never know if their partnership became a romantic relationship. On De La Garza's part at least, it would have been welcome; she said in a TV Guide interview that she wanted the last scene of the series to indicate that the two were a couple. She didn't get her wish, but I can't blame her. Engaging, intense, just a little bit crazy ("I'm going to do something about her alibi witness. You don't want to know") and yet also playful, Michael Cutter was a guy that it was impossible not to be attracted to. He simply had so much energy that it drew everyone else into his orbit whenever he appeared.
Unfortunately, neither of Law & Order: Los Angeles' two DDAs have anywhere near the same punch that all three of the mothership's EADAs did. Stone, McCoy and Cutter were intense in the courtroom, had wit and personality, and when they did something, it was worth watching. Neither Morales nor Dekker have that same kind of spark, no matter how the show tries; while in "Harbor City" we're supposed to see that Morales is a scrappy kind of character when he goes to serve a search warrant and argues with the defendant's father, the scene seems implausible at best and empty blustering at its worst. Later on, Morales is able to leverage the father against his son; it's a move that Cutter might have pulled, but without that jolt of energy that Roache would have brought, the turn just comes across as the writers realizing they only have ten minutes left to wrap up the case.
As for Dekker, he at least gets some pop in his verbal sparring with his boss (Peter Coyote), but compared to the relationships between Cutter and McCoy, or McCoy and Adam Schiff (Steven Hill), or even Schiff and Ben Stone, it's not the same. There's arguing, but there's a difference between arguing for the sake of arguing, and disagreements that make us believe these people have a real, complex relationship.
The EADA/DDA position on Law & Order used to be the most fun to watch; however, Law & Order: Los Angeles, while casting good actors, has turned it into a disappointment. Until the writing improves and the actors can find their own distinct identities, they won't engage us like their predecessors. They have a lot of work to do. After all, being a Law & Order lead District Attorney is a tough act to follow.