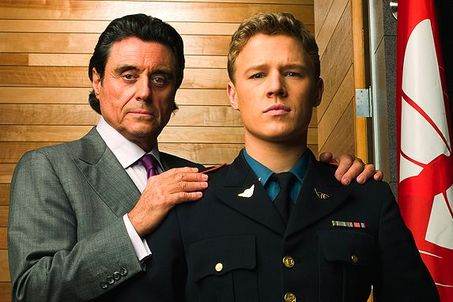 Am I the only person who thought that Kings was an incredible show? From the amazing cast to the intriguing storylines and superb writing to the vast and wonderful world that was created in but a few episodes, Kings was something new and different for network television.
Apparently a little too new and different, since NBC failed to properly understand and market it. I don't buy their argument that the audience wants shows that can summed up in 30 second sound bites. Look at Lost. Look at FlashForward (you're not summing that sucker up in 30 seconds, I assure you). But if it's true, if people shied away from Kings because it was a bit too complex then I'm just sad. And a little pissed.
Nothing can replace Kings, but if you're into epic tales of betrayal, greed, royalty and riches, then I have 3 suggestions for you to look forward to that might help heal the pain:
(1) The Tudors (Showtime, Spring 2010)
The Tudors is such a delicious show that I can't even begin to do it justice with words. I will admit that it spent a little too much time in its third season talking about religious rebellion and not enough time on sex and medieval royal shenanigans, but I still love it. I miss Natalie Dormer, who played Anne Boleyn like no one's business, but Jonathan Rhys Meyers as King Henry VIII is outstanding.
Want to see the philandering king go through his six wives one by one, while bedding the various ladies of his court, breaking away from the papacy in Rome and plotting against the French and the Spanish (or befriending them, depending on what day of the week it is)? If so, this is the show for you. The costumes and set designs are gorgeous, the sex and violence is plentiful and the intrigue is….intriguing.
The Tudors returns for its forth and final season in the spring of 2010. If you can, catch up on the DVDs of seasons 1-3 (season 3 is yet to be released). I promise you, you won't be disappointed, especially by seasons 1 and 2.
(2) Spartacus: Blood and Sand (Starz, January 2010)
Anything I say about this show is purely speculation, because the series will be premiering in January and I haven't seen it yet, but the plot sounds compelling:
Betrayed by his country. Beaten into slavery. Reborn as a warrior. "Spartacus: Blood and Sand" is a graphic and visceral account of Rome's most famous gladiator. When he's separated from the love of his life, Spartacus is forced into the gruesome and bloodthirsty arena, where a grisly death is primetime entertainment.

Spartacus must fight for survival, befriend his enemies and play politics in this new world of corruption, violence, sex and fame. He'll be seduced by power and tormented by vengeance. But his passion will give him the strength to prevail over every obstacle, in this modern and uninhibited tale of death, honor and endurance.

Starring Australian actor, Andy Whitfield (McLeod's Daughters) as Spartacus, Lucy Lawless (Xena: Warrior Princess) as Lucretia, John Hannah (The Mummy, Four Weddings and A Funeral) as Batiatus and Peter Mensah (300, The Incredible Hulk) as Doctore, this unique mix of live action, graphic novel effects and brutal battle sequences is set to make "Spartacus: Blood and Sand" an epic television event.
"Graphic and visceral"? Two great words. "Play[ing] politics" and "seduced by power"? HOT. You know what else is hot? The lead actor – Andy Whitfield. Can I just ask, what are they feeding the boys down in Australia? Because they are fine. I need to take a trip down under.
Learn more about the show at the official Starz page and you can watch a trailer there as well.
(3) Game of Thrones (HBO, 2009/2010)
Not much is known about this new HBO show yet, but it was recently announced that Lena Headey joined the cast. Based on George R.R. Martin's book series called "A Song of Fire and Ice", Game of Thrones will tell the story of the Seven Kingdoms of Westeros. Each kingdom appears to have a ruling family or "house" and there's all sorts of political intrigue and power grabs.
We'll have to wait several months for these shows to return or premiere, but at least it's something to look forward to. Go out and get The Tudors on DVD and try to fill the void that NBC created when they canceled Kings.