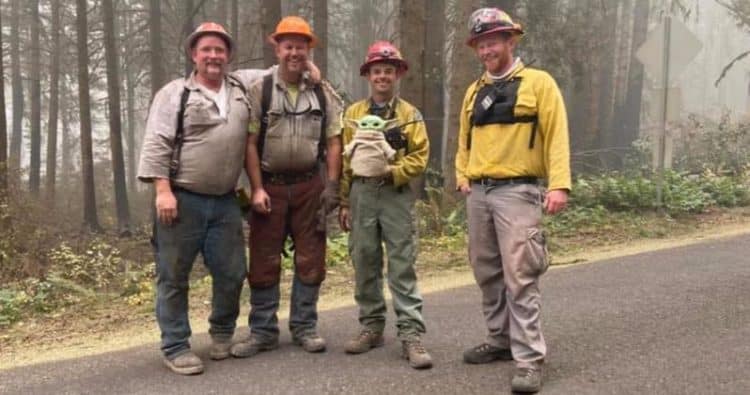 Smiles have not been in abundance in the western states lately, but they've been making a comeback in Oregon. Afive-year old boy's donation to the local firefighters has brought about a round of good cheer as Baby Yoda, donated by Carver, the five-year old in question, has been making the rounds from camp to camp as firefighters continue to fight the blazes that have burned up to a million acres at this point. It's been a rough end to the summer as the smoke from fires raging in Oregon, Washington, and California has literally covered the sky for miles as people were advised to stay inside as much as possible and of course to wear their masks if they had to go out, no matter if they weren't around anyone or were in their vehicles. Yes, it was that bad, and while those on the east coast have their own share of problems to the southeast, the fires on the western side of the country were at least dampened by the recent rain showers. It's believed that they won't be fully extinguished until the fall and winter rains come, and at this point, people are fully prepared to see a downpour coming their way, as happened only recently. As of now, Baby Yoda is a bright spot in the days of the firefighters that have passed him around from place to place, allowing Carver's donation to be fully enjoyed by as many people as he can reach. While it's a small gesture to be sure, it means a great deal to a lot of people that have on the front lines and those that have been supporting them in the extinguishing of this blaze.
It might sound a little corny, but even if Baby Yoda were real, there wouldn't be much more he could do than to spread a bit of good cheer from his cuteness alone, since his Force powers aren't as strong as they could possibly be when he grows older. It's likely that a fully-grown specimen such as Yoda could possibly do something to direct the course of a river, or a lake, to help quench the fires, but that's asking a lot, even for a Jedi master. At the moment the donation has lifted the spirits of the firefighters, and that appears to be enough at this point. Those that are still out fighting are doing what they can in order to stem the fires and to make certain that people are as safe as they can be during these tumultuous times. Sometimes something to make a person smile is all that's needed at the moment, even with the knowledge that they'll have to continue going out there to make certain that blaze isn't turning or spreading in any other direction that could affect those in the surrounding areas. Too much has already been lost to the blaze, and at this time the firefighters are doing everything they can to ensure that no more property is lost and no more people are forced to evacuate their homes.
Amazingly, some people didn't even want to budge when the blaze was only yards away from their property, but it's easy to think that the moment it came closer to their doorstep, many people reconsidered and made their way to safety. Firefighters have been working tirelessly to do what they can for the people affected by the blaze, but videos and pictures have surfaced showing the damage that's been left behind, and much of it is simply horrific as buildings, vehicles, and even small towns have been decimated by the fires. It's heart-rending to see such images and realize that so many people have been affected by this tragedy, and it's even easy to think that a donation such as Carver's wouldn't make much of a difference, but to the people working to snuff the flames and keep others safe the gesture is huge and it's fully appreciated. The fact that kids grasp the urgency and the idea of what's happening and do their best to think up a way to lighten the spirits of those that are doing their best for other is great since it shows that kids, some of them at least, are able to show a great deal of empathy for others and are trying to make something right, even if they might not grasp the full implication of the damage that the people affected are dealing with. It's still something nice to see since it speaks of a very kind heart and the desire of a young kid to do what he can to help out.
Baby Yoda has become one of the biggest symbols of 2020, and thankfully he's something of a counterbalance to the many troubles that people have been dealing with throughout the year. In a big way he symbolizes hope and a need to smile, which is what's needed now and again.