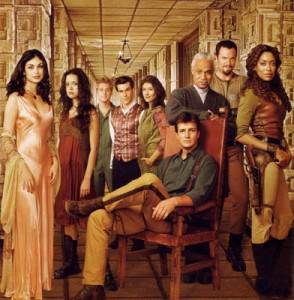 SyFy has secured the talents of Firefly alum Jewel Staite (Kaylee) and Sean Maher (Dr. Simon) for an upcoming episode of Warehouse 13's second season. This is the first time the two have worked together since Serenity, and living proof that the Warehouse 13 folks know how to please their geek-filled audience.
The title of the episode is "Mild Mannered," and in it Maher plays an object bearer named Sheldon. Described in the press release as "a quiet unassuming guy," Maher is physically affected by the object – in a way that may be obvious from the title. I'm thinking incredible Hulk here. Staite will play the part of Loretta, Sheldon's unobtainable object of affection.
Warehouse 13 itself turned out to be one of SyFy's biggest successes, quickly earning a second season shortly following its premiere last year. Warehouse 13 will get, ironically, 13 episodes for its second season – the SyFy equivalent of a full season – and will be returning to the small screen on Tuesday, July 13th. No word on when "Mild Mannered" will be premiering.