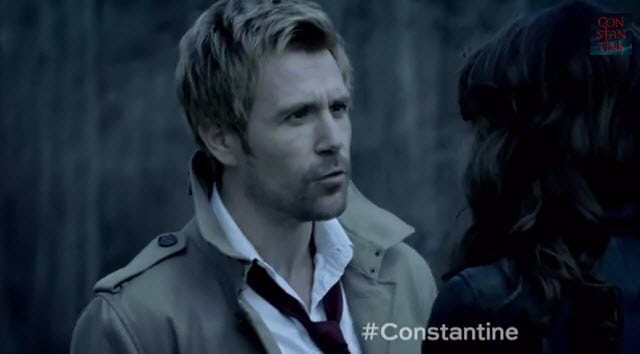 NBC has debuted their first full-length trailer for Constantine, the show based on the DC comic Hellblazer about an exorcist who roams the earth protecting it from evil spirits. The spot is rather long, at over three minutes, and is the most detailed look at the show yet, now that it's officially been granted life as a series, not just a pilot.
I'm not quite sure how I feel about what I'm seeing here. It seems like an odd fit to have it on NBC, and the production values look worse than most CW shows. Perhaps it's incredibly early and it will be cleaned up before launch this fall, but the whole trailer is cut rather weirdly, and the dialogue and general atmosphere don't seem quite right either. Watch it here:
Here's the official synopsis from NBC, if you're looking for a bit more detail on the specifics of the plot:
"Based on the wildly popular comic book series "Hellblazer" from DC Comics, seasoned demon hunter and master of the occult John Constantine specializes in giving hell… hell. Armed with a ferocious knowledge of the dark arts and his wickedly naughty wit, he fights the good fight – or at least he did. With his soul already damned to hell, he's decided to leave his do-gooder life behind. But when demons target Liv, the daughter of one of Constantine's oldest friends, he's reluctantly thrust back into the fray – and he'll do whatever it takes to save her. Before long, it's revealed that Liv's "second sight," an ability to see the worlds behind our world and predict supernatural occurrences, is a threat to a mysterious new evil that's rising in the shadows. And now it's not just Liv who needs protection; the angels are starting to get worried too. So, together, Constantine and Liv must use her power and his skills to travel the country, find the demons that threaten our world – and send them back where they belong. After that, who knows… maybe there's hope for him and his soul after all."
Fans, what do you think of what you're seeing here? Will the show be a faithful adaptation or a watered down, low-budget version?