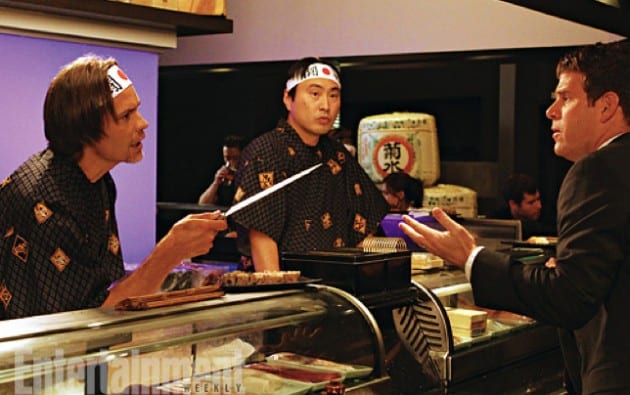 Raylan Givens is giving up fighting redneck criminals for the time being in order to show up to The League for a brief stint. According to EW, here's who he'll be playing if you couldn't figure it out from the picture above.
"Timothy Olyphant trades guns for Ginsu in an Oct. 25 guest stint as a sushi chef on The League. "These guys are uncomfortable getting raw fish from a white dude," Olyphant explains, "and comedy ensues." After three seasons playing a U.S. marshal, Olyphant may be more comfortable with conflict than comedy, but he says, "I see Justified as a comedy, so I feel like we're in the [same] ballpark."
You know, that's actually interesting that he says he views Justified as a comedy. It really is a very funny show most days, despite its focus on action and bloodshed. Olyphant has great comedic timing, even if those aren't the kinds of roles he usually plays (Deadwood, Hitman, etc).
Look for him in The League later this month, and for once I don't think he'll be killing anyone onscreen.