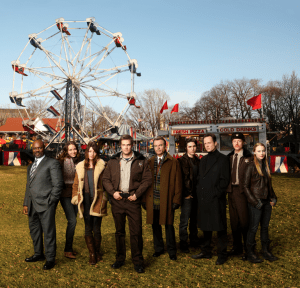 For those of you who have been waiting desperately for your new Twin Peaks, you might just find that show in Happy Town. The title is perhaps the biggest misnomer since, well, ever, because that town is anything but happy. In fact, it's kind of scary. So when you tune in for the premiere on April 28 (which you should do), you should be prepared. Yu might see sunshine and roses, but there's a darkness lurking under the surface. Happy Town's first season will only be eight episodes long, but don't worry — you should have plenty of time to get to know the characters of the town of Haplin and their strange, dark secrets. The only synopsis we've seen is short and to the point:
In the vein of ABC's cult drama "Twin Peaks," "Happy Town" is a mystery set in the hamlet of Happy Town, which had enjoyed a seven-year peace after a series of kidnappings until it is hit by another crime.
Before you decide whether or not you do want to go to Happy Town, check out the characters over the next few pages, with descriptions from ABC.