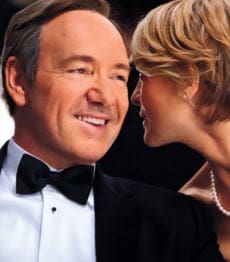 Well this is going to be an interesting experiment. Outbidding the cable networks that seem to hate them so much, Netflix landed a deal that secured 25 episodes of the Kevin Spacey series, House of Cards.
The show is a remake of a BBC miniseries of the same name, and features Spacey as a political insider who is quite ruthless when things don't go his way. The feel is sort of Damages meets The West Wing, judging by the newly released trailer below.
Also on board are Robin Wright and Kate Mara, and the the show has reportedly cost about $100M to make. I think it's actually quite cool that it's a Netflix exclusive, as I'm all for anything that frees us from having to overpay for cable. Will it be a success? You can bet that Netflix will promote the hell out of it, and when people see Kevin Spacey, I guarantee they'll be interested.
Watch the trailer below: