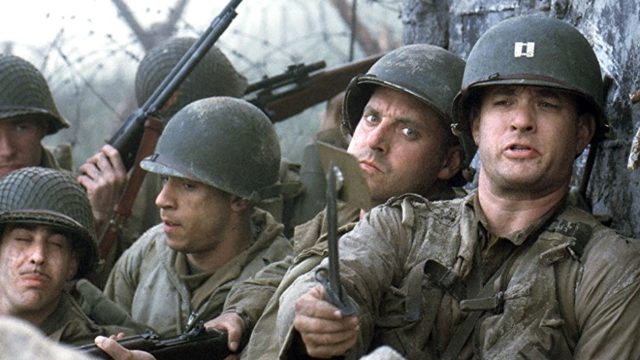 Considering how jam-packed Saving Private Ryan was when it came to actors and extras it's not too hard to think of how anyone could forget all the names and faces that went into making it. After all the main focus was the small group of soldiers that went in to rescue Private Ryan and their story kind of took up the whole movie for the most part. Those that were in the movie as supporting actors, and there were a lot of them, kind of went by the wayside as they got killed off or played their part and were then done for the rest of the movie. Eventually the list had to be pared down so that people could actually focus on the story.
Otherwise the audience tends to wonder where one character after another goes when their part is over.
5. Vin Diesel
Before he became known as Teretto or Groot he was an everyday run of the mill private in the US military that was thrust into this combat zone along with everyone else on a mission to find a single man that had been granted a reprieve from the madness. He didn't factor into a lot of scenes however and the only way that people will remember he was even there will be to watch the movie again.
4. Bryan Cranston
A lot of these actors were stepping up to the plate as supporting cast members before they really got their break and started to do their own thing. If you recall before his career really took off Cranston played Hal on Malcolm in the Middle and was one of the show's most engaging cast members. Once that show was over however he moved on and eventually found himself in Breaking Bad.
3. Paul Giamatti
Paul is one of those actors that's been around for a long enough time that he should have had a slightly bigger role in the movie but was probably put there to offer support just like everyone else since that is one of the things he's so good at. He's been one of the best supporting actors of all time for a while now and it doesn't seem like anyone really wants to change that. Of course in the show Billions he's taking a much bigger role, which is awesome.
2. Ted Danson
After his stint on Cheers you kind of expected Ted Danson to take on a bigger role no matter where he went, but his fame really started to slide after a while. After Three Men and a Baby and a few other projects he just kind of quieted down until he went back to his TV roots.
1. Ryan Hurst
You may or may not remember Ryan Hurst depending on whether you've watched Sons of Anarchy. He played the character of Opie, but he also played in Remember the Titans, We Were Soldiers, and several other titles that saw him put in a stellar performance. The only issue is that he always seems to get cast as the big guy that's strong and not entirely bright.
Go watch the movie again, chances are you'll see every person on this list now that they've been mentioned.