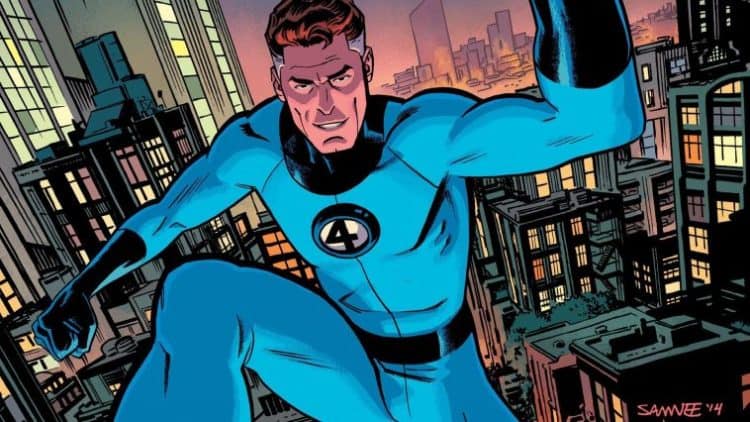 We are finally getting a Fantastic Four movie for the Marvel Cinematic Universe. Hopefully, it'll be the first good live-action Fantastic Four movie. Actually, I want it to be great. We should trust Marvel, we should trust Jon Watts, and we should trust Kevin Feige. They've done great things for the MCU and they've earned our trust. Now that an MCU Fantastic Four movie is coming, we all want to know who will be playing Marvel's first family. For me, I really want to know who will be cast as the leader/father of the team, Reed Richards, aka Mr. Fantastic. Why him? Well, because they're really is no Fantastic Four without him. Sure, The Thing is the coolest member of the team (in my opinion), but Mr. Fantastic is who kept the team together. He's the brains, the moral compass, and the father of the Fantastic Four.
I'm very anxious to find out who Marvel will cast for Mr. Fantastic. They need someone who can pull off the annoying, condescending bookworm who people can barely tolerate, but he also needs to be a loving and loyal friend. If you're a comic book nut, you'll know that sums up Reed Richards perfectly. So who's the best actor who can perfectly act with these traits? I have at least five in mind.
Here are five actors who can play the MCU's Mr. Fantastic.
5. Andrew Lincoln
That's right, kicking off my list is Rick Grimes, or Andrew Lincoln. Lincoln is one of those actors who sadly isn't a household name, but should be. Thankfully, his time on the Walking Dead isn't done yet, due to the upcoming Rick Grimes solo films, so his fame is only growing. That's great news, because I believe he can play a very convincing Reed Richards. Lincoln's portrayal of Rick Grimes proves that he can play a determined leader with conviction and undying loyalty to his people.
That's the kind of leadership Reed Richards is to his team. Just like how Rick's group can disagree with him on things, they'll try to convince him otherwise, but Rick always sticks to his guns and tries to lead them on the right path. Andrew Lincoln can play a more serious Reed Richards with the best leadership abilities. He'll probably even give some of those amazing Rick Grimes-like speeches for inspiration.
4. Timothy Olyphant
If Marvel wants to try something a little different and make their Reed Richards different than how we usually see him, they need to cast Timothy Olyphant. Reed Richards has always been a bit of a know-it-all, but he was always a well-meaning scientist dedicated to using his knowledge for the betterment of mankind. Marvel can spice things up a bit by making their Reed Richards a bit more… of a douche. When I say "douche", I picture him to be far less humble and more egocentric. His main goal would be to constantly prove that he's the smartest guy in the room and outdo anyone who tries to upstage him. Basically, he can go through a journey similar that of Stephen Strange.
Timothy Olyphant is more than capable of playing those heroic characters who have a bit of a "I'm better than you and I know it" swagger to them. He's got the look, the awesome voice, and the acing chops to pull off the egotistical genius Reed Richards. This Reed can make the other MCU heroes look like dimwits, which probably won't win him many friends. However, they'll need him for his great intelligence and while he'll be a big help, he'll also be a huge pain in the neck. The only actor who can make that work and look cool while doing it is Timothy Olyphant.
3. James Franco
Now if Marvel wants to stick with the traditional Reed Richards, then I say go with James Franco. After watching his performance as Harry Osborn, it's a no-brainer that he can play the socially awkward, dorky type. He can also play a more confident and well-intentioned scientist, as evident by his performance in Rise of the Planet of the Apes. That's how we're used to seeing Reed Richards when he's at his best, but he's also a practical man of science. Sure, he's ambitious like Tony Stark, but he's more level-headed and can recognize when he's doing something wrong. Basically, he's the scientist with a superior moral standards. James Franco can pull that off really well and even has the Reed Richards look. Plus, it'll give him some redemption after Spider-Man 3. Seriously, he deserves it.
2. John Krasinski
It's pretty much impossible to talk about Mr. Fantastic these days without mentioning the potential casting of John Krasinski. I can understand why and yes, I'm all for it. What could separate his Mr. Fantastic from the others is one simple physical feature: his beard. For real, after watching A Quiet Place, I can't unsee him without the beard. He just rocks his own facial hair and just put on the Mr. Fantastic suit and he's all good to go.
I picture his Reed Richards as the raggedy, burnt-out scientist who failed at his ultimate goal. By the time we see him in the MCU, he could be searching for redemption and given up on his personal life. The kind of scientist who spends his time locked in his lab and working non-stop to figure out a way to make amends. That's the kind of Reed Richards John Krasinski can pull off and joining the Avengers can be his big chance to fix any past mistakes. And if he can keep that beard, please keep it on him.
1. Patrick Wilson
Yes, John Krasinski was not my number one choice. Again, I do want it to happen, but if not him, then I vote Patrick Wilson. Wilson has the Reed Richards look and can pull off the geeky science guy who's always inventing things. A good example of this is Wilson's performance as Dan Dreiberg or Nite Owl in Zack Snyder's Watchmen. He was the egghead of the group, but the team needed him because he was an inventive genius. He had the awkward social skills and not as vindictive as the other Watchmen, but he was the level-headed moral compass of the group. That's what he can bring to the MCU's Mr. Fantastic and that's what the character needs to hold the Fantastic Four together. Just slap those glasses on him and he'll be the nerdy Reed Richards we need him to be.
Those are my picks for who should play Mr. Fantastic. It's a tough choice, but I think these five actors are best suited for the job. Only one can get the part, but whoever gets casted can bring their own unique charm to the character. Casting announcements soon? I sure hope so.