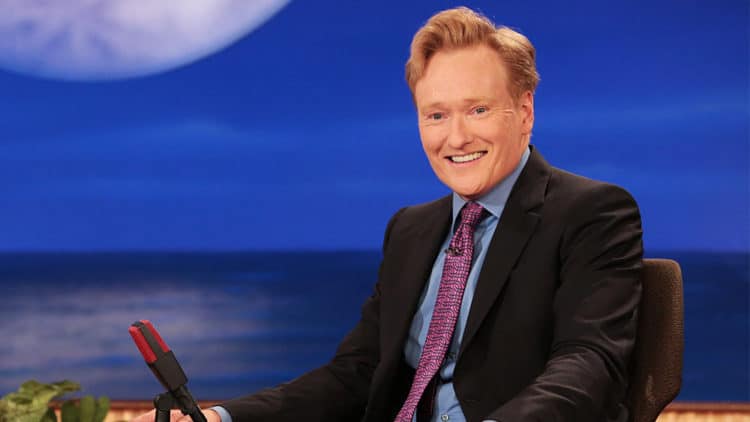 It is hard to do someone justice when they graduated magna cum laude from Harvard. It might surprise you to learn that is exactly what Conan O'Brien did in 1985. The 56-year-old talk show host is a great deal more than a comedian, though it is undoubtedly his humor most people would be familiar with if asked. With a life far stranger and more interesting than any fiction Conan would present unique challenges, particularly if the movie were autobiographical in nature. After all, not many people have been stalked by a priest. (http://scribol.com/news/conan-obrien-stalked-catholic-priest-years/)
5. Brendan Beiser
This dual citizen has a small advantage over most actors who might be picked for the role. While Brendan himself never attended Harvard, his father was a professor there not too long before Conan attended. It never hurts to have that kind of information to draw from in order to better play your role. Though we might have a tough time convincing him to leave his home in Canada for the part, we think his underappreciated comedic style might make a good match for a cinematic Conan. Like most of this list, he shares a natural crop of very red hair. There are many fine actors. So many, in fact that we might have had a harder time narrowing down a realistic set of choices if we hadn't looked at the redheads as top candidates. Given the fact that Conan made number four on the Time list of the Top 10 Redheads, it seems only fair to mostly avoid dye jobs. Kermit, the frog, may think that being green isn't so easy, but he never had to grow up as a ginger and as Conan points out, having red hair and freckles is no walk in the park.
4. Kevin McKidd
Kevin is another fellow redhead, and though he's known for his dramatic and more somber roles, we still think he's a contender. Being a serious dramatic actor does not mean he's necessarily incapable of lighthearted humor. Kevin brings a level of intensity to his roles that is likely to be advantageous when you are trying to sell the true story of the life of a comedian. Establishing a well-known character as a fully realized human with depth and layers to their personality is no easy feat. Surprisingly, Kevin wasn't always set on becoming an actor. He once dreamed of becoming an engineer and attended the prestigious University of Edinburgh where he eventually got involved in theater and moved to a theater major at Queen Margaret College. With a large and varied body of work to his credit including at least 37 movie roles and parts on eleven TV shows, we can see him as a fair competitor for a Conan Movie. The intellectual depth and an excellent education make Kevin McKidd one of our top five choices.
3. Bill Hader
As the only non-redhead to make our list, we think Bill Hader holds a special place. The Emmy award-winning actor, director, writer, and producer has more talent than he needs to make the cut. Bill is known for so much of his work, but perhaps best for his time on Saturday Night Live. If that is not a comic accomplishment, then we don't know what would qualify. Unlike some of the candidates, Bill did not attend a University. However, since a paper with a prestigious name on it is hardly a guarantee that the holder is adept at anything beyond attending classes and doing homework, we'll give him credit for the obvious intellect and competence he displays without asking for an overly specific document. As an avid reader who prefers classic literature, we think he is probably thoroughly and brilliantly self-educated. He might need to use a box of dye to pull off the role, but with his impressive list of credits and comedic range, we think he'd make a decent Conan. Plus, he's one of the few men who can pull of a fake red and still look realistic. Also, he's already been on Conan's show.
2. Seth Green
This creative dynamo is one of our favorites for the role. He has written, directed, produced and acted in movies, TV shows and cartoon spanning virtually every genre. He brings fun, and vital energy to his roles that we feel could capture Conan's high spirited style. Though many fans are only familiar with him in his heavily comedic roles, he has plenty of experience with heavier dramatic acting. Anyone who has been acting steadily since they were seven years old has the experience to bring to the table for such a multifaceted character as Conan. He may seem like an unusual choice for the part, but he has the same positive and lively attitude that makes Conan so enjoyable to watch. We'd love to be a fly on the wall at the audition if only to watch Seth blow them away.
1. Alan Tudyk
If you aren't familiar with Alan Tudyk, don't worry. You know him better than you think.  Looking at his filmography is a wild exercise in eye strain. It's like picking out three great movies and a tv show you enjoyed every year for the last two decades and just putting them together and then adding a couple dozen more film credits plus his stage acting, video game voice acting and web-only works just to top it off. When people play the Six Degrees of Separation game, they could probably use Alan Tudyk in place of Kevin Bacon. From Spamalot on stage to Star Wars, Frasier, Dollhouse, Patch Adams, The Tick, I-Robot, Moana, Firefly and Wreck it Ralph, no one has range like Alan Tudyk. With his red hair and a genuinely overabundant portion of sheer talent, we could see him winning the part even if he had to go up against everyone else on this list (though it would be a close call). When it comes to serious, or silly, depth and brains, Alan has it all, and we think he would make a wonderful Conan O'Brien too, given the opportunity.
Final Thoughts
Whoever would be chosen for our theoretical film certainly would need to bring their A-game to the table. While many celebs have hidden depths and interesting stories to tell, Conan is probably among the most unique and bizarre. It's no wonder he went into comedy with such an extraordinary life to draw from. He certainly has the talent as both a writer and a producer to create a film about his life even without using another screenwriter for the project. All we know is, if it ever happens we want tickets for opening night, please.