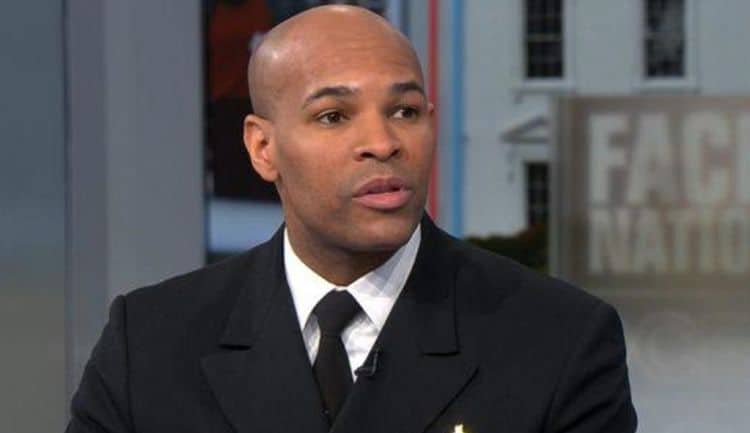 Jerome Adams is the United States Surgeon General and he is most commonly referred to as "America's doctor." Adams is holding strong at the forefront of the current Coronavirus pandemic, advising the American public on matters of public health and safety. It's a daunting task and this era is putting his skills and wisdom to the test of fire, which is the case for many in such leadership positions throughout the world. With an impressive military service career, Adams has an interesting story and we think a movie about his life would likely be a great success if the right actor is chosen to portray him. Here are 5 actors who should play Jerome Adams in a movie.
5. Donald Glover
Glover was born in September of 1983. He is currently 36 years old and could easily portray Jerome Adams with a bit of age regression and progression to highlight key moments in his life. Glover was born on Edwards Air Force Base in California. He was educated at New York University earning his degree in Dramatic Writing. He starred in the series "Atlanta" in 2016, which he also wrote, produced and directed, winning a Golden Globe Award in 2017 for his performance. Although he's a comedian, he is capable of more serious roles and his big-screen credits include "The Martian" in 2015, "Spider-Man: Homecoming" in 2017, ane in 2018, "Solo: A Star Wars Story" as Lando Calrissian. We'd like to see Glover get a shot at this serious role because when he's not making us laugh, he is a smart and creative artist who could bring Adams' story to life. He was named as "One of the most influential people in the world" in 2017 by Time Magazine.
4. John Boyega
English actor John Boyega is still in his late 20s, but there is something about his distinguished appearance that gives him an air of wisdom and maturity. We believe that the star of the "Star Wars" franchise has the skills and talents to play the part of a younger Jerome Adams with class and style. Best known as Finn by Star Wars fans, he also appeared in "Detroit" in 2017, a historical drama film, as well as "Imperial Dreams" in 2014 an in 2018, in "Pacific Rim: Uprising." John was the recipient of a 2016 BAFTA Rising Star Award and we believe that he's got what it takes to thrill viewers with a brilliant portrayal of Jerome Adams.
3. Laz Alonso
Laz is a handsome young actor who has a great deal of potential. He was listed as one of the Top Ten Actors to Watch by Variety. His performance in "Detroit," in 2017 was spectacular. He has received multiple nominations and awards for outstanding performances. Other projects include "Miracle at St. Anna," "Jarhead," "Down for Life," and more. Prior to becoming a successful actor, Laz attended Howard University in Washington DC earning his BA in Business Administration. He's worked as an investment banker on Wall Street as well as acting. Alonso is capable of garnering a serious demeanor that comes across as being thoughtful and at times pensive, or introspective. He's a versatile actor who has the skills to move into the heart of any character and then bring that character to life on film. We'd love to see his interpretation of Dr. Jerome Adams in a movie.
2. Chadwick Boseman
Chadwick Boseman is best known for his role in "Black Panther." He went on to snag a leading role in "21 Bridges," showing he can pull of a believable Marvel character then return to less fantasy and more relatable roles. The point is that he is a versatile actor and in a recent interview he enjoys having a challenge. If a role is unfamiliar for him, he dives into it to be the best possible version of that character. That is what we like about Chadwick Boseman. We believe that he has the solid core that would be required to play the part of the army physician who rose to a high position in the United States government as the US Surgeon General at the age of 45 years. Boseman is good in serious roles and he gets this contemplative look that tells us the wheels are turning hard in his head, but he still keeps his cool. He's done some great representations with his character acting and we'd love to see him take his shot at playing the part of Dr. Jerome Adams.
1. Michael Ealy
Michael Brown changed his surname for the stage to become Michael Ealy. He is our number one pick for the role of Jerome Adams. He is best known for the lead role he played in "Barbershop," But he's also appeared in "Baseball Wives," "Kissing Jessica Stein," "Bad Company," and "Law & Order." Jerome Adams is a handsome, hard-working and intelligent physician who has made his career in the military. He's come a long way in his career by the age of 45 and not just anyone could do justice by portraying him. Ealy has a deep personality, good looks, and charm. He's also a versatile actor who has performed in film, television and on the stage. He's played roles in a variety of genres and we'd like to see his interpretation of Jerome Adams in a movie. Our biggest reason for making Michael Ealy our first choice to play Adams is because, at first glance of his photos, he has the outward look of a man who is thoughtful, intelligent, and accomplished in his career. He possesses a certain air of dignity and there is something about the expressions in his eyes that are intriguing. Ealy has mastered talking with those eyes and it's a technique that captures the attention of viewers.