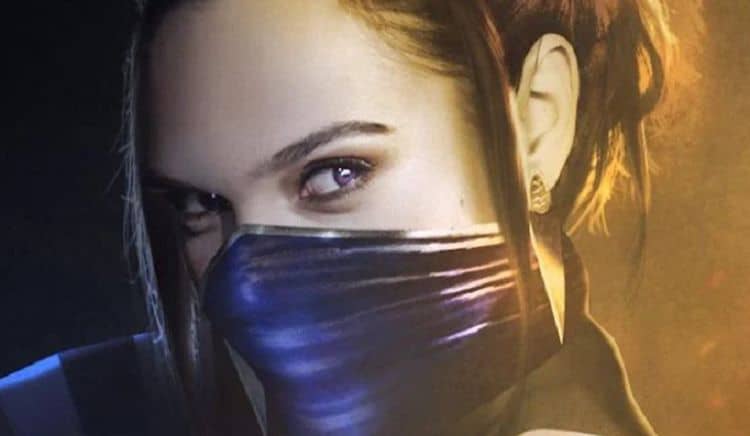 Now that Mortal Kombat has hit HBO Max it's fair game to talk about what might happen in a sequel, which should hopefully be happening at some point. Okay, so it's been fair game to talk about anyway, but at this point, it feels as though it's worth discussing just who might be best to play which part since there were plenty of Easter eggs hidden throughout the movie that people should have been able to pick out, and one of them was a very recognizable bladed fan that only one character in the game has ever mastered. Kitana is undoubtedly one of the many that people might have thought was over and done with by the time the explanation of what happened to so many combatants came around, but there's every possibility that she'll be one of those to be introduced in the coming sequel if, in fact, it is going to be made in the first place. As one of the more popular characters that have been around since MK 2, Kitana is definitely one of those that people would like to see, but it's fair to wonder just which form we would see her in and if she would be in any way friendly to the protectors of Earthrealm, or if she would attack on sight. One has to remember that wasn't always an ally.
Here are a few ladies that might be able to play the role of Kitana.
5. Awkwafina
She's definitely the odd pick out of this bunch but let's not be too dismissive of Awkwafina since it's possible that she might have a hidden talent for action that we're not seeing yet. She's definitely good enough to put in as a sidekick and to add for comic relief. But then again, Kitana was never known to be that funny of a character, so again, this is one of the odd picks to keep everything honest. But it does feel as though Awkwafina could possibly turn on some hidden kill code in her brain and excel in this world if she really tried. It might be kind of a scary transition, but it does feel entirely possible.
4. Naomi Scott
Naomi has definitely starred in a couple of clunkers over the course of her career, but she's also proven that she can keep going without any further urging and has continued to show up and do her best, so it's fair to think that it might be time to see if she can take on an action role that might test her more than others. Kitana is one of the deadliest fighters in MK after all, but she's also a princess and holds herself with a certain air that one can't deny is a little haughty and even arrogant at times. While it's hard to attribute such traits to Naomi, she's played the part of a regal character in the recent past, so it might actually work.
3. Jamie Chung
This has to do with her looks more than anything and the fact that she is in good shape and contributed to an action movie before. Seeing her as more than a pretty face has been possible, but it would be great to see her as someone that can enter the fray and kick the hell out of people since seeing one of Kitana's fatalities would be absolutely awesome. Chung is getting up to where she might be getting a little old for the role, but at the same time, she's still in great shape and should be able to take on this role and give people something to think about since seeing her as Kitana would be kind of cool.
2. Elodie Yung
If you want to see Kitana look severe then Elodie would be a good decision since this woman can look intense and might even be able to make a person think that running wouldn't work if she was ready to beat them down. The character of Kitana definitely needs someone that has a certain look to them, and various features and even skin color could help out in a big way since she's changed quite a bit over the years just as the rest of the characters have. What Kitana really needs is a woman that looks good in the outfit, can be intimidating, and can still act, which would make Elodie one of the few that could do it all.
1. Constance Wu
As I said, Kitana does need a certain look and it might be that those women with well-defined Asian features would be among the first to be picked, which would be kind of expected since this character has been featured this way more than once and it might be nice to see some continuity in the sequel. It does leave the question of who would play Kitana's parents and who might even play Jade if she steps into the fray.
If a woman is intimidating, athletic, and can act, then this role is definitely for them.