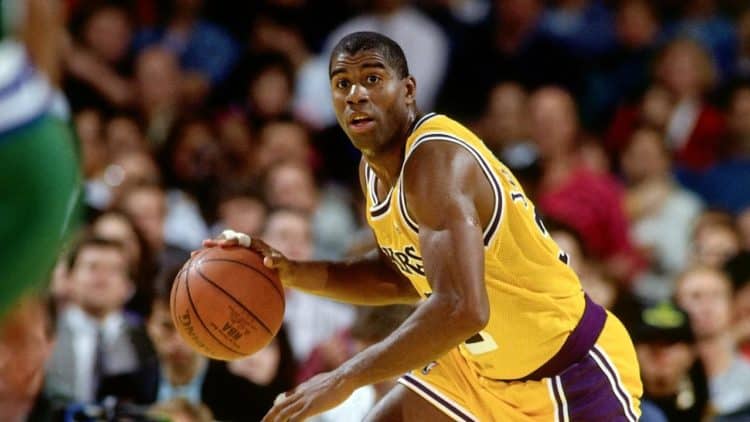 Let's put it out there since a lot of people are already thinking it: Magic Johnson is a legend and NBA History will only confirm it since this is a guy that helped take the L.A. Lakers to such heights that his position was solidified not long after he hit the floor. But all good things must come to an end sometime it would seem and as you might have heard or read in the news by now he's resigned as the Lakers' president of basketball operations as it's been reported on BBC Sport and many other sites. This came as a shock to a lot of people that thought Magic might be sticking around for a while since he still loves the game and he's been a part of the Laker's organization for a good chunk of his life. But it would seem that moving on is the only path he seems to see, which leaves a lot of people questioning just what he's going to do now. One thing though is that the idea of creating a biopic on his life is something that might incorporate some of the stuff that Jake Vigliotti from Nikki Swift has included in one of his articles. A couple of questions to consider is how much of his life would be presented in such a movie, and who would they get to play the star?
Here are just a few choices that might make a bit of sense.
5. Derek Luke
With a guy like Magic Johnson it comes down to someone that can act, has at least some natural ability, and at least has something close to the look of the man that can be made to work. Getting in shape, slimming down, or bulking up wouldn't be the issue. It would be taking on the mannerisms of Magic that would be a real challenge for just about anyone and Derek seems like he could handle it. He's been in some of the most dramatic shows and movies created in the last several years so it seems feasible that he could take on a project like this and make it work to his advantage.
4. Donald Glover
The acting ability is there, this is the guy that played the role of Lando Calrissian after all, a smooth-talking gambler that had to have his wits about him at all times. It would be his appearance that might need to change since it seems as though he might need to bulk just a little. Of course that could be basing his appearance off of those movies in which he's wearing loose clothing and seems scrawnier than what he really is. In any case Glover would definitely fit the bill so long as he cut his hair short and got rid of his customary facial hair. If he didn't want to do this then that might something of a sticking point.
3. Anthony Mackie
Anthony is one of those actors that knows how to prep for a role and it's easy to say that he might actually have some skill on the court since he did play in the movie called Crossover in which he was a basketball player. It was a bit different than the NBA of course but the fundamental skills were still necessary. Plus Mackie seems to be due for another big role that will allow his reputation to expand a bit more since he's been kind of second fiddle in the Avengers and Captain America movies even if he's been seen as someone that might be missed if he wasn't there. Oh wait….
2. Michael B. Jordan
Michael knows how to get ready for a role and he knows how to play it out. But this almost seems as though he might actually have to tone down since in Creed II he was seriously jacked up and about bursting at the seams with muscle. It's not known for certain if he has any skill on the court but if you've seen how this kind of thing was handled in White Men Can't Jump then you know that on-site trainers can handle pretty much anything to make it look authentic. If nothing else he might make this role look good just by showing up and putting the ball in his hands since he's been depicted as a guy that loves a challenge.
1. Chadwick Boseman
This almost seems lit it would be meant to be since Chadwick not only played Jackie Robinson in 42, but he also played the fictional character of Vontae Mack in Draft Day. This guy knows what it's like to play the role of a sports star and he knows what it is to be seen as a positive and uplifting character in the black community. It would be kind of hard to say that he wouldn't be considered the first choice for such a role, so I won't.
If this movie gets made it needs someone that can fit the role just right.  Oh and there's also the issue of Magic being 6'9.  They'd have to figure out that part.