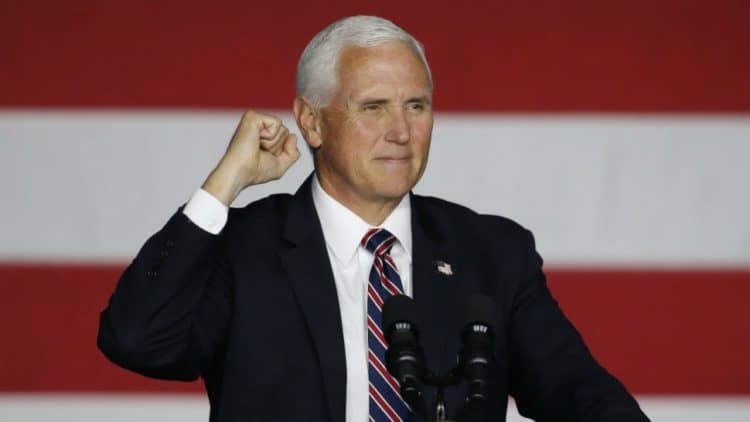 There's been a lot of turmoil in Washington DC since the election, hasn't there? The idea of anyone making a movie based on the current happenings in the capitol might find that they'd need to fill the project with a great number of high-caliber actors to accurately represent the players that are getting the most attention, and the former VP Mike Pence would definitely need to be among them. But it's hard to say who would be the perfect fit for the former right-hand man of Donald Trump, especially since a lot of people are currently cursing Pence's name for not taking more decisive action when it came to standing up to the Democrats when it appeared that they wanted everything that they could take from the former POTUS. Getting past that though, there have been plenty of people that have taken issue with Pence over the last four years, and it feels safe to say that an actor might actually be risking their career in a small way if they decided to say yes to playing this role. Some might say that's ridiculous, that playing such a public figure isn't that big of a deal. But look what happened to Jim Caviezel when he played Jesus of Nazareth, and then say that.
Here are a few actors that might be able to take on the part of Mike Pence in a movie.
5. Jeffrey Dean Morgan
This is definitely the black sheep pick of this bunch since it's very likely that Morgan wouldn't be among the first picks that would make a lot of lists. But he makes mine because he is a good actor and knows how to switch it up when he needs to for a role. A lot of people are used to seeing him being the type of guy that will smile and be the kind of guy that can be your best friend or your worst enemy, but that might actually be just fine for a role such as this. His style of acting is what would be fun to watch, as always, considering that he can change things up so readily that fans might have to make sure they're watching him and not someone else.
4. Tobin Bell
Tobin might be getting a bit old for this kind of role but it does feel as though he might be able to summon up enough nerve to take on a role such as this. In his younger years, it likely would have worked even better, but even now it feels as though it could be possible. The fun thing about Tobin is that he can be a pleasant individual on-screen or he can be someone's worst nightmare as he proved with the Saw movies. He might not be the first pick for some and he might not even make the list for a lot of people, but he sounded like a good idea for this list, and it doesn't feel as though he should be counted out.
3. Mads Mikkelsen
Mads is another guy that can be someone that you'd want to sit and talk with or someone that you'd be terrified to be in the same room with since he can give the kind of dead stare that makes him a perfect villain. But he can also be very personable even if he's a bit severe at times. Rogue One kind of showed that he can be the kind of guy you can't help but feel sorry for since he was turned into a guy that made the deadliest weapon in the galaxy operational, but he was also the guy that came up with the fatal flaw that somehow went without being noticed. He'd be a good candidate to consider.
2. Sean Bean
One thing about this role is that Sean would have the knowledge that he wouldn't be dying at any point within the movie, which is a commonality among many of his movies since he typically gets built up as a big character and is then seen dying at one point or another. In this kind of role though he would have the benefit of sticking around for a while since playing Pence would be the type of role that one might be able to take on and simply run with depending on the director.
1. Steve Carell
Steve feels like the most likely candidate that might make this work since he does have the look that would make it possible and the acting he's done up to this point has made it clear that he's the kind of guy that can be depended on for a role such as this. He's played the part of a politician before, but this would be different simply because unlike Evan Almighty it wouldn't be a comedy most likely. Or maybe it would, who knows.
It would be interesting, that's the point.