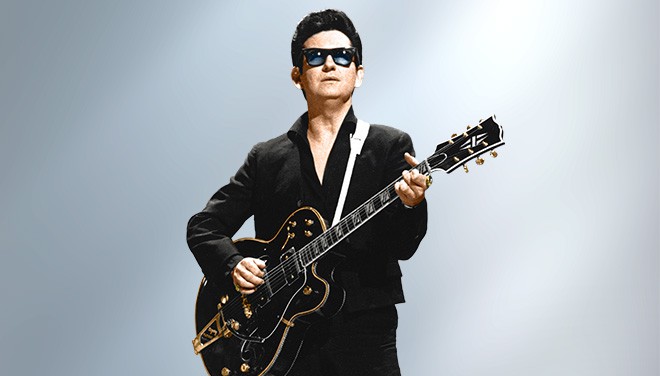 He was definitely one of rock and roll's most iconic figures. Roy Orbison was known for songs such as Only the Lonely and Oh Pretty Woman. He was also inducted into the Rock and Roll Hall of Fame and Nashville Hall of Fame among a few other honors. Orbison will always be remembered for his square frames, jet-black hair, and for his deep, vulnerable vocal tone. A movie about his life has been teased for a few years now, and we've listed here five actors that might be able to do the singer-songwriter justice in a film. Here's who we think should play Roy Orbison in a biopic.
1. Johnathan Rice
Rice is probably one of the best candidates to play Roy Orbison because he's already done the job. In the 2005 Johnny Cash biopic Walk the Line, Rice played Orbison and did so quite well. In this article from Talkhouse.com, Rice relays the inspirations for his latest album. He even ends with the thought that anything could be possible. He talks much like Orbison sings; and of course, Rice also has the talent to back it all up. He's got the deeper tones that Orbison did. While the nuances are there, the voices of the two singers are strikingly alike. It also helps that Rice's music has similar roots to Orbison's. While Rice may not be a prolific actor, his only film credit happens to be just the right one. It's also worth noting that he was acting alongside big names including Joaquin Phoenix and Reese Witherspoon. If we here to get another chance at acting, he might as well play the same character he played so well before.
2. Garrett Hedlund
We know he can sing, and he can definitely act. The fact that he's also got that deep and digging voice is a huge plus. Garrett Hedlund has had a steady career in Hollywood. It's almost natural to picture him playing Roy Orbison for some reason. We can still imagine Hedlund standing with his guitar on Country Strong, and he definitely looked good as a singer in a movie. Since he's also a natural singer, he wouldn't have to work too hard on the vocals to play Orbison's part. We can definitely see Hedlund with jet-black hair to pull off the role. He's also got a roughness and darkness to him, which will come in handy when it's time to portray the difficult times in Orbison's life. It's easy to gravitate towards Hedlund in movies. His charisma is undeniable, and that's certainly one thing that Orbison also had. He had a magnetic quality to him that made people just attracted to him. If Hedlund were to play Orbison in a film, it'll be one worth watching for sure.
3. Jeremy Renner
Most people who follow Jeremy Renner know that he can definitely sing. While singing may have to be a requirement for an actor to play Orbison in a film, that's not the main reason why we picked Renner to begin with. It's surely a plus, but we believe that Renner resembles Orbison quite a bit—more than any of the actors on this list. With a square jaw and ears that stand out, all Renner would need to have are some of Orbison's signature sunglasses. While Renner doesn't sound anything like Orbison at all, we're pretty sure he could pull it off in the end. It's clear from this article on iHeart.com that Renner is a musician at heart. He's remarkable as an actor, and he's certainly skilled with the guitar and vocals as well. It'll be a treat for Renner to show off all his talents in one film. Even after all the blockbuster films he's been in (Avengers, Bourne Legacy), we still think he's highly underrated. It's time for someone to give this guy a real chance.
4. Chris Pine
Not many people know that Chris Pine can actually sing. In fact, he's quite an outstanding vocalist. While Pine may be more of a crooner than anything, we could really easily argue that Orbison was much like a crooner himself. Orbison let out a lot of vulnerability in his music, and many of his songs were about love and romance. When we think of Chris Pine, it's hard not to think of romance. He's the ultimate Hollywood leading man. He's got the looks for romance. He's definitely got the chops. The fact that he's got the voice just makes him more eligible to play Orbison. While he may not look much like Orbison, we all know the kind of magic Hollywood can do. We believe that Pine may have enough versatility to be able to pull it off.
5. Jake Gyllenhaal
You may think this an odd choice. Jake Gyllenhaal doesn't sound like Orbison or look like Orbison. We've put his name on this list for a couple of reasons. First, we know he can sing. In this article from People.com, Gyllenhaal claims that his heart has always been in music. He also happens to be quite adept, and we're just glad. There aren't many things this guy can do—so it seems. We already know how good of an actor he is, and doing something like an Orbison biopic seems to just make sense. So here's the second reason why we've put him on this list: talent. If we were to go by talent alone, Gyllenhaal could probably play anyone out there. It isn't too far of a stretch for us to see him as Orbison. He's got the right vibes to him; we're pretty sure he can work with a vocal coach to deepen his tone just a bit. The best actors can transform themselves into their characters well. Gyllenhaal is just that type of actor.