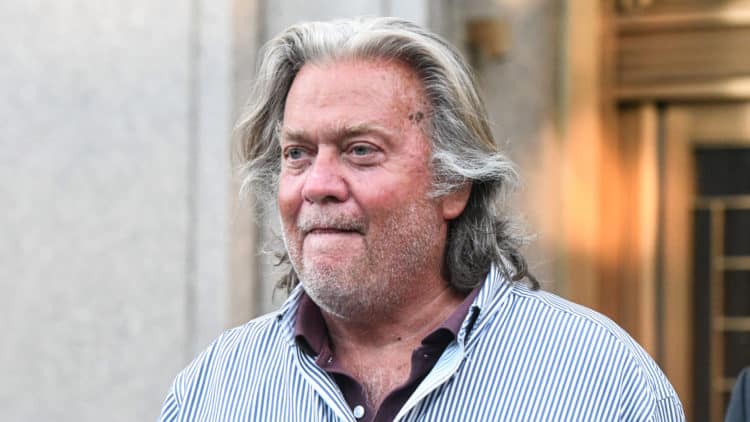 Some look at Steve Bannon as one of the evil men in America and others still defend the guy for their own reasons. It's hard to say one way or the other without being able to sit down with him and speak for a few minutes, but it is easy enough to think that he's not the greatest person in the world after hearing a few of the quotes that he's let be heard aloud in the past. But thinking that someone could play his part in a movie isn't too hard since one, any actor worth their awards or reputation would be able to do this since it's acting, it's pretending, and it's convincing others that their version is good enough to pass muster. Two, it's easy to think that a lot of Hollywood take this role and simply run with it in an effort to put their own 'spin' on it, which wouldn't be necessary since Bannon has proven to be someone that's less than decent in recent years. But to think that anyone would take this role is to think that someone would want to be vindictive and possibly ruin the man's reputation, or expose it a little further, simply to let people know that this is who he is, what he is, and what he's said.
Here are a few actors that should be able to play Steve Bannon.
5. Jack Nicholson
Jack might be getting a little old for this but he'd still be a pick that might need to be tossed into the mix since he's been so great at just about everything he's done. Plus, he can play a truly crotchety old man without trying too hard since his acting is sometimes just Jack being Jack. Some would label him as a nice guy and others would label him as kind of a grumpy old person, but the fact is that he's a great actor and it does feel that he would be right for this role if it could be worked out. But whether or not he would take it would be the big kicker to be certain.
4. Eric Roberts
He's an obvious choice since he's not a horrible actor but he's someone you generally put into a role that might not be as important as he makes it feel and will eventually be tossed aside as Bannon kind of was during his time in the White House. Okay, it feels that way at least, but with Roberts, there's also that general feeling that some people like him and others can't stand him, and then there are those that don't want to say anything too bad about him but eventually to realize he's kind of a pain in the backside for a number of reasons. But in terms of taking the part, it does feel that he could make it work.
3. John Goodman
It feels like an odd choice to be certain but it's also one that might actually work since Bannon and Goodman are close enough in form and looks that it could be possible that it might come off as kind of perfect in a way, especially since Goodman is definitely a capable actor and has proven as much over the years given that he's taken on many different roles that have seen him become either the good guy or the bad guy. Without saying which one Bannon might be to a lot of people it still feels that Goodman would be capable of taking on this part and running with it to the end.
2. Robert De Niro
Some folks might want to say that I'm just being mean in trying to convince anyone that De Niro should take on the part of a guy that supported Donald Trump, someone that De Niro spoke out vehemently against and actually admitted that he wanted to punch. But there is a bit of guilty pleasure in thinking that the part might actually unnerve De Niro, even if there's a bit of faith that he would take it just to show his more vindictive side when it came to playing such a character. At the very least, one could reason that he would probably do his very best at showing Bannon at his worst.
1. Bradley Cooper
He feels like another odd choice since there isn't a lot of similarity between Cooper and Bannon, but it does feel that he might be able to take on this role since he's been able to portray characters that aren't entirely comprised of strong moral fiber. It would no doubt be one of the roles that would require prostheses of some sort, but it still feels like something that Cooper would be able to take on and accomplish as another milestone in his career.
One can only guess how this would play out.