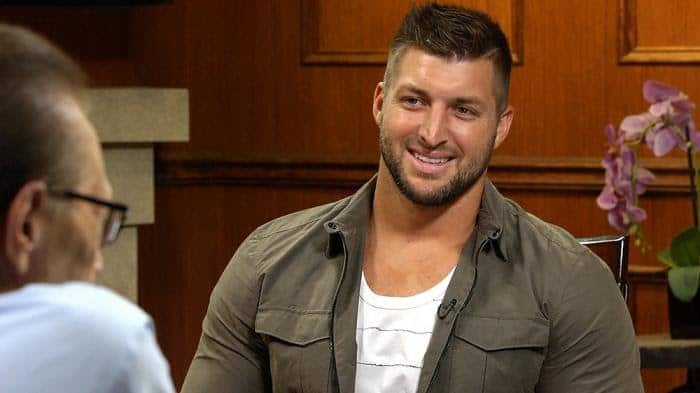 Tim Tebow was only in the NFL for five years, but his time in the league will never be forgotten. Not only did he prove to be an asset on the field, but he also touched a lot of people outside of football with his faith in God. As a devout Christian, Tebow dedicated a lot of time and energy to spreading the word of God all over the world. His philanthropic contributions through the Tim Tebow Foundation have helped countless people and he isn't done yet. His journey has definitely been one that would make for a great Lifetime movie. After all, people love a good heartwarming story, and Tim Tebow's has all of the right elements.
Plus, Lifetime has a reputation for making biopics, so it seems like it's only a matter of time before Tim's story is brought to the drawing board. When they finally make a Lifetime movie about Tim Tebow, here are five actors who should play him.
1. Liam Hemsworth
Tim Tebow's strength and size are two things he was always known for during his football career. Both of those are things Liam Hemsworth has no shortage of. Additionally, having his name attached to the project would instantly draw people in. On top of fitting the bill from a physical standpoint, Liam Hemsworth also has the acting chops to bring Tebow to life on screen. He has the range to pull off the different experiences that makes up Tim's story. Throughout his career, Liam Hemsworth has proven that he has what it takes to play a wide variety of characters. Although he doesn't have any experience playing a real-life person, this could be the perfect way for him to get some.
2. Zac Efron
Best-known for his role at Troy Bolton in the High School Musical franchise, Zac Efron is one of the few former Disney stars that has managed to build a solid career as an adult. He has successfully shed his Disney image and managed to show the world that he can do more than just flip his hair and smile at the camera. His resume includes a nice mixture of serious and light-hearted roles, and Tim Tebow would be another great one to add to the list. Zac already has experience doing a biopic, and he spends enough time in the gym to be able to pull off the football physique.
3. Scott Eastwood
If the last name Eastwood is sticking out to you and you're wondering whether there's any connection to the legendary Clint Eastwood, the answer is yes. Scott is Clint's Scott, but he has worked hard to create his own path and not rely on his father's reputation in the industry. That being said, Scott may not be as well known as the first two actors on the list, but that's exactly why playing Tim Tebow could be a great opportunity for him to show just how talented he is. Scott already has experience playing an athlete thanks to his role in the 2009 film Invictus in which he played Joel Stransky, so he's fully aware of what goes into playing a sports star.
4. Aaron Taylor Johnson
Aaron Taylor Johnson may have been born in the United Kingdom, but that doesn't mean he isn't capable of playing an American football star. He has been in the industry for a little more than 20 years and he's accomplished a lot in that time. His resume includes lots of impressive roles and Tim Tebow could be another great one to add to the list. Aaron has lots of experience playing real-life characters – probably more than anyone else on the list.  Plus, he's recently dabbled in the behind-the-scenes side of things which means he could also bring an interesting perspective.
5. Hunter Clowdus
Hunter Clowdus is another actor whose name may not be widely known just yet, but playing the role of Tim Tebow could easily change that. At the moment, Hunter is probably best-known for playing a high school football player JJ Parker in The CW series All-American. Needless to say, his experience playing a football player would definitely come in handy in his portrayal of Tim Tebow. Not only is Hunter a few years younger than Tim, but he also has a very youthful appearance. This means that he could probably pull off playing Tebow during his younger years. If he were given the opportunity, it could completely change the trajectory of his career by showing the world he can do more than just play supporting roles.