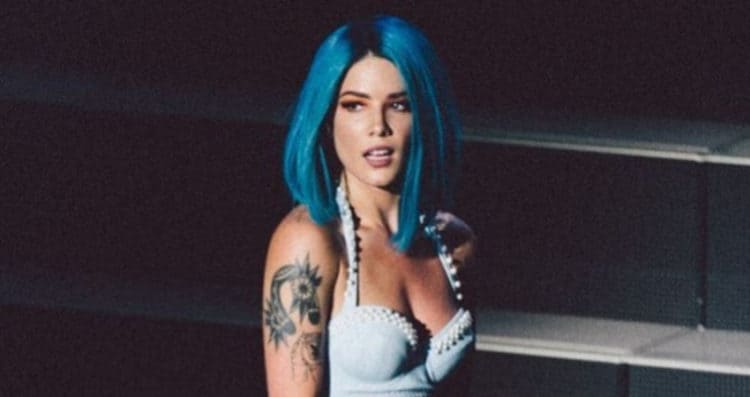 For a good chunk of her career Halsey has been something of a controversial character since she does tend to speak her mind as you can read Jim Hibberd's piece in Entertainment Weekly about her stance on LGBTQ+ issues. But she's also been seen as a controversial character for other things that she claims she either hasn't done or that people were willing to let go because of who she is. Of course Grace Johns' article seen on Study Breaks would make anyone scratch their head since Halsey apparently sent out a tweet after getting her makeup done using what some would call a transphobic slur, and she's been seen kissing an underage fan. It would almost appear that Halsey doesn't seem to understand that even if a fan reciprocates the term UNDERAGE raises a lot of red flags. If that wasn't enough, a couple of years ago Lindy Smith from AltPress was one of the many writers that covered the matter of Halsey being accused by Rihanna of plagiarizing a song, which is of course a very serious accusation. Halsey would go on to deny this as you might expect, but this kind of thing tends to follow a person no matter how popular they become and turns them into a controversial artist that people might like, but some folks never forget about when it comes to their reputation.
With that in mind, let's see just who could play the part of the problematic singer.
5. Daisy Ridley
Most of these women on the list are going to be selected for the role simply because they look enough like Halsey from a glance that they could easily pass for her if picked to do so. Daisy Ridley is someone whose career hasn't ended thanks to The Last Jedi but seems to have been put in a state of suspended animation almost since everyone is now waiting to see what Star Wars Episode IX is going to be all about. She's not much a controversial character to be honest but she's shown that she's a great actress that can get in there and do what she needs to do in order to get the job done. That's more than enough for now.
4. Brie Larson
Brie is on a hot streak as of this moment since she's not only the star of her own movie and an upcoming sequel, she's also starring in one of the biggest movies of the year in Avengers: Endgame. The fact that she's been so widely utilized argues that she's got what it takes to build something that people will go see just because it's her in the starring role. Plus, the whole idea of Halsey being a part of the LGBTQ+ community despite the things she's allegedly tweeted in the past seems to be a great way to get more and more people interested in a movie like this since the community is wanting more of Brie Larsen.
3. Alicia Vikander
Tomb Raider wasn't exactly the best that she could do but enough people obviously liked it that she was able to hold her head up and stride forward onto the next project since she's still around and she's definitely still someone that people enjoy. Being a controversial character on screen is, for some folks, not such a big stretch. It seems like it wouldn't be much for Alicia since her portrayal in Tomb Raider was received well enough that she might be able to excite a lot of people if she did get considered for a role such as this.
2. Kristin Stewart
Kristin almost seems made for this role since she's been something of a controversial person in one way or another over the last several years, especially since Twilight ended and she's been trying to keep her reputation up. At one point in her career very few people would have thought that she would be the person she is now, but quite honestly she hasn't changed so it shouldn't have been as much of surprise to people when she started going her own way and acting in a manner that people couldn't understand. This alone makes it seem that she'd be perfect to play the character of Halsey.
1. Emma Watson
Emma Watson is still known to many as the good girl that speaks her mind but is otherwise polite and cares about others' feelings. This kind of movie would no doubt stretch her acting talents a bit and force her to present herself as someone that's not altogether bad but isn't afraid to put a toe over the line on a regular basis and really make people upset or uncomfortable. Emma has had a few notable roles after her time in the Harry Potter films, the biggest of course being Belle in Beauty and the Beast, but this one seems like it would bring her down to a level that people aren't used to seeing her in.
Whoever managed to land the role would do it justice without a doubt.