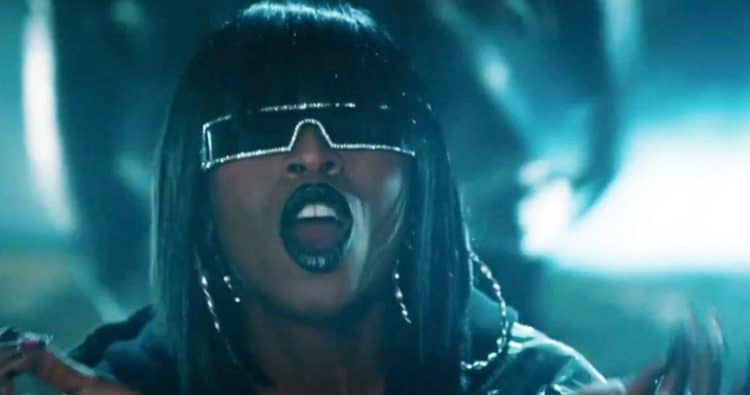 Missy Elliott is a remarkable woman who has experienced a wildly successful career as a songwriter, singer, rapper, dancer and record producer. She's the kind of lady who believes in giving back to her community as well and is active in philanthropy. Perhaps best known for her songs "Supa Dupa Fly" and "Sock It 2 Me" she made it to the third spot on the Billboard 200 chart and has a massive following of fans for her music. She's a Grammy Award-winning soloist, as well as a talented professional who stands as an inspiration for girls with talent who need just a touch of self-confidence. Her life and work merit a movie, and we think that it would pack a tremendous impact on the world, given a strong group of screenwriters and of course the right actress for the part. Here are five actresses who truly should play Missy Elliott in a movie.
1. Cymphonique Miller
Ms. Miller is the child of Percy Robert Miller and her brother is Romes Miller, also known as Lil' Romeo. She's an American actress who played the part of Kacey Simon on "How to Rock. She's appeared on Mad TV and has several acting roles under her belt. She is also an R&B Hip Hop singer who has gained a great deal of popularity for her acting and singing abilities. We believe that Cymphonique not only has the background and experience behind her to play the role of Missy Elliott, but she also has the attitude. She's also a songwriter and we could see her really getting into the character of Elliott and doing the part justice.
2. Zoe Kravitz
Zoe Kravitz is the daughter of Lenny Kravitz and actress Lisa Bonet. She has both singing and acting in her bloodlines. Her first film "No Reservations" was released in 2007, but this was just the beginning of her career in film. This was followed by her "X-Men: First Class" role as Angel Salvadore in 2011. She went on to appear in "Mad Max: Fury Road," and "The Divergent Series." These were just a few of the many popular films and television series she's appeared in. We'd love to see her take on the role of Missy Elliott next in film. She has first-hand experience in both the world of acting as well as music as she's made several appearances and given performances at music festivals herself. Although Zoe Kravitz bears no resemblance to Elliott, it's not so much about the face or the features as it is about the heart and the soul. To truly do justice to the part of Missy Elliott, an actress would have to have a deep understanding of the artist and her work along with the struggles and the joys experienced in her life. Zoe gets all of that and these are a few of the reasons why we'd really like to see her take her best shot at a portrayal of Missy.
3. Naomi Ackie
Naomi Ackie is another actress that we could see delivering high in a movie about Missy Elliott. Ackie has landed roles in "The Five" and "Lady Macbeth" both in 2016 and most recently in "Star Wars: The Rise of Skywalker" in 2019. She has the attitude that would be convincing in the role of Missy Elliott. You also might remember her from "The Corrupted" as Grace. She also appeared as Ruby in "The Bisexual." Naomi has a solid portfolio of acting jobs and we feel that she has the skills and talents to assume the characteristics and traits of Missy, as well as the tenacity she exhibits. Missy Elliott has had to be tough to make it as far as she has in the business and we can see Naomi showing that same kind of toughness in a movie role whether she has to be that way in her personal life or not. Yep, she's that good.
4. Coco Jones
Coco, aka Courtney Jones, is an actress who is a native of South Carolina, raised in Tennessee. She's not only an actress with a long history of gigs, but she's also a singer as well. She was previously signed with Hollywood Records fand released the single "Holla at the DJ." Coco is a multi-talented actress that we'd like to see tackle the role of Missy in a movie. She has the capacity for taking on specific characters and bringing them to life before our eyes. We think that she's got the depth and the singing talent to do all of her own takes in a movie that features some of Missy's best songs and it would be a real treat to see Coco's interpretation of the music legend in a film. We placed Coco fourth on our wish list of actresses we'd really like to see deliver their best Missy Elliot role.
5. Teairra Mari
Mari is an American actress who also happens to be a dancer, singer, and songwriter. She achieved recognition followed by success when she signed with Def Jam, thanks to the help of Jay Z at the tender young age of just 16. Her first album was Roc-A-Fella Records Presents Teairra Mari. The actress is currently 31 years of age and has a youthful appearance, making her an ideal candidate to play Missy Elliot through multiple stages of her life. Although Teairra Mari is the fifth on our list of actresses, we think that she's highly capable and her age may give her a bit more insight into the struggles that a musician must endure, particularly when making their way to the top, as was the case for Elliott. Her maturity with young features were strong factors in our decision to include her in the list.