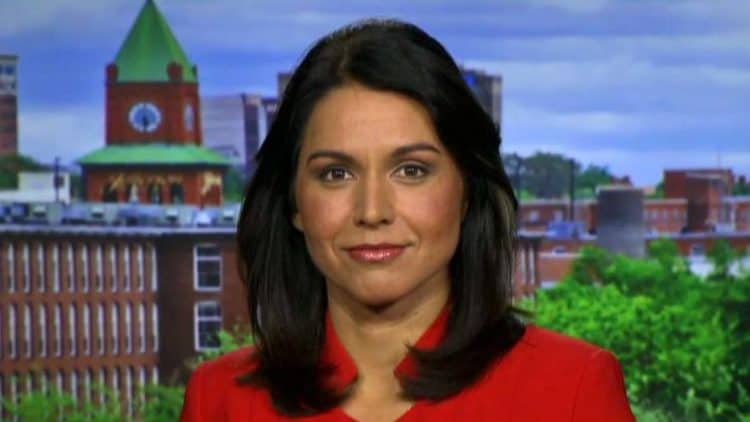 Picking actors and actresses for theoretical movies is always a challenge. However, selecting appropriate actresses to play the role of the meteorically successful potential future woman president is downright daunting. We must have scanned about a million bios and pictures looking for the perfect actress to play Tulsi Gabbard before we realized that it's an imaginary movie and decided to lighten up. Tulsi may be a serious contender for the presidency. Still, if the last couple of decades have taught us anything about politics and political movies, it's that they aren't always the stodgy docu-dramas of previous generations. From Wag the Dog to Elvis and Nixon, politics can be a lot of fun on the big screen. So, in the name of equality, we chose five actresses who are Hawaiian, Polynesian, or Samoan like Gabbard, and who would be suitable for a range of different movies. Here they are, our top five actresses who should play Tulsi Gabbard in a Movie.
1. Auliʻi Cravalho
For our first pick, we wanted to find a stunning young actress who could play a younger version of Tulsi, and we had to go with fellow Hawaiian Auli'i Cravalho. This Disney Princess has more talent than anyone needs. While we're almost (but not quite) confident that no movie about Gabbard would be a musical, you never know. If some ingenious individual did decide to make a political musical about being a female presidential candidate, Auli'i could certainly tackle that role. We also think her smile and her nose remind us of Tulsi more than a little. She'd look just fine dressed as an Army National Guard. Plus, as Moana, she's also representing the women of Samoa and Tonga to the world. There's a lot of similarity between playing a chieftain's visionary daughter and playing a woman who dreams of the Whitehouse. It's not hard to make the mental leap to see a modern-day Moana running for president while trying to save the world from an angry earth spirit who is upset with global warming. Not coincidentally, Gabbard has firm beliefs about the environment. Hawaii is the nation's leader in renewable energy sources, among other environment-friendly advances. Sure, it's a bit of a stretch, but if any Disney Princess deserves to be a world leader, it's the one who's already in charge of her tribe.
2. Frankie Adams
When it comes to strong female Samoan actresses, we can think of none more suitable than Frankie Adams. This boxer and actress who was born on Savai'i in Samoa is a fighter, like Tulsi. Lately, we've been bingeing her on The Expanse, which is a great sci-fi show about humans who have expanded to colonize the solar system. They're now on the brink of a war because of resources. If that doesn't sound familiar to you, then perhaps you should take a second look at some of the current global situations that politicians like Tulsi will have to help manage in the coming years. It may seem a stretch to equate a futuristic TV show with current affairs. Still, the Syrian civil war that is effecting over ten million people is both politically motivated and unfortunately exacerbated by a lack of resources. There's no stretch at all between two wars for resources. If Tulsi Gabbard becomes the next President of the United States of America, she will be the one making decisions about whether or not to send our troops, of which she is one, to conflicts like Syria. She's ready for that responsibility and has already introduced a bill to force a decisive vote in the House on the issue.
3. Teuila Blakely
Teulia Blakely and Frankie Adams have a lot in common. Both were cast members on Shortland Street, and they were both born in Samoa but raised in New Zealand. Teulia also shares common ground with Tulsi because she's fearless when it comes to handling her hecklers and haters. While Tulsi has been mocked for surfing and being attractive, Tulia has faced her own struggles and posted a nude picture with the #MyBodyMyTerms tag on it to her Instagram. Women's struggle for equality is real and still very much happening today. While Teulia and Tulsi may be taking very different personal paths to advance that cause, they are decidedly headed in the same direction when it comes to empowering women. We'd cast her to play a smart and powerful woman like Tulsi any day. Plus, we're sure she could rock that blue blazer in a way that would make Tulsi proud.
4. Kelly Hu
As a former Miss Hawaii, Kelly Hu is also native to Gabbard's home state. In addition to being phenomenally talented and ridiculously timeless, Kelly can undoubtedly pull off a silver streak in her hair. More importantly, she shares Tulsi's passion for her home state and the environmental concerns that have shaped the political and ecological arenas therein. Both Tulsi and Kelly have worked tirelessly to help preserve the coral reefs of Hawaii. Plus, we find it somewhat amusing that Hu played Pearl, a vampire in The Vampire Diaries, while Gabbard is a politician. If you haven't heard someone refer to 'all politicians' as vampires, then you're not paying much attention to popular opinion. Naturally, we like to hope that Tulsi is a different and better sort of politician than most, but only time will tell.
5. Vaitiare Hirshon-Asars/ Vaitiare Bandera
The lovely Vaitiare Eugenia Hirshon is Tahitian rather than Hawaiian or Samoan, but she's been mistaken for other nationalities before. In fact, Hirshon was Miller Beer's Hispanic spokesperson for several years. While Kelly Hu is pageant royalty and Auli'i is a Disney princess, Vaitiare is genuinely related to the royal family of Cooke Island through her mother. That royal carriage would undoubtedly help when playing the role of the self-possessed presidential hopeful from Hawaii. Tulsi and Vaitiare could certainly share a cup of coffee and conversation. Both women are divorcees, though Tulsi is remarried where Vaitiare is twice divorced. Oddly, they are also both named for plants. The Tulsi plant, known scientifically as Ocimum sanctum L. or Ocimum tenuiflorum L. is related to basil, though it has medicinal properties that it's spice-cousin does not possess. Meanwhile, Vaitiare is a Tahitian name that translates as 'water flower.'
Final Thoughts
Whatever movie might be made about Tulsi Gabbard, one of the outstanding actresses on this list could fill the role perfectly. From a royal to a sci-fi actress who is also a boxer, all the wonderful women on this list bring their own unique character to every role they play. We're sure any of them could step into Tulsi's shoes, at least for a couple of hours. Who would you cast to play Gabbard in a movie? Let us know in the comments.