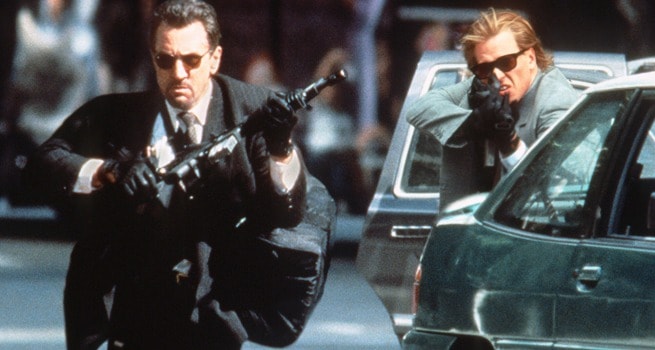 Bank robberies in movies are incredibly detailed most times and tend to go off without much of a hitch, which seems like it might not be the way things really go in real life. Throughout history only a few bank robberies have ever gone off with this kind of success, but then again there are scenes in movies where the robbery goes off but the perpetrators are still caught in the end. The reasons are usually that they get overconfident, they get sloppy, and that they tend to draw too much attention to themselves. But even those that do get away with it usually get caught in the end since it's the job of law enforcement to find them and make them pay in one way or another. Incredibly a lot of people will pull for the bank robbers in the movie largely because they tend to be charismatic and usually bent on achieving a goal that some people can relate to. Breaking the law is a secondary consideration at times.
Here are some of the best bank robberies in movies.
5. Out of Sight
Jack Foley is the kind of guy that knows a lot about a lot, but can't seem to get a lucky break to save his life most times. He does have his weaknesses, such as a pretty face that he can't resist despite the fact that she's a federal marshal that's bent on bringing him back to justice after he escapes prison. Another is that he has a partner that absolutely has to confess the things he does to his sister to make sure that his conscience is clean. He's an overall friendly guy that's easy enough to get along with but at the same time his arrogance does tend to flare up now and again and does get him in trouble.
4. Inside Man
This is one of the strangest bank robberies on the list since it wasn't about money and it wasn't really about anything other than liberating a couple of things from a security deposit box. The precision that this was pulled off with was amazing and the games that were played with the police were actually kind of amusing since the cops were dancing to their tune the entire time. Think about, when everyone starts looking like a potential criminal thanks to the careful planning of the actual criminals it becomes a lot more difficult to find out just who did it and who needs to be detained. Plus, the robbers were organized enough to know just what to do and when.
3. The Dark Knight
Say this for the Joker, he knew how to tie up loose ends. Having each member of the group kill each other when their respective jobs were done is kind of brutal but it makes a certain kind of sense that's absolutely horrible but does seem to go along with his character. After all, the Joker is chaos given form, and if anyone's going to come up with a plan that makes no sense to anyone save the guy that makes it up as he goes then it's the clown prince that has been one of Batman's greatest villains since they first met. This version of the Joker was perhaps the most vicious that's been seen in the movies to date, and he was one of the absolute best.
2. Point Break
For a bunch of surfer bums this robbery was pulled off with the kind of precision you'd expect from professionals that were straight-laced and buttoned down. Quite honestly though these guys were in it for the adrenaline rush since that was what they were all about. But their mistake was that they not only thought they were untouchable, but that they didn't bother to check whether or not they were leaving behind traces that could identify them. In this day and age those small bits of DNA and leavings would be a homing beacon that would expose the burglars in a very effective manner.
1. Heat
When it comes to having Al Pacino and Robert De Niro in the same movie you know it's going to be something special. When they're pitted against one another however it's something even better since you get the dedicated and overbearing law enforcement agent vs. the cunning and intelligent criminal that knows how to case a bank and then take what he wants in a timely and effective manner. The only problem is that relying on other people tends to become a burden when they can't deliver, and aside from a few things that can be called failures on the part of the crooks these thieves were deadly, effective, and absolutely ready to throw down when it came down to it.
Honestly, in real life bank robbers are looked at as scum and the dregs of society. But in movies they tend to be glamorized quite a bit.