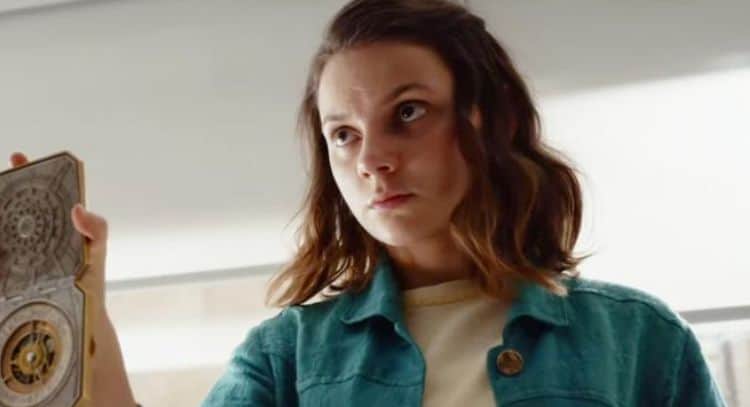 Since being released in 2019, His Dark Materials has become a huge international success. The show taps into people's love for fantasy, drama, and suspense and it's built a dedicated fan base who can't wait to tune in each week. Since the series is full of lots of twists and turns, viewers have naturally come up with their own theories about what certain elements of the show really mean. Although some of these theories have been proven false, others have actually been pretty spot on. During season two, fans have come up with some very interesting theories and it just goes to show how invested people can be when they really like a show. Check out five of the best fan theories from season two of His Dark Materials.
1. The Golden Monkey's Name
One of the biggest fan theories for season two involved the 'real' name of the Golden Monkey. After the fifth episode, many fans believed they'd uncovered a mystery. In the episode, the Golden Monkey's real name appeared to be written as 'Ozymandias' in the show's subtitles. With the evidence seeming to obvious, many viewers genuinely felt like they'd gotten to the bottom of something. Unfortunately, that feeling was short lived. The show's writer, Jack Thorne, quickly debunked this theory. In a tweet he said, "In the books and all the scripts the Golden Monkey is called the Golden Monkey. I'm one of those insane writers who puts all names in capitals (a daft practice) so actually it's the GOLDEN MONKEY. We never refer to him by anything else."
2. Is Mrs. Coulter A Witch?
Another theory that has been highly discussed among fans during season two is whether or not Mrs. Coulter is a witch. Although witches certainly aren't anything new on His Dark Materials, Mrs. Coulter's potential affiliation is something that many viewers didn't see coming. According to Screen Rant, " The books themselves never really offered an answer to Mrs. Coulter's abilities. As such, the show has free reign to unfurl Mrs. Coulter's backstory entirely in its own way. If this was the direction the show has opted to take, it would indeed be an interesting one. Plus, it would continue His Dark Materials' trend of expanding upon unexplored parts of novels – like it had been intending to do with the next steps of Lord Asriel's quest."
3. Who Is Lyra?
To say that His Dark Materials is full of mystery would be an understatement. Lyra Belacqua has been one of those mysteries and fans have had a great time trying to learn more about her. Although she is the main character on the show, certain elements of her identity have always been somewhat hidden and many viewers came into season two wondering what would be revealed about her. Fortunately, season two helped resulted in more information about Lyra although there is still a lot of other things that people will likely find out about her over time.
4. Biblical References
His Dark Materials is one of those shows where you have to pay attention to every little detail because there's a good chance they'll eventually be significant. At the same time, however, this can often cause people to focus on the wrong things. Some people who are fans of the TV series but who haven't read the books have wondered about the use of biblical references in His Dark Materials. What many people don't realize is that the book (and subsequently the show) is a re-telling of the poem "Paradise Lost" by John Milton which is heavily steeped in religion.
5. **Spoiler Alert** Season Finale Credits
If you haven't yet seen the final episode of season two, you may want to skip over this one as it contains a bit of a spoiler. Okay, now that that's out of the way it's time to get into one of the most interesting yet mysterious fan theories that came out of season two. After the credits rolled for the final episode, a voice could be heard in the background asking Lyra for help. The voice was revealed to be that of Roger Parslow who was killed in the finale for season one. This is clearly a set up for what's to come in the following season, but viewers have started to speculate exactly what it could mean. What will Roger's return mean for Lyra and the show overall?
What To Expect From Season 3
His Dark Materials has already been renewed for a third season and viewers are looking forward to see what kind of surprises are to come. According to Digital Spy, production is schedule to start in 2021 in England. The third season will be the last installment in the series