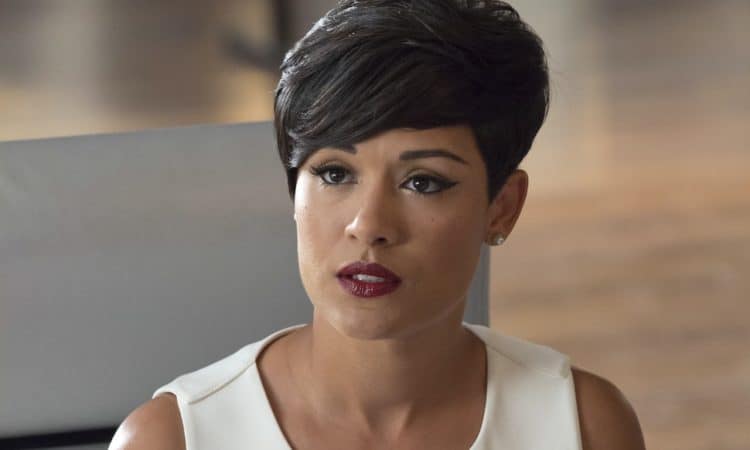 When Empire first came out back in 2015, it became an instant hit mainly because of the characters at play. The top billers, Taraji P. Henson and Terrence Howard, are the epitome of what power couples should be. Not only are their characters successful and charismatic; they're also equally insane in the most dramatic sense of the word. Of course, for Taraji's character Cookie to be fully recognized, there has to be an opposing force that's just equal in power and pull. That opposing force for the past four seasons of the show is Anika Calhoun, played by the amazing Grace Byers. Anika remains to be a force to be reckoned with on the show, and she still manages to shock us to this day. Here are the five best Anika moments on Empire.
1. The Lyon's Roar – Season 1 Episode 8
When we were first introduced to Anika, beautiful and strong, we knew she had to play an important part in the show. If she was with Lucious in any way, we knew that she had to have the guts and the gusto to stick through all the hard things. As the first season rolled by, we saw parts of Anika that were almost frightening. If she could stand up to Lucious and Cookie, then we knew that we had no idea what she was capable of. This was one of the first times when we really saw Anika speak her mind to Lucious, and she did so nonchalantly that it was almost brilliant.
2. Who I Am – Season 1 Episode 12
There were many shockers in the season 1 finale of Empire, but this one had to top them all. At first sight, it might've seemed that Anika was getting exactly the revenge that she wanted to get on Lucious. Lucious caught Anika with Hakeem deep in a make out encounter, but it wasn't Lucious we felt bad for. We actually felt bad for Anika because this was the first time that she really showed her weakness. For her to stoop so low as to use Lucious' son against him, it showed that she really wasn't as creative as we thought she was. She got points for playing the part of heartless bitch even though we knew she was hurting herself by trying to hurt Lucious.
3. The Lyon Who Cried Wolf – Season 2 Episode 16
This wasn't exactly the episode when Rhonda was pushed down a flight of stairs, which led to her losing her baby. By this point, we already knew that it was evil Anika that pushed Rhonda out of pure jealousy and craze, and as shocking as that scene was, we didn't really see her do it—it was all just an assumption then. In this episode, what we see is the immaculate acting that Anika was so capable of doing in just the right moments. We never really knew when this woman was being sincere or not. Perhaps she was just never sincere. But in this moment, we saw just how capable she was at spewing lies, as she completely falsified concerns for Rhonda.
4. My Naked Villainy – Season 3 Episode 13
By the end of season 2, any thought of Anika having some good in her was completely gone in our minds. She was flat out villain in every sense of the word, and she showed us in so many ways. She wasn't easily intimidated as was evident in this episode. Even when Lucious was sick as ever, he still managed to employ some scare tactics to intimidate those around him. Anika couldn't be fooled, however, as she made sure that Lucious knew she had the upper hand in their situation.
5. The Empire Unpossess'd – Season 4 – Episode 18
To date, this was probably one of Empire's biggest season shockers. With the death of Anika, we lost such a formidable enemy and somehow endearing (at times) family as well. Anika fought until the very end, and it was only fitting that she died from her own causes (not the ghost of Rhonda to be exact). It was as if karma finally played its hand and just decided that Anika's time was up. Grace Byers managed to keep it all so real for us that as much as we hated her at this point, we were still somehow bothered by her death.