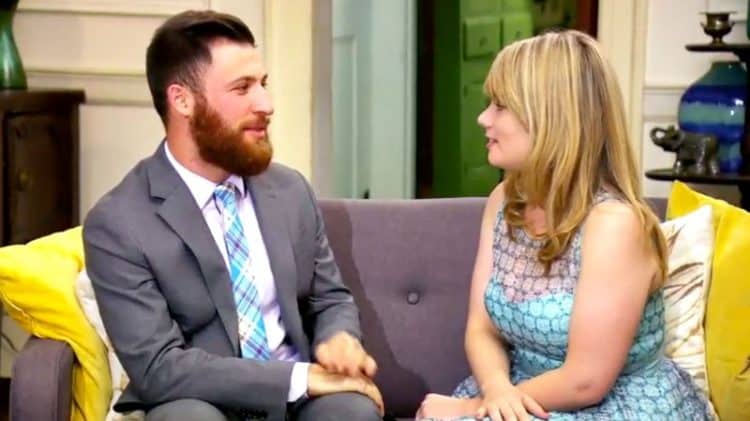 People magazine is just one of online sites buzzing about Married at First Sight since quite honestly it's hard to imagine that anyone could go into a date knowing that they're going to get married as per the show. Wikipedia might not always be the most reliable source, but it seems nail the idea of the show and its particulars down fairly well in this case as it might make your eyes pop out of your skull just reading the details. The whole idea of meeting someone on a blind date is nerve-wracking enough, but to think that you're going to be headed into a supposedly lifelong commitment that will take some time to get used to or some trouble to get out of seems like something that only the most desperate of people might try. But it's kind of an interesting idea when you think about putting celebrities into the mix, if only because it might enable them to find someone that's not famous, not looking to be famous, and could in many ways give them a much-needed reminder of what a normal life is all about. It's a thought, not a realistic one, but something that might bump the ratings at least.
It's kind of amazing to see some of these people on the singles list, but sites like Love Decoded have been keeping a pretty sharp eye on who's still on the market, though it might be that the list needs to updated since Chris Pratt is set to become a part of the Schwarzenegger family.
5. Taylor Swift
Honestly it all depends on what you think of Tay-Tay when it comes to her relationship issues that have come up throughout the years. Some people would wisher her well and want all the happiness in the world for her while others would likely want to see her feel what it's like to be alone for a while. But given that she's still fairly young it could be that a show like this would allow her to find someone that might not only worship her but give her the kind of emotional stability that can give her a comforting place to come after a long tour or a concert and just relax for a while.
4. Brad Pitt
He's got to be one of the most popular men when it comes to ladies thinking that they have a shot at landing him, but when you think about he's surrounded himself with some very impressive women in his career. It does seem that any woman that wants to have a shot with him would have to be smoking hot as well as able to keep up with him in other areas as well. After all he's a rather astute individual that needs intellectual intimacy as well as whatever else women would like to experience, and given his history it would seem that a woman would have to be up for taking on a lot of baggage that might come with him. Plus, she would have to love kids.
3. Jake Gyllenhaal
Some folks have said that he's a nice and very hardworking person, while others have stated that he's kind of a jerk sometimes, so it's hard to know who to believe. But overall Jake is the kind of guy that seems like he might not always be acting on set but might actually be showing a little bit of who he really is. There are moments when it seems that his characters are just too alike in ways that would argue for this theory, since it would seem that he's putting a great deal of himself into each role and as a result is actually showing who he is and what he's like. That's fine and all, but it does seem to indicate that he can be a bit arrogant and even confrontational at times. But hey, he's sure to be a charmer initially.
2. Angelina Jolie
Some have gone so far as to call her a rather pushy, scary individual while others insist that she's a beautiful human being inside and out. Once again it's hard to read someone if you don't know them on a personal level. What does seem likely though is that any man who wanted to capture Angelina's heart on the first glance and with the first kiss or touch would have to be someone that's completely confident in who he is and what he's all about. If not it seems like she would eat him alive, metaphorically-speaking, and thoroughly dissect him in a very verbal and disturbing fashion.
1. Emma Watson
This is another woman that would have to be handled with care, not so much because she would eviscerate a man with her words, which I do think she could accomplish, but because she seems like a very classy young woman that doesn't suffer fools gladly. There is an elegance to Emma Watson that indicates that she's to be handled like the strong, independent person she is and then enjoyed as a person once the ice is broken.
If any of these celebrities are currently hooked up with someone then obviously it wouldn't work. But if they're single as they've been listed, then it would be insanely interesting.