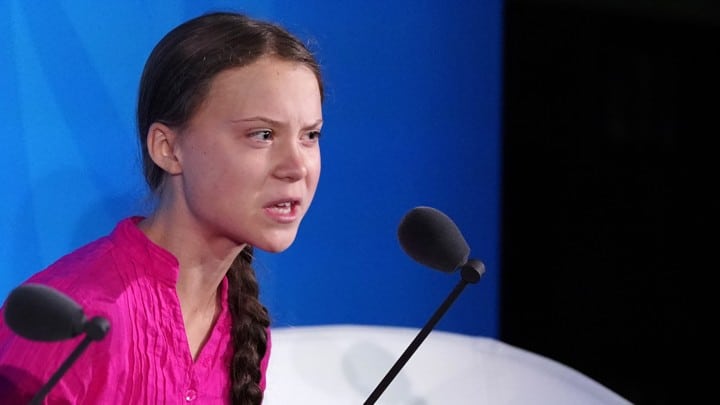 Some years are a bit of a snooze. Not much happens, and the news is stuck showing firefighters who saved kittens from trees metaphorically. 2019 is not one of those years. From the many scandals of the American President to the frankly erratic and frightening actions of Kim Jung Un, there's plenty to talk about and more that would make for some outstanding films. However, we're going to fly right past the dramatized movies that are certain to come out of Hollywood at some future date and instead offer up five documentaries we'd like to see based on 2019 events. Narrowing it down was tough, but we've got some favorites, and you might be surprised by what we chose.
1. Dr. Abiy Ahmed Ali's Work to Bring Peace Between The Federal Democratic Republic of Ethiopia & Eritrea
We're going to start this list off with the 2019 Nobel Peace Prize Winner, Dr. Abiy Ahmed Ali. Though all fifteen of the Nobel winners deserve their own documentaries, we admit that some things would make for a better documentary. This Nobel Peace Prize winner, who focused his energy on resolving long-standing border conflicts with a neighboring nation, is undoubtedly worthy of some serious screen time. While some politicians are focused on their campaign strategies, Dr. Abiy Ahmed Ali has been putting his energy into ending a military stalemate between his country and their neighbors. If that's not uplifting and beautiful, then we don't know what is. After all, you don't win or even get nominated for a Nobel Peace Prize for sitting on your haunches posting tweets about how the media is posting fake news about you. When it comes to making real tangible change in the world around us, most people don't even know where to begin. However, some people seem to have decisive plans that they are willing to back with every resource at their disposal. Though a peace agreement may be temporary, and certainly more work is needed to heal both nations, we comment Ali for what he managed to accomplish in his first year in office. Moreover, he received the 100th Nobel Peace Prize, which is a milestone unto itself, and worthy of documentation. We would love to learn more about this passionate and highly effective leader. His challenges were incredible, and yet he managed to overcome them in the face of adversity. Hopefully, we'll be hearing a lot more about him soon, and we're looking forward to whatever he does next.
2. The Abdicating Emperor
It has been over two centuries since the last Japanese Emperor abdicated. Needless to say, it's not even a once in a lifetime event. Though Emperor Akihito's position is ceremonial, much like that of the Queen of England, the ascension of the new Emperor, formerly prince Naruhito, happened in April of this year. Akihito preferred to step down before his death and leave the position to his son. We can only imagine that he's proud to watch the new Emperor take over the throne, a treat which few royal fathers live to see. We would love to hear more about the old and new Emperors and learn new things about the oldest monarchy on earth. Doubtless, they have much to teach those of us in younger nations. Hearing the massively popular Emperor of the Chrysanthemum Throne tell the story of his ascension and reign in his own words would be priceless beyond measure. The tale of a ruler who broke with such a long-standing tradition is doubtless more interesting than many other events that occurred this year. Though we doubt the Emperor would consent to make such a documentary, he's still on our fantasy roster.
3. Marsai Martin Became the Youngest Hollywood Executive Film Producer Ever
Stories of war and peace are fantastic. An Emperor who promoted peace and a closer relationship with his people and a politician who ended a long term border issue deserve their places on top of the list, but so does a little girl who came up with a movie idea at the age of ten. You can't tell Marsai Martin what a girl, a child, or a person of color can and can't do. This truly mind-blowing fourteen-year-old isn't just busting through glass ceilings. As far as she's concerned, they don't even exist. It's difficult enough to create and star in a movie at any age, but to become the executive producer before you're old enough to drive a car is the sort of accomplishment that makes us feel old and slow. Someone needs to make a documentary about Marsai Martin, and we know just the girl for the job. Marsai should share her story with the world, and keep sharing her stories with the world because we need more kids who understand that age is just a number, and you really can do anything you put your mind to. We know it's cliche to say it, but that doesn't make it any less accurate.
4. Greta Thunberg and The Youth Climate Change Movement
Speaking of kids who are stepping up to the plate and changing the world, our next nomination for a documentary that needs to happen is the youth-led global movement on climate change. While some kids are worried about what to wear to their prom, or whether they'll ace the next math test, there are a whole lot of young people out there who are literally trying to save the world so that when their kids inherit the planet, they will be able to live here. If that's not worthy of a documentary, then nothing is. Greta Thunberg, who recently did her first TED talk is a teen environmental activist who is helping change the way people look at the world around them. If we had to narrow it down to just one kid who is making a difference, we'd nominate this vegan, teen activist for sure.
5. Much of the South American Rain Forest Burned Down
With over eighty thousand fires blazing in what was once the gorgeous, lush rainforest of Brazil, one of our most mysterious and stunning natural resources turned to ash this year. We've always dreamed of seeing the Brazillian rainforest in person, and now we can't. Human activities led to this horrifying disaster. Someone needs to get down there with cameras and make a documentary about how and why it happened.
Final Thoughts
We know you probably expected us to say there should be a documentary on the impeachment trial or Brexit, but there's so much more going on in the world for people to learn about right now. If we're honest, this article could have had fifty suggestions on it, and those two still wouldn't have made the list. Doubtless, someone is already making those documentaries, but we want to hear the other stories. We almost added the historic number of women who were elected to Congress, but that would have been a very lengthy documentary. What major world news story from 2019 would you like to see a documentary about? Let us know in the comments section below.