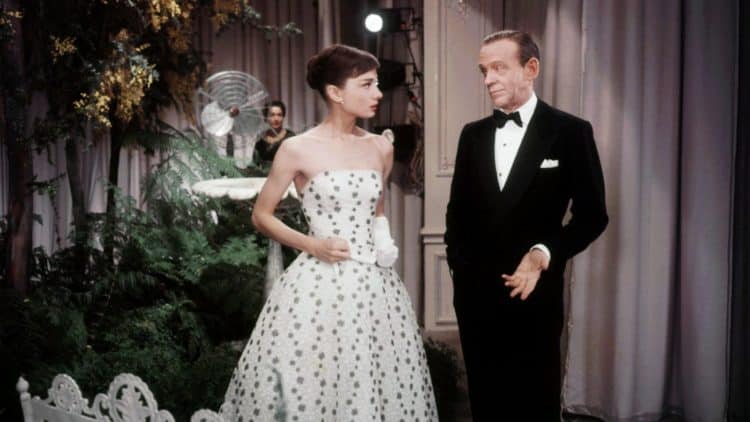 Whether it's the fine wine, unique gastronomic culture, excessively romantic men or impossibly chic women, Americans have long held a fascination with French culture. Paris in particular is the ultimate romantic ideal in cinema, with characters often jettisoning off to the City of Love for a romantic getaway.  France has some negative connotations as well. Whether its the famous rudeness of waiting staff, the reluctance of locals to speak English despite knowing the language, drivers being totally reckless or the men being sexually shameless, the negative aspects of French culture have played against the positive ones ever since the first American set foot in their country.  To celebrate this co-mingling of cultures, we have assembled a list of five essential American-in-France films for you to watch. Spanning from old-school fantasies to classic mysteries to stereotypical romances, our list shows off the wonders of France as seen through the eyes of American citizens. Think we missed anything essential? Please feel free to sound off in the comments below!
Frantic
Filmed with great verve by Roman Polanski, Frantic is a classic Hitchcockian nightmare. A man, played by Harrison Ford, goes into the bathroom. When he goes out, his wife is suddenly gone. He goes down into the hotel lobby. No one has seen her. He cannot understand what has just happened. Frantic turns Paris into a nightmare; a place where cute cafes and winding boulevards hide deep secrets, and all public officials are disrespectful to any American even asking for help. Ford sells this sense of dislocation well, grounding the paranoid fantasies of Polanski, even when the film uncovers a far deeper conspiracy. Along the way we get a glimpse into Paris in the 80s, full of chic clubs and ominous men in suits, showing that even France under Mitterrand wasn't immune to the worst excesses of the Reagan era.
Midnight in Paris
Woody Allen's Midnight in Paris was the most successful movie of his career. Part of the secret to the film's success must be due to its setting, which unashamedly explores the unique cultural history of the French capital. Telling the story of a struggling writer, played by Owen Wilson, travelling to Paris with his fiancé, he unexpectedly finds himself transported to the 1920s. Meeting nearly every famous artist expat from the era including Ernest Hemingway, the Fitzgeralds, Gertrude Stein and Pablo Picasso, it is a delightful exploration of nostalgia, as filtered through one of the world's most nostalgic cities. Like Vicky Cristina Barcelona and, to a lesser extent, To Rome With Love, Midnight in Paris contrasts the relaxed attitudes of European café culture with uptight America; showing how Europe in general and France in particular can be a place for Americans to really let themselves go. But Midnight in Paris comes with.a warning, showing that even during a so-called golden age, people were still nostalgic for previous eras, telling us that the most important thing in life is to try and seize the present.
Paris Can Wait
After being so great as an American expat in Italy in Under The Tuscan Sun, Diane Lane turns in a similarly nuanced performance in Paris Can Wait. The premise is simple. She plays the wife to a wealthy Hollywood exec, played by Alec Baldwin, who has flown ahead to Paris from the Cannes Film Festival.  After a problem with her ears, she takes up on a Frenchman's offer to travel to Paris by car. The only problem? He keeps taking detours, showing off a very different side of the country in the process. With a very similar premise to the equally good French Kiss, Paris Can Wait is an exciting exploration of love and life lived off the beaten path, with Diane Lane effortlessly imbuing cheesy dialogue with true warmth and wit.
Funny Face
There's no doubt that Funny Face has aged badly. Telling the story of a man, played by an elderly Fred Astaire, who is sent by a magazine publisher to find woman who are "as smart as they look", Funny Face's premise and execution is highly iffy. Yet, when he and the smart librarian, played by Audrey Hepburn, do hit it off, and they travel to Paris, Funny Face becomes a fascinating document (and exaggeration) of the French avant-garde during that time.  Hepburn's character is convinced to go to Paris to see a famous professor's lectures on empathicalism, leading to an exciting exploration of the city. The highlight of this is when Audrey Hepburn turns in an iconic ballet performance in an underground bar, cavorting in an elegant one-piece as if she was a member of a revolutionary troupe. Paris under the direction of Stanley Donan truly comes alive; a place for American intellectuals to truly find themselves.
Frances Ha
Paris in reality is a lot different from the fantasy. For anyone under 35 and not in a high-paying job, large swathes of the impossibly expensive city – and we're talking ten euros for a beer! – are simply inaccessible. As a result, many adventurers to the city find themselves somewhat adrift, walking past countless places knowing that most of its glamour and charm is simply not meant for them. Frances Ha captures this better than any of them, with its central protagonist, played with incredible likability by Greta Gerwig, choosing to go see Puss in Boots than visit any infamous terraces.  She goes to Paris after someone emptily offers her a place to sleep if she was ever there, impulsively maxing out her credit card to make it happen. Director Noah Baumbach turns the impulsive-Paris-trip trope on its head here, with Frances finding nothing really noteworthy in the city and actually spending a lot of time in bed. It shows that not all spontaneous trips are successes and the problems that ail you in New York will also ail you to Paris. Frances Ha deserves inclusion on this list for the radical honesty presented here. After all, it's only the city of love if you have something to genuinely be in love with.