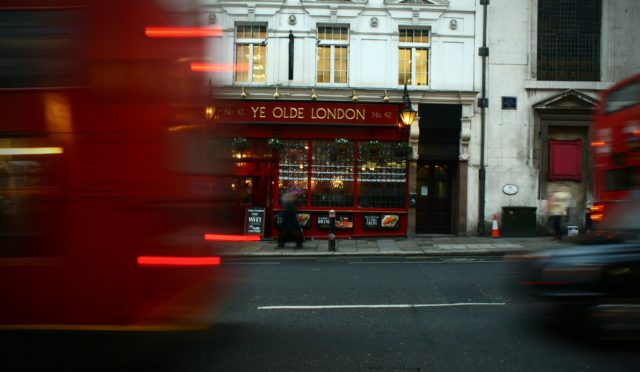 Film fanatics aren't the most courteous people in the world. They throw pizzas on unsuspecting homeowner's roofs and crowd public locations to act like their favorite characters. It's not always pretty. But there are ways to experience your favorite film moments without being a nuisance. One of them includes drinking beer (or just eating a warm meal if you don't drink). Pubs. In film, they are often the secret meeting place of spies or the hangout for famous or soon to be famous people of all types. And usually, instead of constructing a whole set, producers will just rent out a real location.
Have you ever wanted to hang out in the pub where Rory Breaker set fire to someone? Now's your chance to find out where these real life pubs are actually located.
1. Lock Stock and Two Smoking Barrels in The Royal Oak
Lock, Stock, and Two Smoking Barrels is an English gangster comedy through and through. And as an American I had a hard time understanding some of the lines. But when I fell in line with the plot, I was rolling over with laughter and glee. But the blokes in the film are some of the most brutal characters outside of actual film villains like Hannibal Lecter. And when Rory Breaker is watching the tele, nobody tells him to turn it down, even if he's in a public space like Somoan Joe's. You just might get "fired" for suggesting it. But the where an unsuspecting pub goer met his glorious end is an actual place in East End, London. It's call The Royal Oak and it's an authentic London pub with gorgeous oaken wainscoting and original bent oak chairs.  You can order a meal or drink a lukewarm pint. But don't ask anyone to turn down the footie game unless you're feeling a bit crispy.
2. Hitchcock's Frenzy in The Globe
One of Hitchcock's last and most graphic  films, Frenzy follows Barman Blaney as he tries to escape the police. He's been accused of being the "Neck Tie" killer and he can't stay bartender for very long. If you don't want to end up a victim of the "Neck Tie" Killer, maybe you should just learn how to brew your own beer here at home. In fact, it's probably the safest thing to do for yourself in general. But if you want to hang out in the "Neck Tie" killer's bar, you can go visit the real life London Pub called The Globe. It's right next to the Royal Opera House where you can go to a black tie event…oh wait…maybe you should skip the black tie.
3. Don't Forget Your Towel in The Beehive
Before he learned that the world would end, Arthur visited the local pub regularly. And then he found out we aren't alone and that the world was about to end. But that's ok, mice were hard at work creating a new earth. But whether you know what the answer is to life, the universe, and everything or not, you should still go visit the quaint little pub featured in The Hitchhiker's Guide to the Galaxy film from 2005. The Beehive is in Buntingford, Herts, England. And you're sure to find some great blokes to hang with as it's one of the more popular watering holes in Buntingford. Just don't panic if you meet an alien who tells you that your home world is about to become an intergalactic highway. Oh, and don't ever leave home without your towel. It sounds random, but just don't.
4. Hot Fuzz in The Royal Standard
If you're underage (under 18 in England) don't go to this pub. You might get pegged as a criminal by Nicholas Angel, hard-ass London copper. But if you're of age, you might want to check out The Royal Standard, the location of all the action in the 2007 film Hot Fuzz.  It's a 900 year old pub and you'll feel all of its history as you sip on a good pint of bitters and snack on some chips. If it's not raining, you can hang out on their ample porch and enjoy the warm and moist English weather in Beaconsfield, Bucks.  Just be sure you can take your liquor and don't piss on some copper's shoes while you're there.
5. Snatch a Drink at Zeitgeist at the Jolly Gardeners
If you haven't watched the film Snatch, then you probably should watch it with someone who has seen it already. It's a confusing and hilarious romp that features the most unintelligible Brad Pitt character ever, an Irish Gypsy.  But you won't have to fear for your life at the real life pub featured in Snatch…actually, you wouldn't have to fear for your life in the fictional pub either, now that I think about it. The Jolly Gardeners in Lambeth, South London is a victorian era pub now owned by a couple of Germans. You can watch football on the tele and drink some excellent German or local beer. And then maybe you find the stone…that is, if you like dags (translation: dogs). For more film location trivia check out more articles on TVOvermind.com.