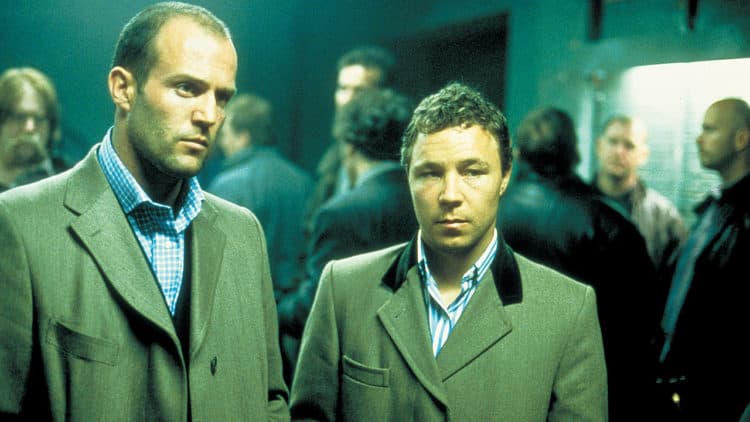 It's an odd way to go about making a movie, starting with the ending first and all. But it's something that many movies have been able to do in a manner that has managed to entice the audience to keep watching as they want to figure out how things came to this scene. In some cases, it's hard to know that this is in fact the ending since there's no way to know until the movie begins to roll out in a manner that makes it obvious that this scene is working backward and being used as a placeholder to keep everything moving along as it needs to until the audience is caught up and knows now that the scene they started with was the capper that they were supposed to pay attention to. Some people like it, some people don't, but to be perfectly honest, a lot of people think it's a nice little mind trip that takes them on a cruise through a story that's already been told in its own universe and therefore is just showing a recap of how events went down to get there. In fact, if a person is smart enough, they can eventually pinpoint just how things came to that situation before the initial scene is allowed to roll across the screen again.
Here are a few great movies that started with the ending.
5. Fallen
I'm adding this one in here because the movie, starring Denzel Washington and John Goodman, is a lot better than people give it credit for since a demon known as Azazel is having a great bit of fun at the lead actor's expense and is busily framing murders on him to get even. The whole thing starts however with the detective, played by Denzel, narrating the story as he tells how he almost died, while it shows him scrambling frantically for something in the snow. By the end of the movie, we find out that his plan to kill Azazel almost succeeded, but failed since the demon found another host to keep moving onward.
4. Pulp Fiction
The diner scene in which Jules tells Vincent of his desire to get out of the business, basically being a paid hitman, and is eventually held at gunpoint by Tim Roth's character, is a bit long but does serve as a great scene since it allows Samuel L. Jackson to deliver a great speech and a few great lines that a lot of people are bound to remember. All in all, it's not exactly the best scene in the movie, but it's one that is just chaotic enough and just good enough to make this list since it was something that a person couldn't help but pay attention to given that Jackson does give a great performance.
3. Fight Club
Again, this is another scene that is kind of long for an ending scene since it's a final showdown of sorts between the narrator and Tyler Durden, who are the same individual as the audience has already discovered. But Tyler finally takes responsibility for his actions and begins to assert control once again as he realizes that Tyler doesn't have the gun, he does. What he does next is what some might call an exorcism of some type, but it definitely works since Tyler is no more by the time the narrator is found. It's a strange and very disturbing scene since one has to simply imagine what it's like to go this nuts, but it works for the movie.
2. Memento
This movie is one big exercise in moving backward since that's all about all it does from start to finish, and by the time it's all said and done it does feel as though the audience is no longer supposed to feel sorry for Leonard, but irritated that they've spent all their sympathy points on this guy that has killed who knows how many individuals while trying to find the one that killed his wife. The worst part is that HE is the guy that accidentally killed his wife with an overdose since he couldn't remember that he'd already given her a shot and eventually dosed her too much. So he's not really the bad guy, but he's definitely a frustrating character.
1. Snatch
It's easy to think that no one would have guessed that this was the ending scene when the movie first started up since it wasn't made obvious. We were introduced to the main characters, we did see that some of them were shady, well okay, most of them were shady, but some were even worse, and we did see that it had a pretty strong cast. But up until the moment that Turkish and Tommy grabbed the dog at the end, it was easy to think that the beginning scene was just that, the beginning.
Sometimes the end is the best beginning.