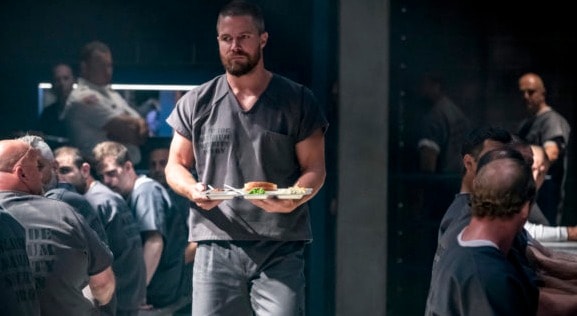 A lot of questions seemed to get answered in Arrow season 7, but at the same time it's expected that a lot more questions would go unsolved as of yet as Matt Morrison from ScreenRant seems to indicate. This is pretty natural to be honest since answering one question allows for two or three more to be posed, even if they don't happen to be all that hard to answer when you really look at them. But in this case there seem to be a lot of questions that fans are wanting to know leading into season 8 of Arrow, questions that might warrant answers that lead towards the end eventually. As we've seen things are progressing in a way that speaks of endings that are yet to come, but before that finally comes there are a lot of things that people want to get clear in order to fully enjoy the coming season.
Here are just a few questions that people want answered.
5. Is Bronze Tiger going to make the jump to Team Arrow?
This seems to be a foregone conclusion if you look at Star City in 2040 since the hero's son has been adopted by John Diggle. In the present time though it seems as though he would set his claws to rest in order to spend more time with his kid and be a regular citizen. But as it's always seen in the comics the life of a vigilante is hard to escape since the need to dispense justice is usually something that can't be ignored forever. So it does seem as though Tiger might come back and be a part of Team Arrow, and even if he doesn't join up he could still be a valuable ally at some poing in the future.
4. Where were the heroes for 20 years?
This seems like an issue that will need to be solved in season 8 since there is an explanation for it, but not one that's entirely satisfying since more often than not we expect our heroes to run into danger for the sake of those they protect. Hiding away for 20 years or so is something that tends to happen when the heroes in a story realize that they're hopelessly outmatched, which is still hard to believe when it comes to them running, or they've lost everything and no longer have the will to fight, which has happened in the comics and in the TV programs that have been around for a while.
3. What exactly is the mark of four?
The mark of four is basically a tattoo that is meant to describe the four pillars that Oliver Queen and his team use as their own personal code, in a way. The mark is meant to band people together and to remind them what they stand for, and has appeared in other episodes while it was mentioned in the finale. This is the kind of thing that a person tends to think is important when they've either lost their way or are attempting to instill the kind of values and ideals in the next generation. Whether it's going to factor into the next season is hard to tell, but it's fair to say that it might be an important plot point.
2. Why was it so easy for Mia to fight the Zeta soldiers?
It's easy to say that anything is kind of far-fetched, but the reasoning behind this one seems a bit to take since it means that Felicity managed to find a way to scam the Archer AI by programming it to ignore anyone with her and Oliver's DNA. Even for a comic that seems a bit much, but people might actually take it as a worthy explanation since the idea that it could make Mia that much harder for the AI to track would be kind of cool. But the balance point for this is that as easy as it is for her to fight the Zeta soldiers she can still be overpowered since multiple enemies can still present a problem.
1. Where exactly did the Monitor take Felicity?
This is kind of left up to the viewers to decide for themselves since there's no real set destination to where the Monitor takes Felicity, though there is an indication that she might be going to see Oliver. If that happened some people would be grateful, others might be upset, but the whole gist of it is that it would be an ending that seems fit for the moment. After all happy endings might not always be reality but they are still nice to see every now and again. And on top of that, some heroes have surely done enough to finally earn that little bit of happiness at the end when everything finally settles.
Season 8 is going to have a lot of explaining to do it seems.