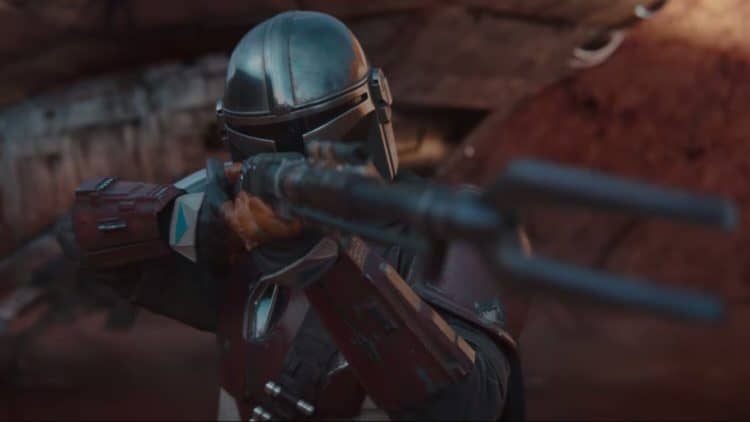 A lot of us are waiting patiently, or impatiently, for The Mandalorian season 2 to hit Disney+ since we keep hearing tidbits about it here and there, but not enough to really ruin the season. Regardless of that however there is the concern that the second season might already be in a bit of trouble when it gets here if only because there's already so much to it, so much build-up, that it might suffer as other productions have been since they've been delayed for a while now. Thankfully the second season isn't being delayed from what it sounds like but with such a huge gap between seasons it's still a worry that everything that's been revealed might give away a little too much of what the second season is about. That sounds like a little bit of paranoia since it doesn't feel as though Jon Favreau would really risk putting out any more than he needs to in order to keep people wanting more, but the details we already have at the ready are enough to start drawing at least a few guesses as to what's going to happen and how the story will continue to shape up as it goes along.
Here are just a few concerns we have at this point.
5. There were a couple of big reveals about season 2 already
The darksaber is one of them, while the idea that Boba Fett will be coming to the show is another. While the reveals weren't really that big of a deal since they didn't factor into the show as much as they could have, there's still enough to be concerned with since the darksaber is an iconic weapon that has quite the history. It does make a person wonder just how deeply into the story we'll be allowed to see when it comes to how Moff Gideon came to be in the possession such a weapon. Then there's the idea of what might happen if Mando does have to run afoul of Boba Fett at one point.
4. How will the Child fit into the rest of the Star Wars canon?
At some point the Child, aka Baby Yoda, has to either disappear from history altogether or go down an even darker road since fitting him into the current Star Wars canon would be more than a little difficult given that he'd be likely to join up as a Jedi once he was older, and there's obviously no mention of him in the current trilogy. This would mean that eventually he's going to go back to his own people or something worse is going to happen and fans will likely be outraged that anything so bad could happen to the little guy. After all, he's become one of the biggest stars of the entire show at this point.
3. The second season could end up being over-saturated with big characters
It's not just the characters that could be an issue, but the overall talent. There are a few well-known actors coming back for season 2 and a few joining so it's going to be a crowded cast at some point unless this next season is going to be treated very much like the first. If it's all episodic and certain characters only come back because of a shared story line then it should work just fine, but otherwise, having so much talent on the screen at one time will be kind of tough since there have been shows that have done this, but they've also included a number of people that weren't as well known at the same time as a kind of balance.
2. The First Order
There's a time line for when the First Order took over and the Empire finally faded from view, but it's still a question if we'll get to see this and how since the transition from Return of the Jedi to The Force Awakens isn't bound to be completely stagnant for that long. But how this will factor into the story is still a big question that a lot of people might want to hear about so that they have some clue as to what might be coming. Of course a surprise is the best way to go, but it's hard to think that anyone is going to let this go without badgering those that can tell them endlessly.
1. It feels as though the Mandalorian might get lost in his own story
Just when does the story become bigger than the main character? Obviously Mando is a quiet and reserved sort of person that doesn't need huge accolades or a parade in his honor, but with so much apparently coming to season 2 it feels fair to ask if he's going to remain the main character or if he's somehow going to slip into the background at some point. Hopefully that's not the case, but it's possible.
Just think, we have a few months left to go and a lot of rumors left to sift through.