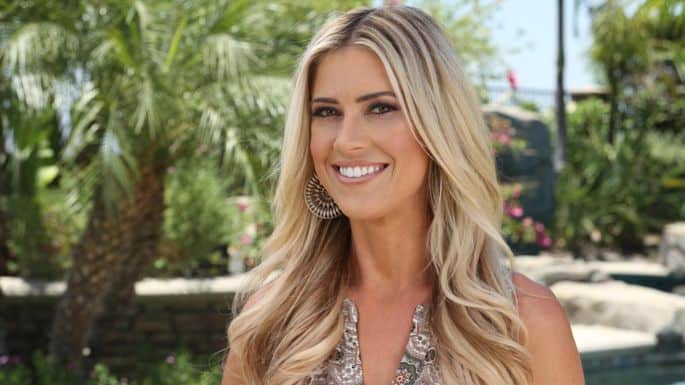 If you've ever watched the innovative and very popular HGTV cable show, then you've undoubtedly met Christina and Tarek El Moussa. The two met while they were in college and were wed in 2009 and began doing HGTV's "Flip or Flop" together in April 2013. Now, Christina has a net worth is $6 million (according to a number of sources), having accumulated all of that wealth from her highly-successful real estate career. Christina starred in more than 100 episodes of "Flip or Flop" as well as being a judge on another hit HGTV show "Brother vs. Brother" with twins, Drew and Jonathan Scott. All of that earned her a spin-off show called "Christina on the Coast". It's one of those shows that puts you in a "California state-of-mind" right from the opening, which features Christina driving on PCH in her $190,000 Bentley luxury convertible with the sparkling blue Pacific Ocean as a backdrop. The new show premiered in the spring of 2019 and chronicles Christina's renovations of friends' homes for them as well as her and then-boyfriend (but now husband) Ant Anstead's coastal home search.
1. A Good Reno Requires a Great Designer
OK, so "Flip or Flop" taught us that a good home reno can either be cheap (Tarek's preferred choice) or a bit pricier but a lot more fabulous (Christina's vision). Now, "Christina on the Coast" comes along and has a different slant on things. The goal isn't to purchase and reno horrible-looking dumps and then flip them for a profit but to help homeowners to realize their dreams of a well-designed home renovation. And, the fact is that one of the life lessons that can be taken away from "Christina on the Coat" is that even homeowners on a budget can easily afford a beautifully designed home. Yes, we know that Christina is kind of a magician when it comes to turning dumps into designer-delights but she's also a bit of a wizard with a budget. And, now she doesn't have a partner in the renovations to fight with her about design ideas, but she does still have the expert contractor help from good ol' boy, Izzy, from "Flip or Flop". He's the consummate contractor and a great help to Christina in her new endeavors.
2. Some Places are Tres Expensive but Worth it!
As Christina shows us, Newport Beach, CA, is really well worth the sky-high prices. It's a gorgeous town with amazing real estate, and a beach house for every budget (as long as it's a BIG budget, that is). Many homes have panoramic views of the ocean but, of course, the better the view and the closer to the water, the higher the price. Christina and Ant have been actively searching for their Newport Beach dream home and that's included in the new show as well. So far, they've shown some absolutely gorgeous homes but none of them seems to strike Christina's fancy. After all, she is a very discerning designer and potential buyer as well.
3. Know When to Call it Quits
Christina has taught us that even couples who have a hit show together can call it quits when the situation warrants it. According to rumors, as well as statements from crew members, Tarek was really not very kind to Christina when they were on-set shooting "Flip or Flop". In fact, he was allegedly downright abusive. A scandal ensued when Tarek grabbed a gun from their home, ran out into the woods and threatened to kill himself. Yikes, that boy apparently needed some serious help. Fortunately, she had the good sense to get out of the marriage as quickly as possible. Many of her friends and most of the show's crew members undoubtedly wished she had done so sooner after having to witness the excruciatingly ugly scenes in which Tarek berated poor Christina while everyone watched. Ultimately, the famous couple filed for divorce in 2017 and cited irreconcilable differences as the reason for the split.
4. The Perfect Guy is Out There
The lesson here is that the perfect man IS out there and you just have to find him. Christina clearly did and says that she loves every day with her new hubby because he makes her happy and keeps her laughing. So, Christina married the handsome Ant Anstead on December 22, 2018, in what has been described as a secret "winter wonderland" wedding that took place in their new Newport Beach home in California. Who is he? Well, according to Gossip Gist, he's not only an English TV presenter, but also a car designer and builder as well as a motor specialist, and an artist. He's probably best known for being a co-presenter on a show called "For the Love of Cars" on Channel 4. In addition, he took over as the co-host of the show "Wheeler Dealers" in 2017. He was born in Plymouth, England in March 1979. He has an endearing British accent and an infectious smile, which must be what attracted Christina to him. Oh, and it also could be the fact that he's pretty muscular as well. We're taking a wild guess and saying that he might work out a bit. ·
5. The More the Merrier
That's definitely true for happy couples like the Ansteads who are now expecting their first child together to add to their already-family-of-four. Christina and Tarek have two beautiful children together who are now a part of the Anstead family. They are daughter Taylor (aka Tay-Tay) age nine and four-year-old son, Brayden James. We certainly hope they never start calling him "Bray-Bray". Anyway, we're quite sure that the future holds a lot of good times for the five of them on the sunny coast of Cali in their new five bed, five bath home, which Christina describes as being a "bohemian-modern-farmhouse.
So, tune in to HGTV on Thursdays at 9 p.m. ET and watch "Christina on the Coast" for yourself. Hey, you just might find more than five lessons in some of the episodes. But, either way, you'll be highly entertained by Christina's renovations, cute outfits, and gorgeous long blond hair, not to mention Ant's jokes and the funny faces he makes at his beloved new wife.