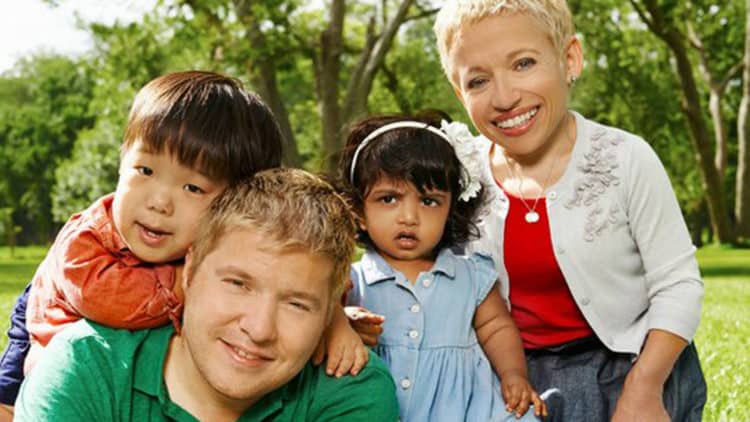 "The Little Couple" is an American reality show on TLC that has featured characters below four feet in height and have skeletal dysplasia. Bill Klein is a businessman while his wife Jenifer Arnold is a neonatologist. In the show, they describe the struggles they come across in their daily lives and how they dealt with them. They have also adopted two children, Will and Zoe. The show is distinct from other reality shows and has a significant number of viewers interested to know how people living with disabilities struggle to succeed. They are a great inspiration to most people as they are a clear indication that there is no limit to what you can achieve. Although life has many limitations, it is possible to succeed as long as you stay focused. The following are life lessons that you can learn from TLC's "The Little Couple."
1. You should be proud of your culture
The couple has adopted two children; Zoe is from India and Will from China. They take their children back to their cultural homes to enable them to interact with their people to allow them to learn the ways of life and cultural practices. Zoe is very inquisitive, has a great interest in culture, and she is even enrolled in Bollywood dance lessons as published on TV Shows Ace. Most people, due to modernization, have abandoned their cultural practices. In the show, the couple seems to be enjoying their girl's moves in an attempt to relate to the Indian culture. Parents should teach their children the importance of cultural diversity, and through its awareness; we create a peaceful world as everybody will learn to respect other cultures. There is beauty in preserving different cultures, and one should understand the practices related to one's ethnicity.
2. It is the responsibility of both couples to take up parental roles
Most people believe that it is the role of a mother to take care of the children. Klein has taught the world that in the absence or presence of your wife, a man has equal responsibilities to babysit as the woman. In one of his shows on fatherhood lessons, he said that he feared to change diapers at first, but Klein had to do it most of the time when left alone with the baby. He is also seen taking full care of the baby from feeding, bathing, and changing the clothes. In marriage, parenting is every partner's responsibility, and through this, the child can equally bond with both parents. Just as both couples work to provide for the family, house chores should be done by both depending on who is free when the other partner is busy. Children learn very many things by observing their parents. If you want to raise a great man, then you must be a great man by showing him how to be responsible. In a family where a woman takes all chores, the children grow up knowing that a woman's position is in the kitchen and lacks value for the female gender.
3. Don't give up
The couple has been through a lot of problems, from struggling with dwarfism to health issues. Despite the conditions, they have fought and tried to lead a healthy family life by achieving career goals, getting married, and starting a family. In past seasons, Bill and Jenifer have struggled with infertility issues, and after many failed attempts to conceive on their own, they decided to adopt two children. Season after season, the couple have proved to us that it is possible to overcome a challenge, whether it is financial constraints, infertility, disability, buying a home, or getting adoption papers. In your life, you often meet many problems, and you should not give up, try to get solutions and alternatives. No matter how hard things are if nothing is working, keep the faith. There is always a reward of hope and light at the end of the dark tunnel.
4. A happy life is a healthy life
Laughing and having fun moments are great ways to avoid depression and fatigue in life. In addition to taking a balanced diet, drinking eight glasses of water and regular exercise, staying happy makes one glow and live longer. "The Little Couple" features episodes of one happy family, in one of the events, Jenifer says that she dislikes seeing her man sad and tries to make faces or tickle him to make him laugh and forget his dull and tragic reasons. Laughing together seems to be working for this particular couple. The family is also seen setting aside playtime: from bike riding, taking walks around the neighborhood, painting together and baking. You can try having fun moments with your spouse, friends, colleagues, and children to erase bad memories and ease life's tensions. It is everybody's responsibility to ensure that their partner is happy. Try speaking to them to understand the source of worries, and if there is something you can do to make them feel more satisfied, then you should do it.
5. Always celebrate special occasions together
Bill and Jenifer have a great way of celebrating each other's birthdays. Everybody in the family is equally loved, and they celebrate all birthdays every year with friends and family. Will's best birthday party was aired in one of the episodes. Most of the time, the celebrations are creative in the form of surprised parties and gifts. In most events, the family is seen eating out and enjoying different delicacies in different hotels. As much as we want to save money, it is reasonable to spend some of it on ourselves and our families; you can't be so mean on yourself. Receiving gifts from loved ones on birthdays makes you feel loved, remembered, and treasured. You can surprise your favorite people on their special days with dinner dates, tours, or parties. Occasions create a great bond between lovers and also great memories in our lives. Celebrating anniversaries, birthdays and holidays with your family is a great way to keep the relationship active and even a great forum to speak your heart out about how you feel about your spouse, and also thank them for being treasures in your life.