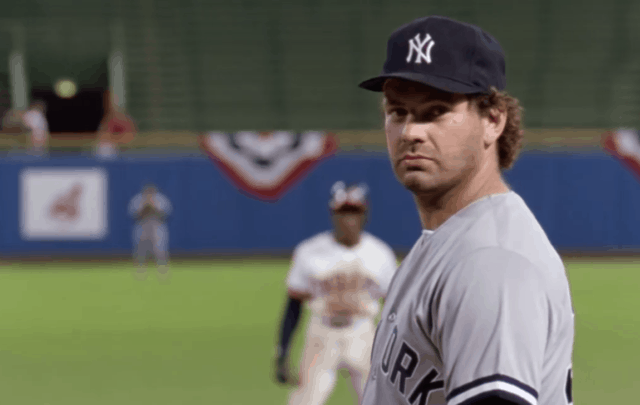 In any baseball movie you might watch the New York Yankees seem to be the team that plays one of the perfect antagonists. Perhaps it's because they're that good, or maybe there's another reason, but their popularity as bad guys is well renowned. Any time you see a movie with the Yankees in it you can almost just assume that they're going to be playing the bad guys or are in some way going to be made to look less than perfect. Maybe it's envy? After all the same thing seems to happen to the New England Patriots in the NFL on a regular basis, the hate that's fired their way is very reminiscent of that which is given the Yankees, particularly if you're a Boston fan.
A lot of people take their sports VERY seriously, but none more so than Boston and New York fans.
Kevin Costner has a knack for playing roles in which he's the reluctant hero. For some reason the persona just fits him to a tee. In this film he's trying to bow out gracefully without ruining his record, and the irony of it is that he doesn't even know what he's doing until the catcher makes him aware of it. Once he looks up he realizes he's come close to pitching a perfect no hitter. Now that's focus.
4. Fever Pitch

Remember what I said about Boston fans and New York fans? The two just don't mix, it's worse than oil and water really since both fan bases are typically so well steeped in the history and lore of their teams. If you decide that you want to fight a losing argument then try extolling the virtues of the Red Sox or the Yankees to their rivals. If you leave without a black eye I'd be surprised.
3. 42

The Yankees didn't have much of a presence in this film but really they didn't come off any better than the other teams that suddenly had to play a team with a black man on the roster. You think about it now and it shouldn't make a lick of difference. But back in Robinson's day the idea of a black man playing in a white league was just something that lot of people didn't want to happen. Thankfully he persevered.
2. Mr. Baseball

How else would you look at a team that puts one of their older players out to pasture because he's not performing that well. Even dropping him to the minors would have been better than shipping him off to Japan. Â But somehow he makes it work and finds a way to integrate his game with the Japanese game, teaching them a thing or two as he continues to learn.
1. Major League

There's almost a sense of elitism with the Yankees. They know they're that good of a team and in the movies they like to flaunt it. Of course you could kind of say that about reality too, but in truth a lot of teams flaunt their talent when they've got it.
The point is that the New York Yankees get a lot of heat simply for being that good.
Save