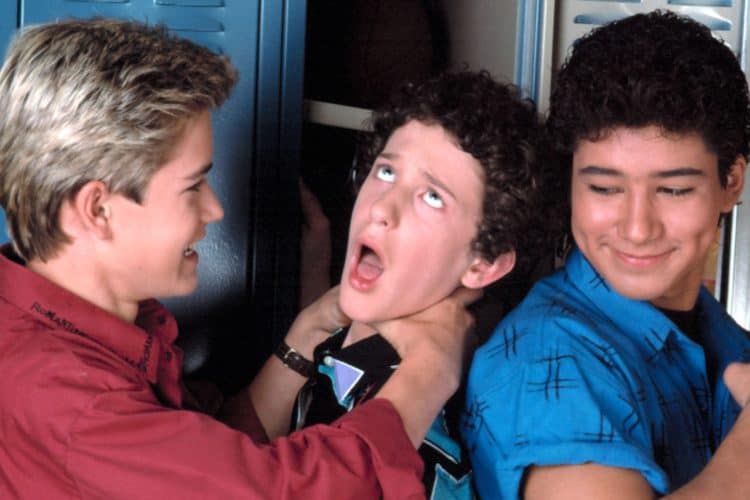 There's been talk of Dustin Diamond, aka Screech, coming back to Saved by the Bell if the reboot sees a second season, and while a lot of people are probably cheering and stating that 'there's no Save by the Bell' without Screech, others are stating that the reboot isn't about the older actors, or at least it's not supposed to be. But quite a few people are still fans of Screech since the truth is that a character isn't to be blamed for the actions that the actor takes in their life, especially considering that unless the character is meant to be unlikeable there's no sense in disliking them, though it's usually a matter of opinion that makes this possible and not worth speaking out against. Personally, I never liked Screech, but that's my thing, along with many other people, since there was something about the character that was just a little too over the top and didn't feel right, as though he was one wrong step away from being a stalker or the kind of kid that was tired with being seen as the geek and might flip out on someone eventually. But again, that's a personal opinion, as a lot of people believed in Screech and would like to see him return.
Here are five of the best moments featuring Screech from the original Saved by the Bell.
5. The time that Zack dressed in drag as 'Bambi' and Screech fell in love.
This is one of the many moments that Zack showed just what a piece of human garbage he was on the show since he pretended to be a girl named Bambi so effectively that Screech fell in love with the fictional young woman. Unfortunately, he was so head over heels for her that he chained himself to a locker until Bambi showed up. Well, Bambi did show up, since Zack dressed up in drag to make things better, kind of. This kind of thing is seen to be funny by a lot of people and there's humor to be found in it, but given that Screech is kind of a sensitive kid and Zack knows it, his antics are sometimes pretty mean.
4. Screech fell in love with Violet Bickerstaff.
It's fair to say that Tori Spelling is going to live with the idea that her father managed to wedge her into the fame she's enjoyed for so long since otherwise she's not a great actress and she's not the favorite of a lot of people. But her time on Saved by the Bell was brief and it's safe to say that at one point she could have been Screech's love interest for an extended period of time had she not moved on at one point. But then again, it does feel as though Spelling was trying to find whatever she could when it came to the best fit, and Saved by the Bell wasn't bound to be her landing spot for long.
3. Screech took on the chess champion from Valley High.
If there was ever a time to recount all the horrible and questionable things that Zack has done in his life it would take a while, but in this episode, Screech was about to become the hero of the high school when he took on the chess champion of a rival school. When he and Slater lock up the Valley High champion to try and fix the match though, in retaliation for Valley High sending in a ringer to 'interview' Screech and demoralize him, it was actually one of the moments when they were doing something for a good reason, even if it would have amounted to an illegal act that could have landed them in trouble.
2. Zack kissed Lisa and broke Screech's heart.
Screech had a crush on Lisa, which wasn't hard to see, and since Zack was such a player it wasn't bound to be long until he made his rounds and ended up being attracted to Lisa for as long as it might last. But when Screech saw this he was ready and willing to get a bit angry about it. In the end though he was the bigger man and simply told Zack to treat Lisa right, which wasn't about to happen as many people could likely guess.
1. Slater leaves his pet lizard with Screech and Zack and it dies in their care.
Screech was actually a very moral character as the show wanted us to believe and didn't like deception since it made him feel horrible. But when Slater left his pet lizard in Screech and Zack's care and the critter died, they did attempt to come up with a replacement in order to avoid upsetting Slater. But as one can imagine this didn't work out too well and they both had a crisis of conscience that could have been predicted.
If Screech comes back it's bound to be interesting.