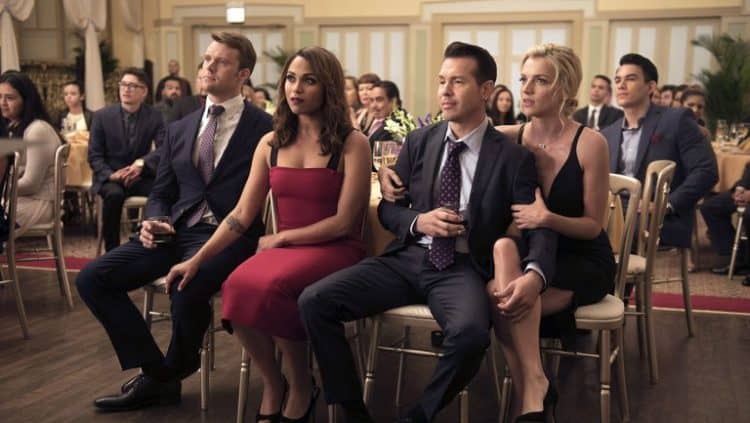 It's true that Dick Wolf has indeed taken over Chicago. We loved Law & Order and all of its spinoffs, so we've been thinking very seriously about what spin-offs could come from Chicago Fire. Here in my house, we call it "Chicago Wednesday on NBC" since all three are on TV Wednesday nights; "Chicago Med", "Chicago Fire", and "Chicago "PD". So of course, we binge watch on "Chicago Wednesday". Nothing goes better with buttered popcorn than a string of Dick Wolf shows. The well-rounded characters and level of excitement on all three shows keep us glued to our big screen TV every week.
Since we have Directv and they don't show NBC in our area because of some ridiculous fight between DTV and the local NBC carrier, we have to watch it on our clearTV antenna but that's OK, too, except sometimes when the weather is bad. But, for the most part, the picture is actually better than Directv. But, I digress, so let's get back to our list of the Five Possible Spinoff Ideas from "Chicago Fire" as follows:
1. Chicago Helicopter Unit
As Arnie would say "Get to the chopper!" From the old days of Jan Michael Vincent in "Airwolf" to today and that amazing shot of Shemar Moore hanging off of the S.W.A.T. chopper, everybody loves helicopters. The show could get into all of the ways that helicopters are used to rescue people. From swift water rescues during floods to plucking stranded hikers and snowboarders off of the top of frozen mountains, the possibilities are endless for our Chicago helicopter team. Some excellent camera work could make audiences feel like they're flying in the helicopter and that would be fun!
2. Chicago Harbor Patrol
Everybody loves fast boats and water. Remember those amazing Cigarette boat shots in "Miami Vice" (the movie)? I can envision an opening shot of one of those "go-fast-boats" as Colin Farrell called them in the film zooming over the water and the song "Wanted Man" by Styx playing loudly in the b.g. Now, that's an opening that would get me to turn my soundbar way up! Some good P.O.V. stuff could get the audience involved and maybe even almost feel like they're onboard and getting spray on their faces!
3. Law & Order Chicago
Just the name value alone should bring in viewers for sure. So, why not capitalize on the long-running fave name and its amazing characters. It would be a great spin-off because it would involve both the police department and the lawyers who prosecute the criminals, (well, just like Law & Order). If they could come up with some great characters like Olivia and Jack, it could be yet another L&W hit, only on the streets of Chicago instead of New York.
4. Chicago Drug Enforcement
Although Chicago PD involves a lot of drug dealers and such, this show would delve a lot more into the underbelly of Chicago's drug trade and the undercover DEA agents that are fighting against it. Drugs are bad, cops are good would be the theme, of course, and it would just need some sympathetic characters like Trudy and Erin with some down-and-dirty good guys like Voight and the late great Alvin.
5. Chicago ICE
U.S. Customs and Border Protection as well as immigration (ICE) are in the news a lot these days. From Trump and his ridiculous wall that has shut down our government to the mistreatment of immigrants, which is not only in the news but also was the subject of a recent "Madam Secretary" episode, it's an interesting subject. Chicago may not necessarily be one of the city's that we most often associate with customs and immigration but there is a main office there. Of course, the main ICE guys will have to be hard-as-nails so they can effectively lead their team but some softer and a bit nicer underlings could balance out the windy-city ICE squad.
Although the Chicago hit trio would be pretty hard to beat, maybe one or two of these spin-off ideas might add to the Chicago mystique. Surely, exploring other areas of law enforcement in Chicago could at least be somewhat interesting and definitely entertaining. And, if they could air them on Wednesday nights on NBC, so much the better! Bigger binge watch!