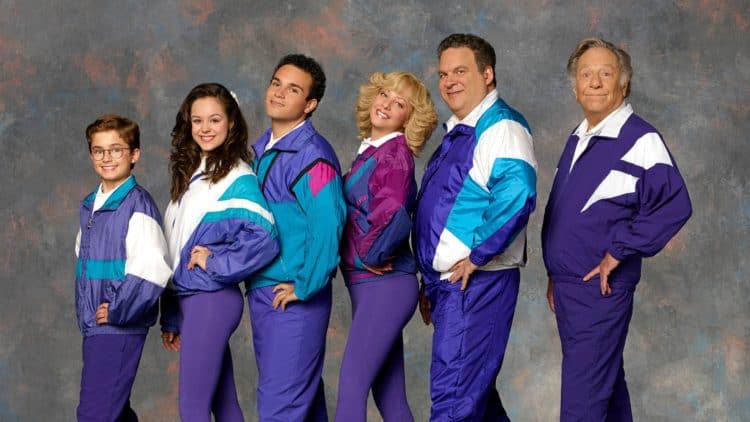 The Goldbergs follow Adam and his family as they navigate life in the 80s. As you can imagine Madonna posters, Star Wars, and other popular favorites are often featured on the show. These throwbacks and a cast of characters that includes Adam's nonchalant dad, overprotective mom, cool grandpa, overconfident brother, and bossy sister are pure comedic poetry. The show also features a variety of interesting secondary characters. Altogether this motley crew has an insane amount of chemistry that has seen the Goldbergs through many amazing seasons. The popularity of ABC's 80s era sitcom has even spawned a spinoff called Schooled. It features Goldbergs' regular AJ Michalka, Barry's ex-girlfriend and her journey to become an educator at her old high school. It also includes some of our favorite teachers at William Penn Academy that we've come to love over the years, like Coach Mellor. Although the concept is interesting, we can't help but feel that the Goldbergs can spawn more comedic gold. To this end, we offer five possible spinoff ideas for one of our favorite shows:
1. Married to Barry
Instead of Lainey becoming a teacher and dumping Barry, what if they got married? Or, better yet, what if they eloped and Beverly could do nothing to stop it? She would have a fit. That alone is worth the TV time. In this spinoff, we can follow Lainey and Barry's educational journeys to becoming a teacher and doctor, respectively. The challenges they face as broke students, hard classes, and a marriage would be interesting, to say the least. As an added bonus, they can appear sporadically on the Goldbergs without messing up the timeline.
2. Two if by Road
Adam and Grandpa take off on a road trip across the country and they film everything along the way. Can you picture it? Adams' geeky ways and Pop's eccentric ideas are the perfect setup for a hilarious show. Can you imagine what would happen if they went camping? Or, what about if they opened a booth to earn money? Hilarity would be sure to ensue.
3. The Art of Embarrassing Your Kids with Confidence
Parents everywhere know how much fun it is to bother their children. What better joy is there than to show their friends embarrassing baby pictures and other mementos? Beverly Goldberg is no different. In fact, she is known for being an overprotective matriarch. So much so, her kids often called her their "smother." She frequently interjects herself into her children's lives, often to their horror. She's actually not that bad at it. This is why she would be the perfect candidate for this spinoff. She would teach other parents how to become "smothers" themselves. We think it's an interesting concept for a reality show. So what, if our Beverly is a TV character? Most of the so-called reality shows are scripted anyway.
4. The Adventures of the JTP
Barry Norman Goldberg and his friends make up the Jenkintown Posse, better known as the JTP. Can you imagine the shenanigans these boys can get into when they follow their overconfident and slightly dimwitted leader to college? Not even Madman' Geoff Schwartz mild-mannered ways could stop this comedy of errors. His relationship with Erica also adds an interesting turn to the concept. Her bossy ways added to the boys' antics – pure comedy gold.
5. Nitrous and Me
Nitrous and Beverly have a comical relationship. Usually, she asks for something and he gives her an outrageous demand (like asking her for $1M or to show him her breasts) in return. What if we could take this concept to another level and make it like a game show/scavenger hunt/sitcom type of deal? Before you shirk at this genius idea, give us a chance. Consider this – every week Beverly has to make a deal with Nitrous in order to achieve a certain goal. The series would follow her as she negotiates for a different goal (usually worse than the original) or as she sets out to get Nitrous what he wants.
The Bottom Line
A lot of people consider spinoffs to be a sign of mental fatigue on the part of show creators and an easy revenue generator for TV networks. Still, it's hard to deny the appeal of seeing your favorite characters in new situations. That's why it's no surprise that Schooled has a growing fanbase. Still, we believe the ideas we've delved into in this post are worth a short. The Goldbergs' creators are sure to agree. What do you think?