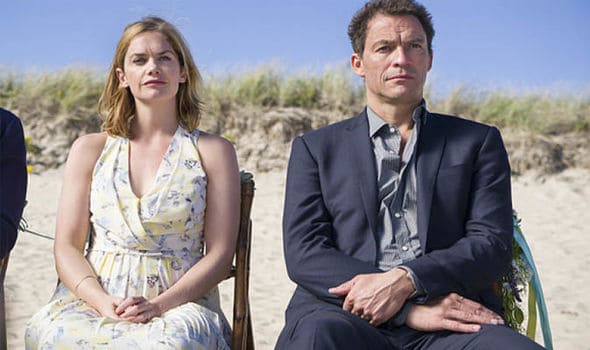 Fans who are anxiously awaiting the fifth season of the popular television series "The Affair," have had time to put together their own theories on what is going to happen when the show returns for what is slated to be the final season. There was a lot going on in the fourth season of the Showtime series and viewers have their own ideas about how the show will conclude. The most recently released trailer gives us just a few clues to go by but it's enough to make a few decent educated guesses as to how the stories may unfold, and it's some pretty exciting stuff. Here are five predictions that they're making about the final run of the show.
1. There will be a change in Helen and Sierra's relationship
In season four, Helen's husband Vik discovered he had pancreatic cancer. The two had an argument over Helen's concern that she would end up pregnant, but he remarked that she was near menopause and would not likely get pregnant. In the meantime, Siera, her friend, and neighbor had slept with Vik and did get pregnant. While Helen didn't get pregnant with Vik's child, Sierra did, so we see this turning into an event that is likely to impact their relationship dramatically, even though Helen and Sierra had also slept together. It's a complicated relationship, to say the least. We have a few clues about this as the trailer for the upcoming season shows Helen questioning Sierra about why she's bringing a baby into the world.
2. The addict surfer appears to reveal secrets
We met the addicted surfer in season 4, and the introduction of a new character usually signals a plot twist. We saw that Cole escorted him to an Alcoholics Anonymous meeting and it just happened to be one that Ben was at. In these meetings, people tend to share deep and dark secrets. We've seen people come clean about some gruesome things at these meetings and fans are wondering if Ben is going to say anything that could implicate him in the death of Allison. What is the surfer's connection and did he see something that he's going to disclose to Cole? We'll have to wait and see, but there are a lot of fans that think there's a connection and that the addicted surfer is going to spill the beans and reveal what happened.
3. There is going to be a serious time jump of decades
We learned that Anna Paquin will appear in the fifth season of The Affair, to play the role of Joanie Lockart. Joanie was only five years old at the last episode aired, and if she returns as a woman in her mid-30s (the real age of Paquin), then this suggests that the show will jump ahead in time twenty or perhaps even thirty years into the future. The time jump will show Joanie and Paul married, and from what we have seen in the trailer for the new season, we're likely to discover what really happened to Allison. Her death first appeared to be a suicide but it was later revealed that it wasn't and this is a burning question that fans believe will be answered as the series draws to its final episode.
4. "The Affair" will come to a natural end after season 5
The creators of "The Affair" have shown us just how many bad choices and errors in judgment a group of people is capable of making. The name of the show sums it up fairly closely, except there are multiple affairs going on throughout the series and some of them are a bit disturbing, with lasting consequences for all involved. But that's how it goes in real life as well. This show has gone through its cast, who have indicated that they will not be coming back for more after the fifth season and we've already seen several of them depart in one way or another. After a suspenseful four years of plot twists and turns, and what has felt like a long period of upheaval, the show is finally running its course and coming to a natural ending. Even though it's only been five years, don't worry because there will remain fodder for creating a spinoff series in the future. When the show was created, this was actually a part of the vision for it to come to such an end, which is a far better fate than cancellation.
5. Season five will be one of the most intense
Fans are fairly certain that they're going to watch "The Affair" go out with style. As of season four, we've seen so much lying and deception as well as substance abuse, vehicular homicide and a host of other judgment errors which have kept us on the edge of our seats. We have learned so much about fidelity and infidelity and how the actions that one or two people take can impact so many others around them. It's almost been an educational experience on the subject, and Sarah Treem has offered a brilliant take on the topic so far, but we're bracing for one hell of a finale with no holds barred as the new season draws to an end. The trailer has given us a few clues as to what may take place, but we're still expecting the totally unexpected to happen near the end.