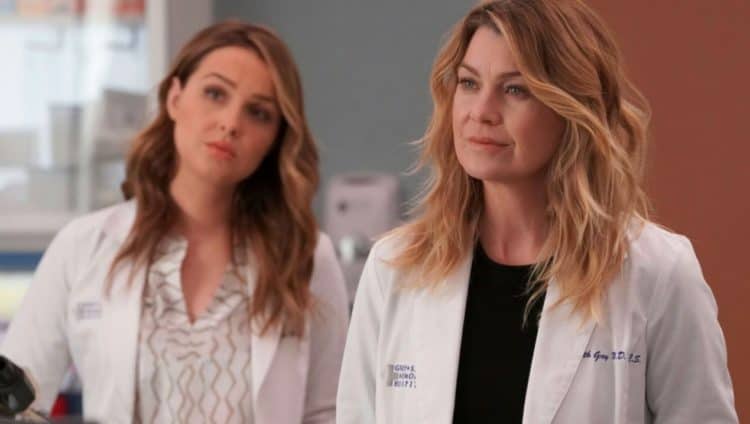 We're coming up on the season 15 finale of Grey's Anatomy soon, and it's hard to believe that we've been following this show for 15 years already. So many things have happened on this show—buses hit, people died, planes crashed, people died, accidents happened, and people died. While death may be a theme on Grey's every single episode, we're glad to report that the show still got a lot of life coursing through its veins even after 15 years of showing the same surgical wing. This season has been dramatic as ever. It's also been full of surprises. And while we appreciate the pondering that's inspired every time an episode ends, we also very much appreciate solid answers to the many questions we continually have. So if the Grey Sloan Memorial gods are listening, here are five questions we want answered before this season ends.
1. Is it going to be Teddy or Amelia?
Maybe there's just no hope for Owen. Teddy may be pregnant with his baby, but it sure seems like she's moved on already. Even if Koracick wasn't in the picture, Teddy might just be at the point in her life where she just doesn't care about men anymore; she just wants to live her life. And then we have Amelia on the other hand. She's hooking up with Link quite frequently. While they look amazing together, we can't help but think if Amelia's really moved on from Owen. Yes, she could detach herself easily sometimes, but she was married to this guy. Anyway, according to this article Owen told his therapist that he's trying to get better for someone. Please let us find out who it'll be for Owen. Is it Teddy or Amelia? We're okay either way.
2. Is Jo going crazy on Alex?
Alex has become one of the best characters on this show throughout the years. He started off least favorite among the first interns we saw on the show, but he's now become Meredith's person (in absence of Christina). Unfortunately, Alex has had a string of terrible luck with women on the show. His mom basically neglected him and his siblings when they were little. Then there was the case of Ava going crazy on him. Then Izzie happened—she got sick, died in his arms, came back to life, married him, left him for no reason, and divorced him. That was Izzie. But then came Jo, and as messed up as Jo was, she was good for him. Jo's going through something really dark right now, and we just want to know if she's going crazy on Alex also. They're already married, and there was a good chance that Alex and Jo were going to be the couple that made it. But it looks like shippers of the Meredith and Alex romance have something to rejoice about. Is Jo going to leave Alex eventually?
3. Is Meredith getting fired?
This article from Bustle certainly thinks so. Meredith committed insurance fraud, and it's a big deal. It isn't unlike Meredith to take risks like this, but she's a much different person now than she was 10 seasons ago. She's got kids now, and she's an attending. She's part owner of an entire hospital. She's got a lot to lose. But then again, we've seen Meredith in this situation before. She actually has been fired in the show before; but being the title character, we know that she's got to stay in the hospital team as long as the show is going. However, we know that the writers are angling on something because there was plenty of other ways Meredith could've approached this insurance situation differently. Maybe this is just going to be a notch on Meredith's relationship with Deluca? He did take the blame for the entire thing. Did she just ruin his life? Is Meredith going to finally get in the trouble that she's been bound to get since day one?
4. Is it the end of the Richard and Catherine era?
When it comes to Meredith, a lot of lines are blurred. Richard and Meredith have built a strong relationship over the years—one that goes beyond mentor and mentee, teacher and student. Meredith has become more of a daughter to Richard, and it makes sense. They both have gone through so much together, and they both share the same special people in their lives (Ellis, Maggie) that it makes sense for their bond to be like no other. Richard's relationship with Catherine has always been solid. But Catherine isn't always the easiest person to be with. She's a strong, successful woman who doesn't bend her will to please others. We can immediately picture Webber siding with Meredith on this insurance matter, even though he's not particularly happy with her. Catherine will obviously have to do the proper thing, the right thing in legal terms. So is Meredith's situation going to come between the married couple? We hope not, but we also hope that Meredith figures it all out.
5. Are we losing a favorite character this season?
Ellen Pompeo (Meredith Grey) has hinted that next season might be the show's last. That could mean a lot of things for the show and the characters that are still in it. According to TVfanatic.com, we're in for a truly emotional closer this season. And given the title of the episode, "Beware the Fog," we know that the surgeons are going to literally have to contend with a fog that's probably going to cost some lives. We're going to very well find out soon enough, but we still can't help but ask. Are we losing any favorites this season? We can certainly think of a few people in mind that we might lose this season. Jo is one. There's also the possibility of losing Koracick or pregnant Teddy. That would be really dramatic. Any one of the interns could easily go. And Deluca could definitely end up in jail. We can't lose Amelia because she's the last Shepherd, and there's no way Karev could go anywhere. Catherine might go (if she splits with Richard), but Bailey has to stay (because she's Bailey). Who are we kidding? We don't know who's going. We've got fingers crossed, and we're going to keep them that way until next week's finale.