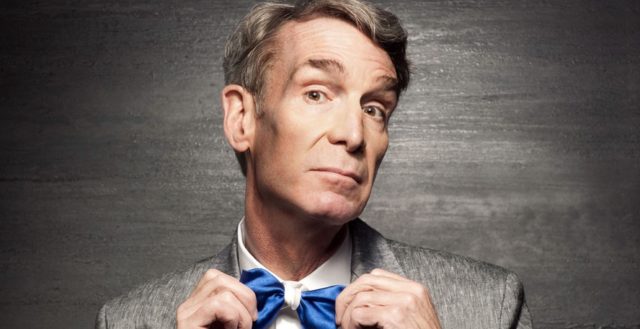 On March 12, 2017, legendary scientist Bill Nye released an epic documentary simply titled Bill Nye: Science Guy. It's instant classic headline: One Man's Mission to Make Science Matter. At a time when even the most basic scientific truths are being thrown into question, has there ever been a more appropriate mission? It debuted at the South by Southwest Film Festival, then proceeded to make the film festival rounds for the remainder of the year. On October 27, 2017, it was distributed to theaters on a limited release.
Industry stats show that sales reached $74,909 while in theaters, but that was only a taste of what's to come. It will be available on national broadcast and streaming on April 18, 2018, at 10:00 p.m. on PBS' documentary series POV (and POV.org). Here are five reasons why this forward-thinking documentary is one you can't afford to miss.
1. It takes Nye in an exciting new direction.
This is still Nye, but this time he's on an entirely different level. The former kid's show host is still as engaging and entertaining as ever before, but he's shifted his focus a little. Now the president of the Planetary Society, he's on a mission to launch LightSail into the mainstream focus. Essentially a solar-powered satellite, LightSail is a promising step in the right direction as Nye seeks to emulate his personal hero and Planetary Society co-founder Carl Sagan.
2. You can trust POV to deliver.
POV isn't just PBS' longest-running documentary series. It's actually the longest-running documentary series in American television history. This summer marks its 31st year on the air and every series leaves you feeling a little smarter and more worldly than before, with an impetus to take action. From Food, Inc. to the Lost Boys of Sudan and every timely story in between, it's information in a form you can't get anywhere else, in a format that's easily digestible and breaks down even the most complex concepts.
3. Three words: Neil deGrasse Tyson
He's the wildly popular astrophysicist who's somehow managed to become a household name while making kids around the world interested in astronomy again. Since spending 10 years writing his beloved "Universe" column for Natural History magazine, Tyson has also appeared on myriad television shows and documentaries sharing his commentary and point-of-view on everything space-related.
In 2014, he hosted his own television series called "Cosmos: A Spacetime Odyssey." Interesting, that series was a successor to Carl Sagan's original 1980 series titled "Cosmos: A Personal Voyage." Paying homage to Sagan and his pal Nye, Tyson appears in Bill Nye: Science Guy to give some insightful feedback (and big-star credentials) to the documentary.
4. He's sticking to his educator roots.
Despite his newfound roles and responsibilities, Nye hasn't forgotten where he began. He's more dedicated than ever before to teaching the importance of science to the next generation. He's also focused on ensuring that the subject matter stays at the forefront of public conversation despite efforts to push many concepts, such as climate change, under the proverbial rug. This fervor for shaping young minds is one shared by peer scientists such as Steve Spangler, who set the world record for the largest physics lesson in 2009 as he lectured to a classroom of more than 5,000 children.
In other words, It's inspiring for both adults and kids alike and begs the question, "If we don't stand up for change now, who will in the future, and what will that look like for our children?"
5. It offers an in-depth look at Nye the Person, not just the Science Guy.
This new documentary gives behind-the-scenes viewer access to who Nye really is and what his focus is on now. It even goes into his personal and private life, including his relationship with his two siblings. They are both living with a neurological disorder that's hereditary though Nye does not have it. It also includes entertaining interviews with some of Nye's closest friends, relatives and colleagues to paint a more thorough and well-rounded portrait of the man beneath the lab coat.
When April 18 rolls around, get your popcorn ready. Then, settle in on the couch and listen as Nye shares his take on what makes the world go around, what got us here, and where we can expect to go in the future. Even if you question or outright disagree with his take on the answers, one thing's for sure: This is one conversation you won't want to miss.