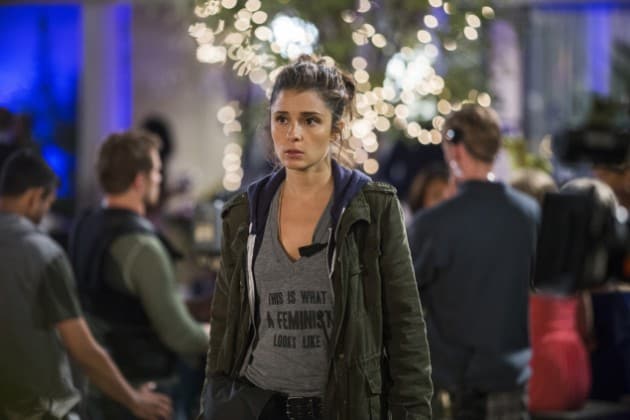 Summer TV can sometimes be a barren wasteland of programming, as broadcast networks mostly dish out cheap, reality series and game shows that will hopefully grab them somewhat decent ratings. However, in recent years, there's been a push for more quality summer series, which is why we've seen the likes of ABC and CBS create shows such as The Astronaut Wives Club, Rookie Blue, and Under the Dome. Meanwhile, USA is also diving into new territory with Mr.  Robot and Complications, and HBO is testing its unproven summer lineup of True Detective, Ballers, and The Brink. However, the best series I've watched this summer by far has been Lifetime's UnREAL, which airs its fifth episode tonight at 10 p.m. Both a biting satire of reality TV and an interesting character drama, UnREAL has been able to pull of the impressive feat of being dark, fun, and compelling television, a great blend that makes it more than just a solid summer show but a first-rate cable series. If you haven't already checked it out yet, these are five reasons to watch Lifetime's UnREAL.
UnREAL is fun summer TV
As I said above, UnREAL is a fun show. The witty dialogue and banter between the series' main characters is incredibly entertaining, even when they're doing terrible things to the contestants on the show within the show. The writing is quick and sharp, and the situations are sexy and soapy enough (the show does focus on a fake Bachelor-like series called Everlasting, after all) to veer close to "guilty pleasure" territory without actually ever becoming a guilty pleasure. And that's all because…
The show isn't afraid to challenge its audience
It would be so easy for UnREAL to have its protagonist, Rachel Goldberg (played by Life Unexpected's Shiri Appleby), be the moral center of the show, the character that constantly fights for the contestants and tries to do right by them all the time. However, while it's clear that Rachel certainly has a conscience and is having an internal battle about whether this is the lifestyle and career that she truly wants, this inner conflict doesn't prevent her from making some pretty despicable decisions, such as manipulating the women of Everlasting to fight or editing clips from the series to make a particular participant look meaner or crueler than she actually does. All of these actions are in the service of Rachel making more money or achieving a higher rank within the Everlasting production team, and by allowing her to be flawed and damaged and complex, UnREAL ensures that Rachel, along with many of its other characters, challenge the audience and cause viewers to question whether they should root for them or not.
The series is actually rooted in fact
While perhaps not everything about UnREAL is exactly like the real-life making of The Bachelor (for instance, I'm not sure how the production schedule of the series within the show works, since it seems like the creative team is under pressure to create a new episode within just a couple of days, thus implying that they are filming Everlasting and broadcasting it almost simultaneously), there is definitely some credibility to the events here. Where does that credibility come from? The fact that UnREAL's co-creator Sarah Gertrude Shapiro worked as a producer on The Bachelor. That inside knowledge and experience helps UnREAL feel more, well, real, as if we're getting a peek behind the curtain of what actually goes on during the production process of these reality series rather than an exaggerated example of it.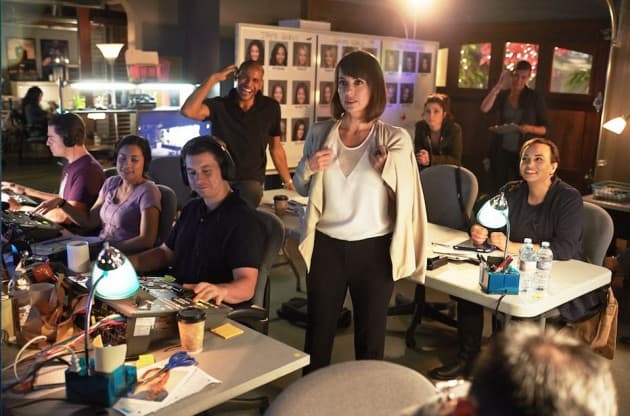 Shiri Appleby and Constance Zimmer
All of the performances on UnREAL are pretty terrific, but none are better than the ones being given by Shiri Appleby as Rachel and Constance Zimmer as Quinn. As the two main characters of the series and the two central women essentially keeping everything afloat on Everlasting, both Appleby and Zimmer are getting to display new sides to themselves as actresses that they haven't been able to showcase before and are delivering career-best work on the Lifetime series. If for nothing else (and there's a lot more that's awesome about this show), UnREAL is worth watching just for Appleby and Zimmer.
UnREAL is the best series Lifetime has ever produced
All of the points above lead me to declare the obvious: UnREAL is the best show that Lifetime has produced in recent years, if not ever. While certain other series, such as Devious Maids or Army Wives, are entertaining and soapy (and sometimes downright ridiculous) dramas that have/had their place on the network, they don't reach the ambition or depth that UnREAL has demonstrated in its first four episodes. This show feels like a major first step forward for Lifetime, a new direction that the network can and hopefully will continue to go in. But in order to have more UnREAL (I need a second season!) and shows like it, people need to tune in and watch, so make sure to give UnREAL a shot if you haven't already. I guarantee it'll be the best summer show you've watched this year.
UnREALÂ airs Mondays at 10 p.m. on Lifetime.
[Photos via Lifetime]