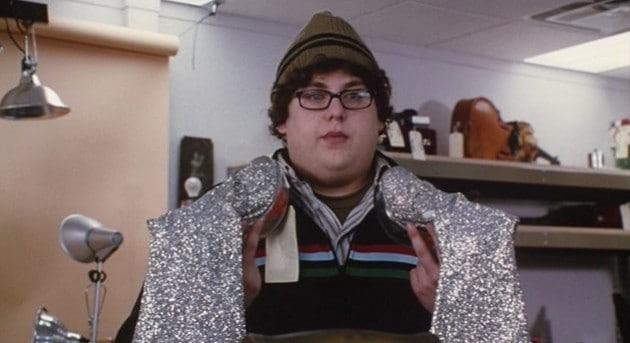 It's kind of hard to miss Jonah Hill unless he's actively being hidden in the background. He's the type of actor that has such a big personality that you can't help but notice him. In his earlier roles he might have blended in a bit but as he's come into his own style of acting and actually starred in a number of films now he's very hard to miss. If you've ever watched him in various films though you would no doubt agree that his current style and level of skill makes him really hard to forget.
Here are a few films you might have forgotten he was in.
5. Masked vigilante – Django Unchained
He doesn't have a huge part in this film, mostly a couple of lines that have to do with the scene and that's it. But it was a surprise to see him anyway. Plus, if you're going on a raid of any kind that requires a mask, wouldn't you think it wise to actually cut the eye holes for each individual? Or better yet, have each person cut their own mask in order to better accommodate their face.
4. Franklin – The Watch
His role is larger but this movie did so poorly it's a wonder that many people even remember it. That's actually kind of surprising given that as ridiculous as it was The Watch was actually very funny. It's hard not to laugh when you have Stiller, Vaughn, and Hill all in the same location at the same time. Their brand of hilarity is a bit crude in this movie but it's workable for many audiences. Plus as Franklin, Hill is so over the top that laughter seems more warranted than disdain.
3.  Eugene – Evan Almighty

To this day I still find it extremely strange that Jonah Hill was in this film.  It's just bizarre seeing him as a political staffer.  Plus it looks like he was in the middle of one of his weight loss phases in this movie.
2. Brundon – Night at The Museum: Battle of the Smithsonian
There's not much to say about Brundon other than he's rude, arrogant, and really has no right to be. But this is the kind of character that Hill plays so well at times, largely because he brings that big open attitude to the part. When he's so easily disarmed and humbled by Stiller's character however you see that he's really not all that, but he's still willing to talk a big game. Keep guarding those displays from all those people with ITT Brundon.
1. Ebay customer – 40-Year Old Virgin
And we come to the part of the glorified extra that really has no other part to play other than being interested in a pair of sparkly boots with goldfish in the soles. Either he can't grasp the idea of an eBay store like the rest of us, or he's just that dim. Whatever the case, Hill played the role very well for the entire few minutes it lasted.
Jonah Hill is a skilled actor, but everyone had to begin somewhere.
Save