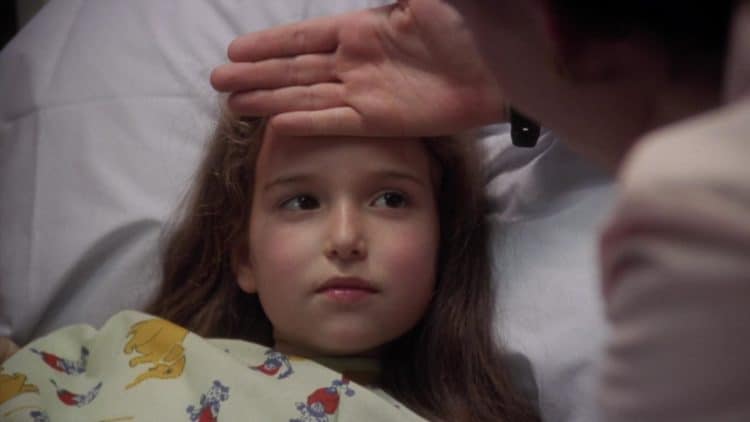 Milana Vayntrub was born on March 8, 1987, in Tashkent, Uzbekistan. When she was three, her family moved to West Hollywood. Since her family was poor, she began acting in commercials. The first time she made a television appearance was at age 5 on a Matell Barbie commercial. As she grew older, she began to do stand-up comedy and Youtube channel series, including LivePrudeGirls and College Humor. She trained at the Upright Citizens Brigade, a theatre that offers workshops and other classes for upcoming comedians. Aside from acting, she's also worked behind the camera directing commercials. In 2016, she did her first commercial for Cracker Barrell Mac and Cheese, which was well received. Additionally, she has done music video directing and producing. Aside from her extensive work in front of and behind the scenes, she does volunteer work for animal rescue and organizations continually working for better lives for children who live with Autism. These are five roles you totally forgot Milana Vayntrub played.
5. Days of Our Lives
Days of Our Lives is one of the longest-running soap operas. It started in 1965 and has run almost every day since. It centers on the lives of the Horton family, who live in a Midwestern suburb known as Salem. Over time, the series added additional characters and families, including the DiMeras. One of those characters was Kristen Blake, who made her debut on the show in 1993. Three years later, Milan Vayntrub played her younger self in three different episodes, just as her career started to go places. Vayntrub didn't audition for the role. Instead, executives saw her on the show ER and asked her to take on the part.
4. ER
ER debuted in 1994, the well-loved medical drama lasted 15 seasons. The show helped launch the careers of George Clooney, Juliana Marguiles, and Noah Wylie. However, there was an as yet unknown actress who played in 3 different episodes during 1995. Milana Vayntrub stared as a young Russian girl named Tatiana who was adopted and left by her mother in the ER because she had AIDs. In the next episode, head nurse Carol wants to about the little girl but runs into difficulties during the process. In her final appearance, Carol tries to finalize the adoption but finds out she is illegible because of things that happened in the past. Despite being so young, Vayntrub added depth many actresses her age probably could not have accomplished.
3. College Humor
In 1999, Josh Abramson and Ricky Van Veen, both college students, created the long-standing site, College Humor. According to the Washington Post, when the idea started, it was a collection of the funniest things on the internet and guys doing stupid college stunts like sticking forks into a toaster or surprising people with rude pranks. However, over time, it grew into a comedy show that garnered 100 million page views a month at its most famous. Vayntrub started in fifteen episodes playing characters ranging from a curious woman on the episode What If Google Was A Guy: Part Two or herself on CAMP episodes Let's Do Meth and Harry and Madge.
2. Key & Peele
Jordan Peele and Michael Keegan-Michael Key, former MadTV stars, started this sketch comedy show which skewers pop culture, ethnic stereotypes, and overall strange behavior. During the first several seasons, the hosts first introduced themselves and then chose a topic for the sketch. Milana Vayntrub was part of the season three sketch, Sexy Vampires. The scene was an utterly generic vampire lair complete with eerie lighting and techno music. Everyone in the scene is acting awkward and all that is wrong with b-list vampire movies. One of the creepy, weird vampires was Vayntrub, decked out in full goth. As the sketch progresses, she begins to get more frustrated with the music. Finally, close to tears, she says, "this song has been playing for like two years, and it sucks."
1. Lizzie McGuire
One of Vayntrub's earliest roles was on the Disney Channel classic, Lizzie McGuire. During the first and second seasons, she showed numerous different times, including Here Comes Aaron Carter. She was one of the dancers dressed in an elf costume. Later on that season, Vayntrub was part of the Gordo's Video episode, where she actually had a line. Additionally, she played roles as one of the popular kids and burps loudly in the cafeteria after taking a big soda drink. After the early laugh Vanytrub got on Lizzie McGuire, she had one final appearance on the show. During the Season 2 episode, You're A Good Man, Lizzie McGuire, plays on Kate's friend. During a school assembly, she's sitting beside some of the meanest girls in school.
Final Words
Vayntrub once said, "I want to be able to enjoy my life to the fullest, so I can add something to the lives of people around me." Whether she is playing a young girl stricken by AIDs or a hyper-perky AT&T sales clerk, she's won fans over for her performances. Another of her most notable performances was a short stint on This Is Us, where she played a mousy playwright. Like many roles she's had, this short performance left a memorable impact.
Since she started acting so young, she's already had a career that spans three decades. Vayntrub didn't know where her career would take her; she knew she was always acting silly from an early age. In an interview with Esquire, she said, "I knew when I was a kid that I was silly, and I knew that I liked people who were funny, but I don't think I knew I was funny." Throughout her career, she's made many people laugh and starred alongside some of the best comedians, including Sarah Silverman. However, alongside her comedic chops, she's also made a name for herself behind the camera, proving how versatile her talents are.