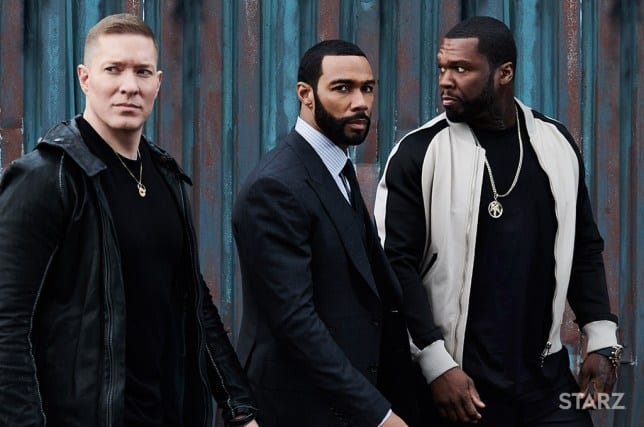 Starring Omari Hardwick, Naturi Naughton, Joseph Sikora, Lela Loren, and 50 Cent, Power tells the story of James St. Patrick, a wealthy nightclub owner struggling to meet the demands of a crumbling marriage and his secret double life as a drug kingpin. Full of complex characters, rich storylines, and exceptional performances, Power has become one of the top-rated shows on Starz since its first outing back in 2014. Unfortunately for fans, season 6 will be it's last. "Season 6 brings us to the end of what we know is just the first chapter of the 'Power' story," Carmi Zlotnik, president of programming for Starz told Variety. "However, as one chapter comes to an end, another will begin. Courtney Kemp and 50 Cent have created a world rich with complex and dynamic characters and there are a number of stories we plan to tell as we continue to explore and expand the 'Power' universe." As Zlotnik implies, there's good news mixed in with the bad — a spin-off (which, if reports are to be believed, will be called Power Book II: Ghost and will star Mary J Blige in a lead role) is already in the works. If you can't wait until then, you may need to look elsewhere for your fix of gritty crime drama. if you like Power, cancel your plans for the weekend and settle down with these 5 top shows.
Breaking Bad
Breaking Bad is one show that needs little by way of introduction. Created by Vince Gillian and starring Bryan Cranston, Anna Guin and Aaron Paul. the series follows Walter White (Cranston), a depressed high school chemistry teacher who, after learning he has stage -3 lung cancer, enlists the help of a former student, Jesse Pinkman (Paul), to make enough money from making and selling crystal meth to support his family after he dies. During its five-season run, Breaking Bad proved hugely successful, scooping 16 Primetime Emmy Awards, eight Satellite Awards, two Golden Globe Awards, two Peabody Awards, two Critics' Choice Awards, and four Television Critics Association Awards. Widely regarded as one of the best TV shows of all time, it's a must-watch for fans of darkly comic, gritty crime thrillers like Power.
The Wire
HBO's The Wire ran for 5 highly successful seasons over June 2002- March 2008, making stars of its cast of Dominic West, John Doman, Idris Elba, Frankie Faison, Larry Gilliard, Jr., and Wood Harris, and throwing a spotlight on the seedy underbelly of Baltimore, Maryland. Like Power, The Wire has been tagged as a "crime-drama", but as show creator and writer David Simon notes, there's much more to it than that. "(It's) really about the American city, and about how we live together. It's about how institutions have an effect on individuals. Whether one is a cop, a longshoreman, a drug dealer, a politician, a judge or a lawyer, all are ultimately compromised and must contend with whatever institution to which they are committed'.
Boardwalk Empire
Dark, gritty and impossible to stop watching once you start, Boardwalk Empire gives us a twist on typical crime dramas by uprooting it from the modern-day and taking it back in time to the Prohibition era (and if you thought politicians were shady these days, just wait till you see what they got up to in the 1920s). With exceptional performances from a cast that includes Steve Buscemi, Kelly McDonald, and Michael Shannon, a rich visual style, and diverting, engaging storylines, few would dispute Boardwalk Empire's status as one of the best TV shows of the last decade (not least award panels, who were enamored enough with the series to give it 57 Primetime Emmy Award nominations (including two for Outstanding Drama Series), a Golden Globe Award for Best Television Series, and two Screen Actors Guild Awards). If you need any further justification to watch…Martin Scorsese executive produced. If that's not a stamp of quality, I don't know what is.
Top Boy
If you're tired of the usual US crime dramas and want to see what the British can do with the genre, check out Top Boy. Set on a tough inner-city housing estate in Hackney, East London, the series revolves around local drug dealers Dushane (Ashley Walters) and Sully (Kane Robinson), as they try to survive in a world dominated by violence and crime. After a long gap (season 1 premiered in 2011, with season 2 following in 2013), fans will get the chance to revisit the story this September when Netflix broadcasts the much anticipated 3rd season (which will again star Walter and Robinson in lead roles). Fun fact: fans of Top Boy can thank Drake for its revival. According to the BBC, the Canadian superstar was so taken with the show he used his influence to convince Netflix to reprise it (although so far, there's no suggestion he'll actually be making a cameo appearance himself). If you can, catch up on the first 2 seasons before binging on the third: if you're a fan of the gritty realism of Power, you're guaranteed to be glad you did (as an extra incentive, each season is only 4 episodes long: perfect for watching back to back over a lazy weekend).
Southland
Created by writer Ann Biderman and produced by Warner Bros. Television, Southland takes a raw, no holds barred look at the lives of the LAPD officers tasked with bringing law and order to Los Angeles. The character-driven storylines, whip-sharp dialogue, and menacing mood drew some serious praise during its 5 season run, with Matt Zoller Seitz of Vulture summing up the general consensus with the comment "It's the most engrossing cop series since season one of NBC's Homicide, and maybe the most raggedy and real." If you're looking to fill the gap left by Power, check it out now.